Ronez out, Carzon in at ARTE France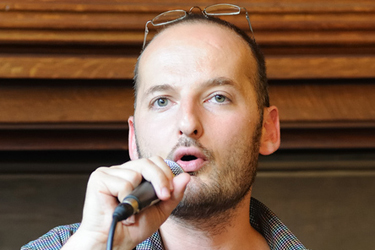 ARTE France's head of online Joel Ronez (pictured), whose projects at the French network have included cross-platform docs Gaza-Sderot and Prison Valley, is departing the broadcaster next month, realscreen has learned.
Ronez is leaving to join Radio France as its director of new media, effective early July. He will be replaced at ARTE France by David Carzon, who previously served as editor-in-chief of its web division.
Carzon's previous roles also include serving as editor of France's Grazia magazine and as head of French news publisher 20 Minutes.
Ronez, who spoke on several panels at Sheffield Doc/Fest last week, exits the role after three-and-a-half-years with ARTE, having joined the Franco-German broadcaster in 2008.
Among his successes, he worked on the interactive coproduction Gaza-Sderot – Life In Spite Of Everything, a Digital Emmy-nominated webdoc that depicted the lives of people living in the Gaza strip.
He also oversaw Prison Valley, an interactive documentary released last year; and six-part online doc project New York Minute: A Hip Hop Guide To The Fast Life.
In 2009, Ronez oversaw the launch of ARTE Live Web, a platform to air programming live online. ARTE France produces around 10 online titles per year.
Tags: Arte France, David Carzon, Gaza-Sderot, Joel Ronez, Prison Valley
For more information in the Contact directory:
Arte France
The definitive factual resource.
Over 5,000 company listings!