Military Channel acquires "Nazi Collaborators"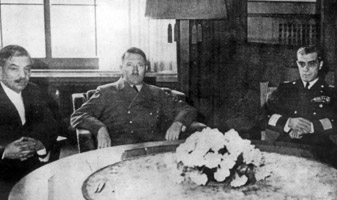 Military Channel in the U.S. has picked up the rights to Nazi Collaborators, a WWII history series from UK-based factual producer World Media Rights.
The 13 x 30-minute series will air on Discovery's Military Channel, tentatively scheduled for October 3 at 9 p.m. EST.
Distributor IMG has previously sold the series to Yesterday in the UK, Foxtel in Australia, Hong Kong TV, Czech Television, Discovery in Poland, YLE in Finland, ZDF Enterprises in Germany, Telecom Italia Media and across French-speaking Europe and Africa with Histoire.
According to Alan Griffiths, CEO for World Media Rights, Nazi Collaborators was born from its series World War II in HD Colour, after he discovered there was an appetite for more stories about the war, especially for a younger generation that wants to know what actually happened.
"We thought the thing that really is never covered and certainly not in the myths is the degree of collaboration right across Europe with the Nazis," he tells realscreen.
Several occupied European countries, including France, Belgium and the Netherlands participated with the Nazis during WWII, and the doc special includes footage shot by a German naval officer of local Latvians marching Jewish people to the trenches.
Because of the incredibly dark tone of the series, Griffiths says he was worried about how the series was going to fare, and was shocked with the results of its global sales.
"Nazi Collaborators was very interesting because one wouldn't think there would be a global appetite for something as hard hitting as that," he says.
"We were right in that guess that clearly there is now a generation that wants to know what happened, what got swept up under the carpet and what's not covered in the myth."
Distributor IMG Entertainment has had the program in the market since the beginning of 2011, according to SVP Mark Young, who calls the series "hard hitting but also story-driven, which is a hallmark of World Media Rights' output."
Tags: IMG, Military Channel, Nazi Collaborators, World Media Rights
For more information in the Contact directory:
Military Channel
The definitive factual resource.
Over 5,000 company listings!