Buck Productions bringing saw dogs and dark deals to OLN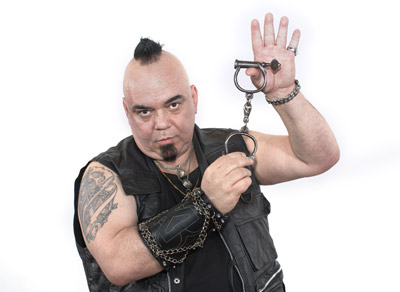 Toronto-based Buck Productions is launching two series on Canada's OLN network, with sales to an as-yet-undisclosed U.S. net being the first step to what the prodco hopes will be an expanded American presence.
Buck's head of television, Jim Kiriakakis describes one of the upcoming series, Saw Dogs, as "American Choppers meets wood chainsaw carvers."
"We've tapped into some crazy wood chainsaw-carving geniuses," he says. In each episode the carvers will take on a ridiculous commission under a tight deadline, a tighter budget, and high stakes.
Saw Dogs already has a U.S. broadcaster on board, at an as-yet-unnamed network, through a distribution deal with CABLEready.
The second show from Buck heading to OLN is Deals from the Dark Side (pictured). The series follows eccentric collector and historian Steve Santini, also known as an extreme escape artist, as he looks for cursed items to add to his own personal "Warehouse 13."
Deals from the Dark Side will see Santini – who, with his Mohawk hairstyle and tattoos doesn't look like your everyday Titanic historian – traveling to find new pieces for his collection and negotiating with sellers. Kiriakakis is quick to emphasize that Deals is a history show.
"He will be adding pieces to his private collection of Titanic pieces and [looking for] things like medieval torture masks [and] Harry Houdini's handcuffs. It'll be up to his team to prove a certain item is what it is. And will he spend the money to put it in his collection?" says Kiriakakis.
Both shows will air later this broadcast year.
In addition to the two new series announcements, Buck's foray into the pastry sub-genre, Cake Walk: Wedding Cake Edition, premiered on Shaw Media's specialty net Slice last night (September 7).
The cake challenge show, hosted by actress and comedian Caroline Rhea, focuses on wedding cakes, with a bride and groom dictating the kind of cake they want and three teams competing to build that vision. Judges will determine who did the best job.
"Cake Walk is an original but we feel it is something we can format around the world," says Kiriakakis.
The series is executive produced by Sean Buckley, with Matt Gaven onboard as showrunner and Jeff Baker as producer.
Kiriakakis, meanwhile, has his sights set on growing Buck's presence in the U.S.  "The level here domestically has grown so much and that growth has spilled over into the U.S.," he says. "[Different] U.S. players have been aware of our stuff and now it's gotten to the point where we're excited to really blow the doors off that and become a major U.S. player for production."
Tags: Buck Productions, CABLEready, Cake Walk, Deals from the Dark Side, Jim Kiriakakis, OLN, Saw Dogs, Slice
For more information in the Contact directory:
Buck Productions
The definitive factual resource.
Over 5,000 company listings!