Budweiser reality series heads to ABC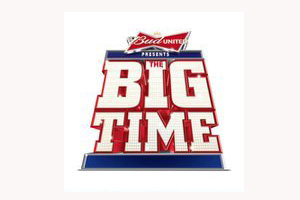 Bud United Presents: The Big Time, a reality series sponsored by beer brand Budweiser and announced in May of this year, has landed on an American broadcast network.
ABC will air the seven-part series beginning January 21, via a deal brokered by sister network ESPN. The program, to be produced by @radical.media and Evan Weinstein (co-EP of The Amazing Race), will be distributed globally by @radical.media owners FremantleMedia Enterprises.
The show offers several contestants per episode the opportunity to be mentored by celebrities, professional athletes and famous coaches depending on what their "Big Time dreams" are. Mentors include racing legends Kevin Harvick and Richard Childress, soccer star Alex Morgan, baseball coach Tom House and celebrity chef Hubert Keller. Contestants were chosen via an online casting process conducted over the summer.
According to reports, contestants will not be seen drinking the product during the episodes, in accordance with network policy. But there will be visibility for the brand in some episodes, in which contestants may hold the product during celebratory scenes.
"We leveraged Budweiser's unparalleled access to international sports, entertainment and lifestyle assets to make these contestants' dreams come true," said Frank Abenante, vice president global brands at Budweiser parent company Anheuser-Busch InBev. "We're looking forward to giving viewers the opportunity to share in these extraordinary journeys of second chances and ambitions fulfilled."
"These shows offer a compelling trifecta – sports, entertainment plus viewer engagement via social media," said Jason Bernstein, senior director, ESPN programming and acquisitions. "It's a unique blend of content and we're pleased Budweiser came to us with the opportunity to present it on ABC."
Tags: @radical.media, ABC, branded entertainment, Bud United Presents: The Big Time, Budweiser, Evan Weinstein, FremantleMedia Enterprises
The definitive factual resource.
Over 5,000 company listings!