Upfronts 2012: TruTV adds Shaq, takes to the skies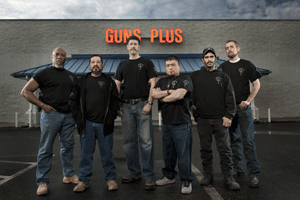 U.S. cable net truTV's upfront slate includes a game show set on an airplane, developed by Howie Mandel, and a new series starring Shaquille O'Neal.
The network has placed an emphasis on comedic and action-packed "actuality" programming, with series launching later this year including Killer Karaoke, starring Jackass star Steve-O, from Zodiak USA; Guinness World Records Gone Wild from High Noon Entertainment; and Container Wars from T Group Productions.
Lastly, in July, Hardcore Pawn: Fort Bragg (pictured) from Zodiak USA launches.
TruTV's development slate includes Upload with Shaquille O'Neal (working title), from Fishbowl Worldwide Media, the producers of Tosh.0 and America's Funniest Home Videos. Basketball star and TNT NBA analyst O"Neal and friends will round up the week's best online video clips, as well as create their own.
From Rive Gauche Television, Jeff & Curtis Lose Weight (w/t), starring comedy duo Jeff Sloniker and Curtis Rainsberry, will follow the team as it tries to lose weight with extreme diets, absurd exercise classes and more.
Howie Mandel's Alevy Productions is in development on Turbulence (w/t), a game show set in the sky. Contestants must fly from one location to another to answer questions, and each correct answer banks money towards a big weekend blowout in Las Vegas, while each wrong answer make the flight a little bumpier.
Returning series include World's Dumbest, Operation Repo, Lizard Lick Towing, Storage Hunters, Hardcore Pawn and Vegas Strip.
"TruTV has firmly established itself as a leader in TV's fastest-growing genre, delivering on the promise of outrageous, fun television with truTV's unique spin," said Marc Juris, the network's executive vice president and chief operating officer. "We're also programming with an eye towards creating content that works across multiple screens and establishing ourselves as a truly multi-platform brand."
Tags: Guinness world Records Gone Wild, Harcore Pawn: Fort Bragg, High Noon Entertainment, Jeff & Curtis Lose Weight, Killer Karaoke, truTV, Turbulence, Upload with Shaquille O'Neal, Zodiak USA
For more information in the Contact directory:
truTV
The definitive factual resource.
Over 5,000 company listings!