Good Food heads to "Sicily"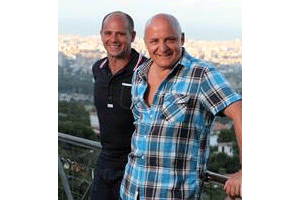 UKTV's Good Food channel has teamed up with Red Door Productions for Sicily with Aldo and Enzo (pictured), a series funded by the Sicilian Tourist Board and aimed at encouraging more tourism in the Italian region.
Premiering on July 16, the 10 x 30-minute series follows Italian and Sicilian chefs Aldo Zilli and Enzo Oliveria as they travel across Sicily, learning the secrets of the culinary culture.
The deal between the channel and the production team company was brokered by commercial group Universal McCann London. UM London and Red Door previously partnered on another Good Food series, An Italian in Mexico, sponsored by Old El Paso.
"This project has been four years in the making, but we are pleased with the end result – delicious food shot in amazing surroundings," said Sally Quick, director of commercial partnerships at UKTV. "We expect our viewers to be delighted with Aldo and Enzo's brilliant recipes and insight into Sicily's rich food heritage."
Tags: Good Food, Red Door Productions, Sicilian Tourist Board, Sicily with Aldo and Enzo, UKTV, UM London
For more information in the Contact directory:
UKTV
The definitive factual resource.
Over 5,000 company listings!