Kino Lorber streams classic docs on Hulu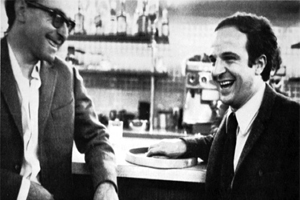 Kino Lorber has teamed up with Hulu for a partnership which will see the distributor streaming 35 features and short films from its library on the online video service.
The curated selection of art house, foreign and documentary films will be available to view for a limited window on the free, ad-supported version of Hulu as well as the subscription-based Hulu Plus beginning this week.
In addition to classics by filmmakers Buster Keaton and Fritz Lang, the selection includes docs such as Fela Kuti: Music is the Weapon, about the Nigerian Afrobeat musician and composer; Genius Within: The Inner Life of Glenn Gould, about the Canadian pianist; Two in the Wave (pictured above), a doc about the friendship between filmmakers Jean-Luc Godard and François Truffaut; and Videocracy, about former Italian prime minister and media tycoon Silvio Berlusconi.
"Our presence on Hulu will allow us to present our selection of classic and art house films to a new audience seeking an experience beyond the latest blockbuster," said Kino Lorber CEO Richard Lorber in a statement. "We spent quite a bit of time working with the Hulu team and are excited about the pipeline of top-tier releases planned for the immediate future."
Tags: Hulu, Kino Lorber
The definitive factual resource.
Over 5,000 company listings!