OWN's fall slate includes La Toya Jackson, more "Oprah's Next Chapter"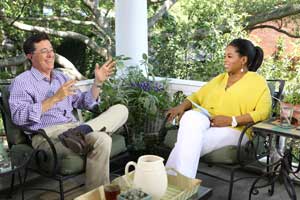 U.S. cable net Oprah Winfrey Network has revealed its fall line-up, including three new series, and returning series such as Oprah's Next Chapter, which will feature interviews with Stephen Colbert (pictured), Bette Midler, Jennifer Hudson and Kelsey Grammer.
New series will include the World of Wonder-produced Life with La Toya, which promises to get up close and personal with Michael Jackson sibling La Toya Jackson. The series will follow her as she juggles her famous family, her friends and her entertainment business.
The Customer is Always Right, from Katalyst, is billed as "a high-stakes experiment with customers as the boss,"' in which some of America's largest companies implement real customer feedback. The series enables two loyal customers to spend a week with a business, and work alongside its top executives to address its biggest issues. The episodes will wrap with the participants' feedback judged by a focus group, and if the group likes the recommendations, the customers will win US$10,000. TLC will also air the program in a second run window.
Neighborvention is a Studio Lambert series that unites neighbors to help a family in crisis tackle issues, including strained relationships, out of control teens and financial woes.
Of the Oprah-oriented programming, premiering on August 28, TV Guide Magazine's Top 25 Oprah Show Moments will count down the most famous and memorable moments from the 25-year history of the Oprah show, while Oprah: Where Are They Now? looks back at the biggest newsmakers from the series, including Rodney King and Mary Jo Buttafuoco.
As previewed at OWN's Upfront presentation, Iyanla, Fix My Life will premiere on September 15. The Harpo Studios series features Iyanla Vanzant, author and inspirational speaker.
In addition to the new series and Oprah's Next Chapter, Pilgrim Studios' Welcome to Sweetie Pie's returns on September 15, and two Oprah's Lifeclass special episodes will air on September 2 and 23. The Super Soul Sunday block also returns.
"We've laid the ground work at OWN with Oprah's popular series and now it's time to build on that success with these brand new shows," said Erik Logan, president, OWN.
"Our viewers want to be entertained, to laugh and to have an 'a-ha' moment," added Sheri Salata, president, OWN. "We are confident our new programming is delivering on that promise, infusing the core values of the Oprah brand into everything we put on the air."
Tags: Katalyst, La Toya Jackson, Life With La Toya, Neighborvention, Oprah Winfrey Network, OWN, Studio Lambert, The Customer Is Always Right, World of Wonder
The definitive factual resource.
Over 5,000 company listings!