Fox ups Reilly to chairman of entertainment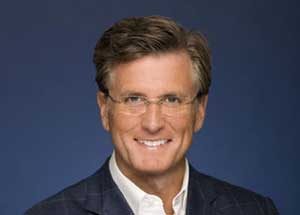 Kevin Reilly, previously president of entertainment at Fox Broadcasting Company,  has been upped to the role of chairman of entertainment.
In this role, Reilly (pictured) will take over from Peter Rice, who was promoted in July to chairman and chief executive of Fox Networks Group, and will now oversee all programming, scheduling, marketing, research, digital and business affairs at the network.
Since 2007, Reilly guided the network as it launched The X Factor and scripted comedies Glee and New Girl, and increased its investment in social and digital media. Reilly was also behind the recently launched Animation Domination HD, an independent production subsidiary generating alternative animation for digital channels and late night blocks on Fox.
Reilly was previously president of entertainment at NBC, and also served as president of entertainment at FX. He was also the president of Brillstein-Grey Entertainment in 1994.
"Kevin is a uniquely gifted executive with the strong strategic vision and creative instincts to ensure that Fox continues to drive the future of our industry," said Rice.
"I am grateful to Peter for extending my role at Fox where I'm inspired every day by the incredible leadership of Joe Earley, Mike Darnell and our entire team at the network – as well as the leadership above us at News Corporation," said Reilly. "This is a transformative time in our industry – one that presents huge opportunities – and we intend for Fox, and all of our programming, to remain the gold standard for innovation."
Tags: Fox, Fox Broadcasting Company, Kevin Reilly, Peter Rice
The definitive factual resource.
Over 5,000 company listings!