Channel 5 commissions "Bizarre Burials," "World's Busiest…"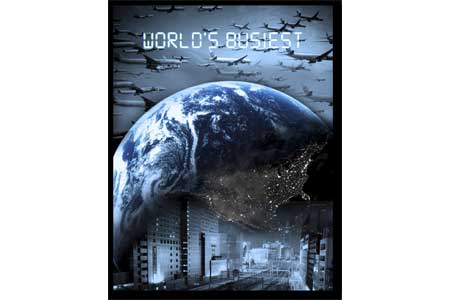 UK broadcaster Channel 5 has picked up Arrow Media and GroupM Entertainment's four-part series World's Busiest…, examining the busiest places on earth, and the Back2Back Productions one-off, Bizarre Burials.
For World's Busiest…, each episode will focus on a different location, including the world's busiest border crossing between Mexico and the U.S., the Hong Kong International airport, the Shinjuku train station in Tokyo, and the world's busiest hotel in Las Vegas.
World's Busiest….is produced by Thomas Viner and executive produced by Tom Brisley at Arrow Media and Melanie Darlaston for GroupM Entertainment.
Recently launched TCB Media Rights is handling the worldwide distribution for World's Busiest…, the first title in TCB's catalog.
Channel 5 has also commissioned Bizarre Burials from Back2back Productions, due to air in January 2013.  The one-off doc looks at the unusual ways people choose to be buried, including an airplane coffin send-off, and introduces the companies that offer these services.
"We all know what fate awaits us and in this show we look at the people who decide to make their final event something to remember," said Michelle Chappell, commissioning editor of news, current affairs and documentaries at Channel 5. "This unique documentary shows off the ultimate send-offs."
In other Arrow Media news, the production company has added three senior hires, including Nick Metcalfe as executive producer. Previously he served as an executive producer at Nutopia and at Darlow Smithson.
Thomas Viner, who has served as a director and producer on a number of projects from Raw Television, Wide-Eyed Entertainment and World Media Rights, has also joined the senior editorial team, as has Lucy Van Beek, who has served as a series producer for BBC and Lion Television.
"We are thriving on finding new ways of telling great stories and have already had great success with new methods of dramatizing real events, as well as breathing new life into observational documentaries," said Tom Brisley, Arrow Media's creative director. "With a dynamic and respected senior team in place with the appointment of Nick, Lucy and Tom we're sure that the vast wealth of combined experience they bring in factual programming will be a valuable asset to the company as we head into our second year."
Tags: Arrow Media, Back2Back Productions, Bizarre Burials, Channel 5, GroupM Entertainment, Lucy Van Beek, Nick Metcalfe, TCB Rights, Thomas Viner, World's Busiest
The definitive factual resource.
Over 5,000 company listings!