Ro*co, Bertha unite for digital partnership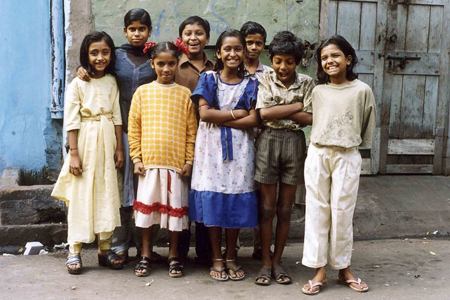 San Francisco-headquartered distributor Ro*co Films has partnered with The Bertha Foundation to bring more than 100 of the former's films to iTunes, beginning with the Oscar-winning doc Born into Brothels (pictured).
The Bertha Foundation is providing the funds needed to specially encode 100 titles from Ro*Co Films' collection, which includes Oscar-nominated and Oscar-winning docs such as Jesus Camp, Hoop Dreams, Hell and Back Again and Saving Face. The films will roll out on iTunes over the coming months.
Born into Brothels, which portrays the resilience of the children of prostitutes in Calcutta's red light district and won the 2005 Academy Award for Best Documentary Feature, will be made available on iTunes in Canada, the UK, Australia, New Zealand, Ireland, Denmark, Norway, Sweden, Hong Kong, Taiwan, Macau, Malaysia, Thailand, the Philippines, Vietnam, Cambodia, Laos, Indonesia, Brunei and Sri Lanka.
It was previously only available on DVD. A digital release of SXSW hit We Are Legion: the Story of the Hackivists will follow in early November; with an iTunes release of Sundance hit How to Survive a Plague coming afterwards.
"The Bertha Foundation is providing an extraordinary opportunity for many, many ground-breaking documentary films to reach a much broader audience," said Ro*co founder Annie Roney. "There's a vast audience outside of the United States hungry for these theatrical documentaries."
Rebecca Lichtenfeld of Bertha Philanthropies added: "The Bertha Foundation works with inspiring leaders who are catalysts for social and economic change. Ro*co's slate of films dare us to explore issues more broadly, challenge the way we think, and often inspire us to greater social activism, thus making this partnership a strong fit for Bertha's mission"
Tags: Annie Roney, Bertha Philanthropies, Born Into Brothels, How to Survive a Plague, iTunes, Rebecca Lichtenfeld, Ro*co Films, The Bertha Foundation, We Are Legion: The Story of the Hacktivists
For more information in the Contact directory:
ro*co films international
The definitive factual resource.
Over 5,000 company listings!