C4 Daytime adds "Race the Clock," "Common Denominator"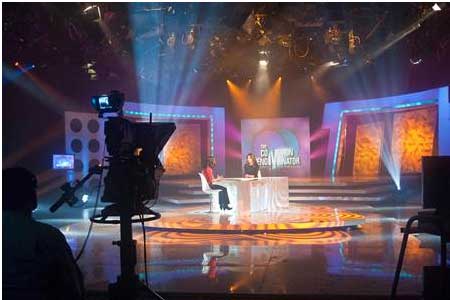 UK pubcaster Channel 4 (C4) has added five new series to its daytime lineup for 2013, including quiz show The Common Denominator (pictured), and has moved Four Rooms into daytime.
Daily series Race the Clock (w/t) is one of the quiz shows on C4′s slate for 2013. The Objective Productions Scotland-produced 30 x 35-minute series is fronted by Rory Bremner, and sees the player answering a rapid fire quiz while risking time running out.
Remarkable Television will produce The Common Denominator, an Armoza Formats' quiz show format. Airing in early 2013, the 40 x 30-minute show features unique questions testing the contestant's lateral thinking and general knowledge, such as what the common denominator between the Hilton hotel and the Eiffel Tower is. Phil Spencer will present.
Elsewhere, Coach Trip's Brendan Sheerin will bring his tour guiding experience to a different format in Magical Mystery Tour (w/t). The 12 Yard Productions series will see Sheerin lead eight tourists on five day trips to exciting and exotic destinations across the world, with the catch being that everything is a mystery to the tourists, such as where they're staying, what they'll be doing, and who they'll be with.
The 20 x 30-minute series, which is set to air in early 2013, will see the contestants competing in cultural challenges which will upgrade their holiday if they win, or downgrade if they lose.
Sheerin will also host another series, Brendan's Love Boat, made by Optomen, which will put vacationers together on a cruise around the Mediterranean in a bid to help them find love.
Airing later this month, Thames Scotland's 1001 Things You Should Know sees three contestants going against each other to prove what they know to win a cash prize. The 30 x 30-minute series is hosted by Sandi Toksvig.
Meanwhile, Four Rooms moves from primetime into daytime in early 2013, with an extended stripped run. Hosted by Anita Rani and produced by Boundless, the 30 x one-hour series will see members of the public trying to sell curious items to 12 discerning dealers.
"2013 is set to be an incredibly exciting year with a broad and distinctive range of programs," said Channel 4 head of formats Dominic Bird. "This raft of new commissions reflects just some of the fresh and original output that will start to shape the daytime schedule in the coming months."
Tags: 1001 Things You Should Know, 12 Yard Productions, Armoza Formats, Boundless, Brendan's Love Boat, Channel 4, Four Rooms, Magical Mystery Tour, Objective Productions Scotland, Optomen, Race the Clock, Remarkable Television, Thames Scotland, The Common Denominator
For more information in the Contact directory:
Channel 4
The definitive factual resource.
Over 5,000 company listings!