$42.6m raised for docs through Kickstarter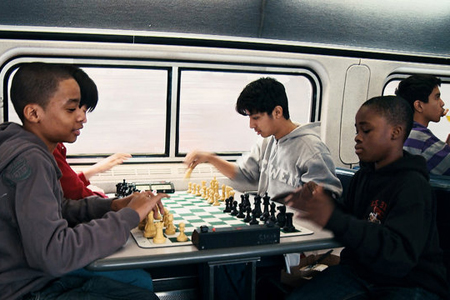 American crowdfunding site Kickstarter has passed the US$100 million mark for funds pledged to film projects, with $42.6 million of that amount raised for documentary projects.
According to figures published by the site, a total of $102.7 million has been pledged to 8,567 film projects by 891,979 different backers, since the site's launch just under four years ago. So far, $85.7 million of that 10-figure sum has been collected and made its way to filmmakers.
Breaking the pledges down by genre, documentary is by far the most popular type of film to be backed, with $42.64 million having been given to 2,394 different doc projects.
Among the many docs to receive funding through the site are Oscar-nominated titles Sun Come Up, Incident in New Baghdad and Barber of Birmingham. Kickstarter also points out that three of the 20 best-reviewed films of 2012 (according to Rotten Tomatoes) are docs that received funding through it: The Waiting Room, Brooklyn Castle (pictured above) and Ai Weiwei: Never Sorry.
In a joint blog post published by Kickstarter co-founder Yancey Strickler, editor Eli Dvorkin and film program director Elisabeth Holm, the trio said: "Documentaries have had the most dollars pledged, but every category has received millions of dollars from thousands of backers.
"More than 3,000 short films and nearly 5,000 feature-length films have been successfully funded since 2009. This would be a very impressive track record for an established studio or production company.
"To see these results come from outside the system in such a short time is even more inspiring," they added. "Filmmakers and audiences have come together on Kickstarter to make the movies they want to see while protecting the filmmaker's vision for their work."
Tags: Ai Weiwei: Never Sorry, Barber of Birmingham, Brooklyn Castle, crowdfunding, Eli Dvorkin, Elisabeth Holm, Incident in New Baghdad, Kickstarter, Sun Come Up, The Waiting Room, Yancey Strickler
The definitive factual resource.
Over 5,000 company listings!