Think of a before and after weight-loss photo. It is instantly gratifying to look at. Why? Because it doesn't show the hardest part: the losing of the weight.
A British production company has noticed audiences for reality shows that hinge around a transformation are tuning in for the beginning and the end, but skipping the middle.
"We're struggling to keep people through a single narrative hour," Twofour Group chief executive Melanie Leach explained during a formats session at Realscreen West in June. "We thought, 'Why don't we be bold and skip the middle bit because people aren't interested in the journey anymore."
Leach and her team put that anecdotal insight to work in This Time Next Year, a format that Twofour has licensed into 30 territories. Ten of those territories are in production even though the UK version – due to premiere on ITV1 and featuring Davina McCall of Big Brother UK – has not yet aired. Local versions are underway in Australia (Channel 9), Denmark (TV2), Germany (RTL), and for unannounced networks in the U.S. and five more European markets.
The pitch: in a studio there are two doors. One says 'This Time' and the other says 'Next Year.' A person walks through the 'This Time' door and chats with a host about a goal they want to achieve by "this time next year." It could be losing weight, having a baby, finding a long-lost relative, making the Olympic team. They explain how they will do it. The host bids good luck and sends them back through the door.
The host then turns to the studio audience and asks, "Do you think they can do it?" They don't have to wait long to find out. In a time-travel twist, the person returns through the 'Next Year' door moments later and reveals whether or not they attained the goal.
"This show literally sold itself as a sentence to everyone in the room," said Leach.
Part talk show, part Biggest Loser, part American Idol audition show, This Time Next Year takes the before-and-after concept and delivers it at warp speed. Execs at the London-based company are so confident they have a hit that they are already bracing for rip-offs.
To pre-empt copycats, Twofour is developing a property makeover show and a business show based on similar "day-one-to-day-365″ transformations.
"This Time Next Year is not like any other production I've worked on, which is the most exciting element of it," says Andrew Mackenzie, Twofour Group's chief creative officer. "That is proving to be the appeal to networks and producers around the world. It's a genuinely new idea."
That may be so in the aspirational space, but rearranged narratives are a recent trend in dating formats. Red Arrow International's social experiment series Married at First Sight puts the wedding before the courtship, while Banijay Group's Undressed puts two strangers in a studio with a bed and asks them to get undressed before they get to know each other. Another Red Arrow format, Kiss Bang Love, skips the first date and goes straight for the make-out session.
This Time Next Year stands apart with its year-long production timeline and predictive casting process.
"It's a bit of a mindf**k, to be honest," Mackenzie told realscreen in an interview ahead of season one's second studio shoot in September.
ITV's six-episode first season will feature five to six people in each 44-minute episode. At the outset, Twofour wanted a minimum of 48 people for the series so they cast and shot 85, figuring a percentage would not attain their stated goal.
"A lot of pledges they make are outlandish," he says. "A 33-stone (462 lbs) man wanted to lose 10-stone (140 lbs). That's a serious amount of weight. We had six different people who came on wanting babies and all of them have had significant problems getting pregnant. You're playing a numbers game."
The pledges fall into six categories: body change, babies and family, finding someone/reunion, life achievement, love and "the wild card."
Producers are finding the outcomes, even when positive, are often unpredictable. A double amputee in a wheelchair who said he would walk his wife down the aisle is now walking but is no longer with his wife. Meanwhile, a couple who promised to lose weight together broke up after one failed to meet the goal.
With few exceptions, the idea is that the audience instantly knows if the person has attained the goal the moment they re-enter the studio a year later. "When the doors open the audience has to judge straight-away whether they've done it," says Mackenzie.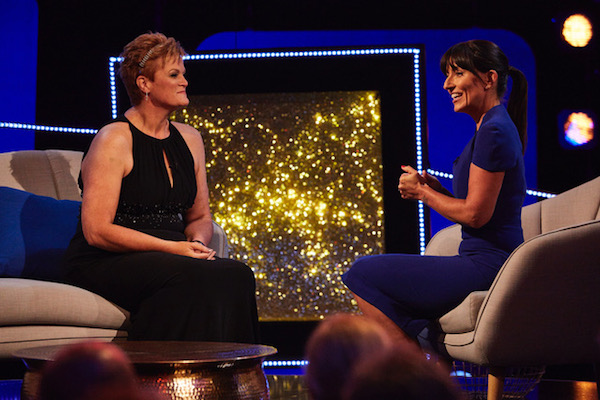 Between studio days, the production is minimal. A scaled-down team monitors the cast's progress and keeps them motivated. Twofour has also created a Facebook group to encourage cast members to motivate each other.
To determine how to allocate production over a year, producers immediately cut the first studio footage and ranked people on "a fairly brutal" A, B or C storyline criteria.
Initially, they had scheduled a lot of shoots but found the most emotionally revelatory moments were self-shot moments rather than professionally shot footage. For example, the family of a 16-year-old boy who lost his voice in a bungle tracheotomy filmed him speaking for the first time, in a croaky voice, in a phone call to his grandmother.
"If someone who said they were desperate for a baby walks out with a baby, that is remarkable, but what you don't want to do is cut back to them getting their first baby scan three months in," says Mackenzie. "It's redundant."
Continuity is also an issue. The production is designed to avoid the need for shot-matching, but the concept meant producers had to deny host Davina McCall's request to cut her bangs. "She's got a beautiful blue dress that is in a vacuum seal and she will be wearing it in exactly the same way as she was for the first studio [shoot]," he says.
Mackenzie puts ITV's version of This Time Next Year "on the higher end of lifestyle but the lower end of the entertainment" budget scale. Indeed, some European nets have scaled down the format with smaller budgets. "It's a heck of a commitment," he says. "You can't pilot this show."
It's too early to tell how each version of the format will differ in style. However, the Australian version that will air on Nine Network is diverging from the UK version in one major way.
Producers have cast a few terminally ill people, including a man who appeared in the first studio shoot with his wife and vowed they would run in one last marathon together. A year later, will he walk back out or will his wife walk out alone? It's too dark a question to ask in the UK version.
That's not to say there won't be failures on ITV's version. Funny failures or relatable characters that just didn't pull off their goals will be brought back on to ensure there is a sense of jeopardy with the concept.
"We're making an entertainment show and the spirit of the show is life-affirming," Mackenzie says.