The competitive world of chicken fanciers and poultry pageants is unfeathered in the latest documentary from Christchurch-based filmmaker Slavko Martinov when it receives its world premiere at Hot Docs this month.
In Pecking Order, Martinov ventures into the pen of the Christchurch Poultry, Pigeon and Bantam Club as the organization enters into its 148th year — the oldest club in New Zealand.
As members new and old – including teenagers Rhys Lilley and Sarah Bunton – prepare their prize birds for victory at the 2015 National Poultry Show, club infighting and poultry politics look to tear long-time president Doug Bain from his perch.
The 88-minute cinéma vérité documentary is new territory for Martinov, whose 2012 mockumentary Propaganda stoked feelings of anger amid accusations that he and his team were North Korean spies.
The fake anti-western propaganda film about the influences of American culture, as told from the North Korean perspective (later described by the director as a "social experiment about propaganda") was later bestowed the Founders Prize for Best Film honors at the 2013 Traverse City Film Festival, the Michigan-based festival co-founded and curated by Bowling for Columbine director Michael Moore.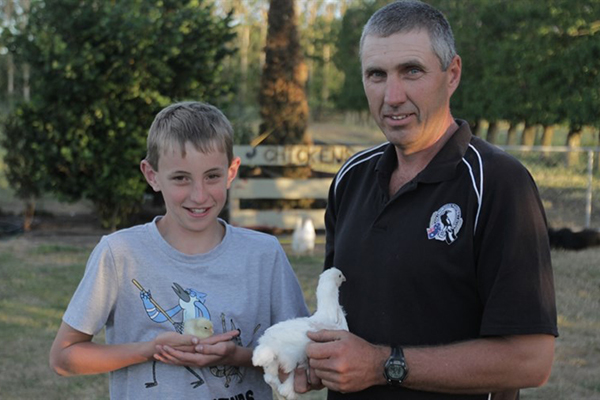 Montreal-based distributor Seville International, a subsidiary of eOne Entertainment, is handling international sales for Pecking Order, which was supported by the New Zealand Film Commission. Pecking Order will debut in its native New Zealand on May 9 before opening in New Zealand and Australian cinemas days later on May 18.
Produced by Vendetta Films and Sabine Program, the film will have its world premiere in Hot Docs' themed Magnificent Obsessions section. Martinov produced the doc alongside Mike Kelland and David Brechin-Smith. Executive producers include Jill MacNab, Phil Bremner and Steve Gilmore.
Ahead of Pecking Order's premiere in Toronto, Martinov spoke with realscreen about the nuances and internal politics of poultry pageantry.
What was the genesis of Pecking Order?
We were following the central character of a doc called What Would Branson Do? in Melbourne, November 2014, and ended up at a craft show just outside of the city. I noticed some women selling large bags of high-end organic chicken feed. What's the market for that? I was curious, so I went over and said hello — asked them about what they do and how it works. Turns out, they could hardly keep up with demand. So what do I know? Not much it seems when it comes to chickens. The genesis for this idea happened when they rattled off the list of buyers and added, "most of the top breeders on the national show circuit." There's a national show circuit for chickens? Keep talking…
Why was it important for you to share a story about poultry pageantry?
You can't beat your initial reaction when you hear about something. I thought, if I'm this delighted and need to know more about a world I didn't know existed three seconds ago, then it's worth pursuing. But the simple hook of 'Best in Show' with chickens was never going to be enough. It's too easy. And I'm too paranoid (I always assume someone else is working on the same idea). For me, it provided an opportunity to explore other things, which is why it's really a political film that just happens to take place in the world of competitive poultry pageantry.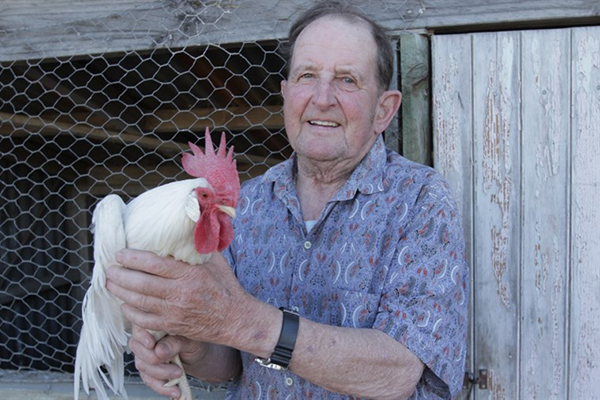 From what I've read, you had a difficult time acquiring funding for your 2012 film Propaganda. Has the response been any different with Pecking Order? How exactly did you go about financing the documentary?
Funding for Propaganda wasn't difficult. It was impossible. It was a secret project so I couldn't pitch it to anyone. I did some work for a millionaire for a few months as a production manager and he said, "Anything you need for future projects, just ask. I want to help." So I pitched Propaganda to him. I've never forgotten the look on his face. I had no idea bewilderment and disgust had a look. It was unpitchable (sic). So I just saved for the next eight years and paid for it myself.
Getting funding for Pecking Order was the opposite. "Hello, is this the New Zealand Film Commission?" "Yes. What've you got?" "'Best in Show'. With chickens. But it's real." Easiest pitch in the world.
What were the goals of this film when you began shooting? Had you realized the nuances and internal politics of poultry pageantry when you began filming?
Good question. I didn't have a clue about how this world worked. I was so naïve, I thought I'd be making a film in Australia. I didn't know it even existed here in New Zealand. So at first, I just hung out at the club and watched what was going on. My goal was to use poultry pageantry as a springboard for exploring HAR (human animal relationships), which is also known in anthropology as the field of anthrozoology. That's fascinating to me and is part of a zeitgeist of films that deal with HAR in various ways (Grizzly Man, Project Nim, Blackfish and so on). So I was thinking of that as my focus, while exploring the psychology of competition and the politics surrounding who sets standards for beauty in pageantry (poultry pageantry eugenics) at the same time.
I just had to watch carefully for clues about what was really going on at different clubs. That's not easy because the trouble with Kiwis – especially country people, who are sometimes so quiet and understated you feel like having to check for a pulse – is that we don't like making a big fuss about things. So when I'd ask, "how competitive is poultry showing here? Why do you do it?" They'd all reply that it's not at all about the competition. It's just about hanging out with your mates and they don't care if they win or not.
Of course, that's rubbish. They're incredibly competitive. Why else would they breed special bloodlines for 50 years and spend nights in the winter mud and rain? But this is classic Kiwi culture, pretending you're completely unfazed by everything. It's part of the game. We all do it. But poultry people take deadpan bullshitting to the next level. It's their language. They love messing with you and each other. So I had to be patient and watch and learn for a while. It's also why it took so long for me to realize just how deep the politics ran in the club.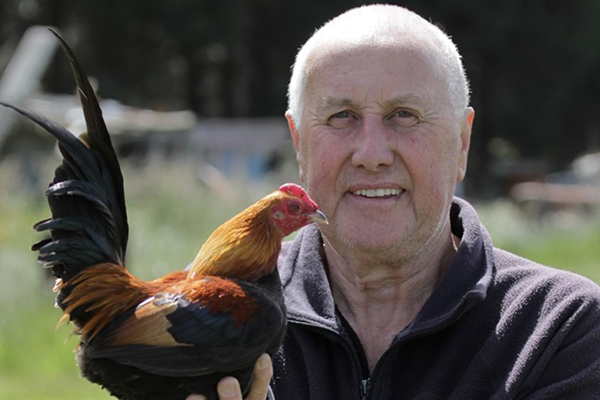 How have your experiences with Propaganda informed your work with a project like Pecking Order? 
Ha. I can't imagine anything that happened with Propaganda informed my work with Pecking Order. I didn't miss looking over my shoulder or being called by government departments to discuss my being a spy. I didn't miss sitting through interrogations. It was a treat just to be able to focus on the challenges of making a conventional film and try to keep everyone on board.
What's next for you as a documentary filmmaker?
The New Zealand Film Commission are very supportive of everything on my slate. They've given me development funding for one of them (a feature doc), so I've got to get to work on that. And I've got other projects in development that are ready for international co-production, so I'm looking forward to hose conversations on the festival circuit this year.
Pecking Order premieres at Hot Docs in the Magnificent Obsessions category on Saturday, April 29 at 4:15 p.m. ET at Toronto's TIFF Bell Lightbox. Visit the festival's website for complete screening info.
The 2017 Hot Docs Canadian International Documentary Festival runs April 27 to May 7.