It was April of this year when director Addison O'Dea received a phone call from executives at Discovery Channel and Here Be Dragons, the virtual and augmented reality studio from Patrick Milling-Smith and Chris Milk.
That phone call would result in a months-long whirlwind of activity in the field to capture, in 360-degree video, a "visceral travel experience" that dives into a myriad of cultures and subcultures from across all seven continents.
The end result is an immersive 38-episode, seven-chapter series titled Discovery TRVLR that was produced in tandem by Discovery VR and Google's VR team.
The series centers around a "Guru, Renegade, Entertainer or Explorer" in each environment as they pull the curtain back on varying rituals, unique traditions and life-threatening quests that encompass their culture. O'Dea says the series is "almost like an invitation because none of what we do is really on the traditional path for a guest."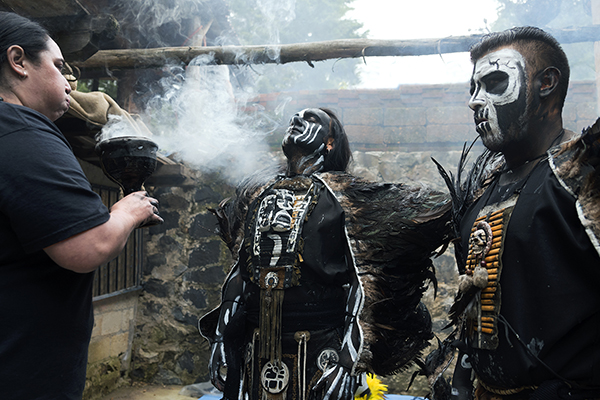 Each chapter of the series explores a different continent. Chapters for North America, South America, Asia, Africa, Europe and Australasia consist of six episodes each, while the chapter for Antarctica features two episodes.
O'Dea directed the episodes filmed in North America, South America, Asia, Africa, Australasia and Europe. They were produced by digital studio Here Be Dragons.
Episodes filmed in Antarctica were directed by Barry Pousman and produced by Yes Please Thank You.
Emmy-winner Saschka Unseld was creative producer for the series.
The broadcast strategy for Discovery TRVLR will feature one new episode per day for 38 consecutive days, with the first chapter of the series launching today (Nov. 3).
All six episodes showcasing the wonders of Auckland, New Zealand will be made available on the Discovery VR app with episodes releasing daily on YouTube.
In the first episode, "Auckland Explorer: Dive into the Blackness", viewers will follow underground explorer Angus Stubbs to enter through cracks in a rock wall before floating along an underground river to dive deeper into the heart of the Waitomo cave system.
A clip can be viewed below. New clips for the series will be available at 1 p.m. ET/PT each day.
Ahead of the premiere event, realscreen spoke with O'Dea to learn more about the seven-part project. 

This interview has been edited and condensed for clarity and length.
What was the genesis for this project?
Discovery wanted to do this and they partnered with Google to create this epic travel series. Discovery is in business with Here Be Dragons, and I have pre-existing relationships with both Discovery and Here Be Dragons. I've done a 360 series for Discovery Digital Networks, and I know and love all of the Dragons. They rang me up and said 'We want to go around the world to all seven continents and this is this is what you do best.'
The genesis was somewhat serendipitous because we all knew each other already, which makes it very easy for something to kick into gear. Once the decision was made to work together, it was a breakneck run from concept to execution. That was only really possible because of all of our preexisting relationships and because Discovery is really good at making programming in the traveling and adventure genre, and Dragons is best in class at VR. Thankfully they called me to make a show that's in my wheelhouse.
You created Discovery TRVLR to be a seven-chapter project, with 38 episodes. Why take on such a massive VR project when filmmakers are still struggling to come to grips with the new medium?
VR is in a really exciting new phase and TRVLR as a show is in this critical mass moment. We saw phase one where there was the initial investment, both in time and money, by technologists who were developing the cameras, and by studios and film filmmakers who were experimenting with the medium. Then, of course, with broadcasters for testing the waters with audience interest.
Now we're in phase three where we have a major broadcaster (Discovery) with a global footprint who has invested in programming brand. This is a series that I wrote as a format. It's character driven, there are narrative arcs to it, so it has a lot of the hallmarks of what audiences expect from television as a medium. However, we are also really bringing the full value of the medium to that traditional narrative structure. It's a confluence of the two, and with Discovery investing in it, it only opens the door for other broadcasters to make similar investments.
Why do you think there is an appetite for a project like Discovery TRVLR? 
The travel genre is so well-suited to this medium. It's visceral and immersive. It really drops audiences inside of places, and amongst tribes and people. In traditional flat programming, as the director I make a big choice as to who and what is in the frame. With 360, it really removes my perspective from the equation. Once the camera is inside of these houses, inside these rituals and with these people, the audiences then can see everything that's happening. People often talk about VR as an empathy machine, and I wouldn't say that's incorrect, however it's also a truth machine because it's less observational and more immersive.
What audience do you think this documentary project appeals to?
Curious human beings are the audience. We made a very conscious effort to simply not retread ground that is often tread in traditional travel programming. This show goes beyond that and has sought out totally new experiences combined with the medium. I don't think travel audiences will be let down – they will be encountering something new.