Articles Tagged 'Factual Entertainment Forum 2011'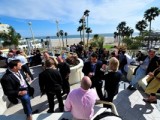 TV
The third annual Realscreen Factual Entertainment Forum, held last month in Santa Monica, brought together broadcast and cable executives, producers, agents and other stakeholders in the reality TV/factual entertainment industry for inspiration, discussion about the current state of reality TV and, of course, networking.
The definitive factual resource.
Over 5,000 company listings!