With guest appearances from Oprah Winfrey and Morgan Freeman, to Vegas show tunes from Rosie O'Donnell (pictured above), last week saw Discovery Communications going all out in its bid to woo advertisers during its annual Upfront presentation in New York City.
The network kicked things off with a two-hour show featuring a dazzling array of big name talent at the Frederick P. Rose Hall in NYC's Jazz at Lincoln Center.
In addition to the aforementioned Freeman, Winfrey and O'Donnell, celebrities in attendance included singer-songwriter Billy Ray Cyrus; Sopranos star Steve Schirripa; magicians Penn and Teller; Cake Boss host Buddy Valastro; SNL comic Andy Samberg and talent from shows including Deadliest Catch, MythBusters, Dual Survival and Cash Cab.
While O'Donnell's Vegas-style number announcing her new chat show on OWN drew some of the biggest smiles from the hundreds-strong advertiser audience, the really big news for the network was Winfrey's confirmation that she would be bringing her own chat show to the channel, albeit in the form of a 60-episode 'greatest hits' package, which would look back at highlights from 25 years on the Oprah couch.
The arrival of both big-name chat shows should help boost the nascent channel's ratings, which have markedly tailed off following a prosperous first few weeks on air. In addition to the O'Donnell show and Oprah's Encore, the network also unveiled a slate featuring six new series, with commissions for producers including Relativity Real, Pilgrim Films & Television and Kinetic Content.
For Animal Planet, the network's president and general manager Marjorie Kaplan took to the stage to show off a line-up of 14 new series and 12 returners, touching on everything from lion tamers and rat catchers to tattooists and Bigfoot; while for Investigation Discovery (ID), the big news was of a partnership with acclaimed documentarian Werner Herzog (Grizzly Man, Encounters at the End of the World), for a series exploring crime, punishment, and death row.
Talking to realscreen about the show, Henry Schleiff, president and general manager of ID and Military Channel, said: "When you see the interviews, one-on-one, in the context of a person who may be executed within hours of the interview, I think you're looking at something that is unique in television."
In addition to Werner Herzog's Final Confessions, ID also aired clips from its five new original series, including its first docu-soap, Big Law: Deputy Butterbean, which sees former heavyweight boxer Eric 'Butterbean' Esch being deputized by the Walker County Sheriff's office in Alabama.
Other new shows on the network included Real Crime/Reel Story (working title), which looks at the truth behind popular crime and justice movies, such as Monster and Goodfellas; and Homicide Hunter: Lt. Joe Kenda (w/t), which follows a 23-year veteran of Colorado's homicide investigation unit, looking back at murders that still haunt him today.
Of all the networks stumping at the Upfront, ID was perhaps in the strongest position, with Schleiff never shying away from letting the audience know that his channel was the "fastest growing network" in America.
For the flagship Discovery Channel, the big draw was the unveiling of Penn & Teller's Secrets of the Universe. The irreverent magicians wooed the audience with several tricks (pictured below) to promote the MythBusters-style show, which promises to explore questions such as 'can you lift a 5,000-pound car with human hair?'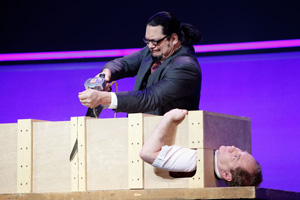 Among the other upcoming shows for Discovery Channel are Best in the Business, billed as a battle of job-skill supremacy; Swamp Brothers, which features two brothers who run one of Florida's largest reptile sanctuaries and exotic reptile dealerships; and Life on a Wire, a series clearly looking to capitalize on the success of breakthrough doc Man On Wire by following a modern-day daredevil tightrope-walker.
Over at female-skewing net TLC, the big talk was of gypsies – specifically that the net has acquired Firecracker Films' hit series Big Fat Gypsy Weddings and that it will be producing its own U.S. take on the series, tentatively titled Gypsyville.
The show has been a smash in the UK; however, it remains to be seen how popular an American adaptation will prove to be. Other highlights from the TLC slate included Homecoming, a tear-jerker series fronted by Billy Ray Cyrus, which films the moment American soldiers are reunited with their families; and Extreme Couponing, which promises to introduce viewers to America's most extreme 'super couponers,' who buy on bulk to make big savings.
Complementing the slates from Discovery's flagship brands was the announcement that the broadcaster would be rebranding its HD Theater channel as Velocity, a 'turbocharged network' for an upscale male audience.
The switch is slated for Q4 2011 and the new channel will be available to approximately 40 million homes, featuring more than 400 hours of series and specials covering the automotive, sports and leisure, adventure, and travel genres.
"As the first network devoted to the upscale men's market, Velocity will be a hub for viewers within this key demographic, as well as the wealth of advertisers that target them," said David Zaslav, Discovery Communications president and CEO (pictured below).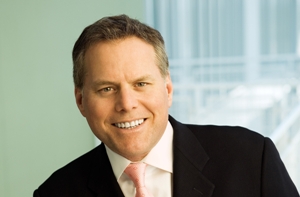 Following the network's Upfront presentation, Zaslav and Discovery Networks International's president and CEO Mark Hollinger held a breakfast briefing for press, at which the pair promised that Discovery's investment in original programming this year would top US$1 billion.
Zaslav said that about two thirds of the company's revenue currently came from the U.S., with a third coming from outside the States. However, he expected the company to reach a "tipping point" during the next few years where that would change, with the majority coming from the international marketplace.
The duo also flagged up their intention to try and crack the difficult Chinese market, marking out the East as a key territorial priority. Zaslav said Discovery would look to build upon its programming partnerships in the region – such as its three-year production initiative China Imagica – with a full channel launch as soon as was possible.
Hollinger added that the broadcaster wants "to be there and do everything that we're allowed to do" in the region. "We have three offices there and very good relationships with all of the major media companies there," he said, adding that with channel launches, Discovery would "hope to be first in line when that opportunity does come."
Finally, the factual broadcaster also used the occasion of its Upfront to slip out the news that it would be launching a major formats initiative with Shine Group, All3Media and WTFN.
The plan will see Discovery Studios, in partnership with Discovery Networks in the U.S. and internationally, working with the production partners on a non-exclusive basis to develop and commission original lifestyle, specialist, factual and general entertainment formats.