The Toronto International Film Festival's world premiere of Alex Gibney's The Last Gladiators last week capped a remarkable double hat-trick for the Oscar-winning documentarian: the second consecutive year that three of his docs had premiered at major festivals.
The launch of Gladiators followed the premiere of baseball doc Catching Hell at Tribeca in April, and Magic Trip at Sundance in January. That comes after 2010 saw the launches of Casino Jack and the United States of Money, My Trip to Al-Qaeda and Client 9: The Rise and Fall of Eliot Spitzer, as well as the collabo-doc Freakonomics, on which Gibney (pictured above) was one of six co-directors.
The trick to balancing so many different projects, Gibney tells realscreen, is to surround oneself with a savvy cutting room crew. "I stand on the shoulders of very talented editors, who day in and day out are putting the film together," he explains, "and I say, 'Why don't we do this or why don't we do that,' but the editors are the unsung heroes of documentaries.
"And in the case of Allison Ellwood on Magic Trip, because it was purely an edited project, she deserved a co-director credit, which she rightly got."
Part of the thinking behind Gibney's multiple-project approach is that it allows him and his team at Jigsaw Productions to keep ideas active if the process slows down or hits a snag.
"Sometimes if you're doing other projects at the same time, you can afford to say, 'Okay, we'll wait and see if we can get that person [for an interview], and then we'll resume.' If you're only doing one project it's a hard thing to do because if it stalls, what do you do?"
The Last Gladiators (pictured below) came about after he was approached by a group of ice hockey investors ("some of them were NHL team owners or part owners"), led by exec producer Barry Reese, who were looking to make a film celebrating the oft-overlooked role of the enforcer – the team member tasked with physically intimidating the opposition.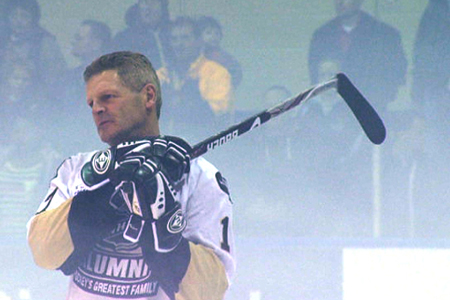 "I was interested because I played a little bit of hockey in college, and I knew a guy who did go on and play in the pros briefly, and he was faced with the Faustian bargain a lot of the fighters are faced with, which is: you're not Wayne Gretzky, you're not Sidney Crosby. If you want to hang around, you better learn how to fight," Gibney says.
"That's a very poignant thing, because what they really wanted was to play pro hockey, but their way in was not through their blades, but through their fists."
The doc focuses on one particular enforcer, Chris "Knuckles" Nilan, and his battle with painkillers after retiring from the game. "Chris was not the most famous enforcer, but he was the best storyteller," says Gibney.
"Because he had been a fighter, he had been in a lot of physical pain and started to take drugs to dull that pain, and got hooked. He speaks very honestly and candidly about trying to come back from that addiction." It is a film with particular relevance following this past year's off season, in which three NHL enforcers died in the span of four months.
Gibney says it was Nilan's mental battle that captured his imagination, as much as the physical. "I'm interested in human psychology, and although sports is often about physical accomplishment, it's really a lot about psychological accomplishment too."
The filmmaker, whose Iraq war doc Taxi to the Dark Side won the Best Documentary Feature Oscar in 2008, is currently in Toronto seeking a distributor for The Last Gladiators.
In the meantime, you can rest assured that he will have further projects on the go at the same time. Gibney's proactive nature stems in part, he says, from remembering a time "when the phone didn't ring so often.
"The fact is, if you have an opportunity to make a film and someone's giving you that opportunity, and you think it's a subject that you're interested in and can do something with, it's very hard to turn that down," he says.
"So sometimes things get a little bit crowded, but it's better than looking out the window and wondering where the next gig is going to come from."
"The Last Gladiators" will have its final TIFF screening at Toronto's Scotiabank Theatre on Sunday, September 18, at 9.15 p.m.