With MIPCOM underway, realscreen's Global Pitch Guide highlights a number of international commissioning editors from territories including Australia, Asia, Israel and Latin America, who give tips on how to best approach them with ideas.
Radarscreen's previously published guides for approaching U.S. networks (part one and part two), Canadian networks, UK networks and European networks are also available as a reference.
AUSTRALIA
Australian Broadcasting Corporation – Alan Erson, head of documentaries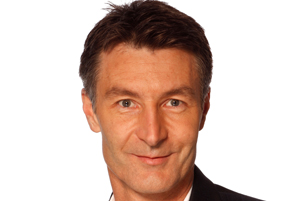 WHAT HE'S  LOOKING  FOR:
ABC Documentaries commissions for ABC1 and digital network ABC2, with ABC1 being very strong in the 45-plus demo. Erson says the network is keen to extend its reach among younger viewers, especially families with children 15 and under. Meanwhile, ABC2 seeks to "inspire, provoke and surprise" its viewers, who mainly fall under the 25-39 demo.
Producers from outside Australia should note that ABC commissions Australia production  companies.  "They often collaborate with overseas producers and broadcasters but as a taxpayer-funded public broadcaster we support the Australian production industry," says  Erson. For that reason, ABC also doesn't buy foreign formats but does develop and commission original formats with Australian companies.
In terms of factual and documentary, ABC commissions and acquires  programming for ABC1, ABC2 and multi- platform across the history, contemporary, science, natural history, religion and ethics, public affairs, and lifestyle genres. According to its very comprehensive producer info portal, //www.abc.net.au/tv/independent/, ABC2 isn't commissioning content in history, natural history or science,  and lifestyle programming across ABC is generally produced internally or acquired.
MONEY TALK:
ABC and Screen Australia recently launched a new initiative, Opening Shot, designed to both give a leg up to emerging Australian filmmakers 35 and under, and to create a new primetime series  for ABC2 that will examine contemporary Australian  life. Applicants  could receive up to AUD$80,000 per half-hour  doc. The call for entries  for the first year of the initiative closed in July.
For commissions, a top-end license fee is AUD$150,000 per hour, while the lower end depends  on the project and the deal. As well,  Erson says ABC investment triggers tax concessions and, often, direct state and federal investment in doc projects.
ABC also co-finances projects regularly, with Erson calling it a "vital part of ABC Documentary output." Recent commissions include the natural history project Reptilian Battleground, in partnership  with National Geographic, and the upcoming history doc The Story of Australian Wine (w/t), which the BBC is investing in.
HOW TO PITCH:
All proposals  should be sent via email to development producer Edwina Waddy at waddy.edwina@abc.net.au, while general inquiries about docs can be made to unit coordinator Rachel Sinclair at sinclair.rachel@abc.net.au.
Proposals should be within a two-to-four page document and while first contact doesn't require a fully-fleshed out treatment, it should provide a "clear and well-substantiated rationale  for the project, as well as a short outline of the story and/or thesis." If you want to send a DVD with your submission, it can be sent to Waddy care of ABC TV Documentaries, GPO Box  9994, Sydney NSW 2001.
ASIA
AETN All Asia Networks – Michele Schofield, VP of programming and production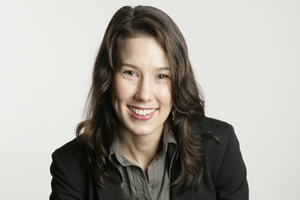 WHAT SHE'S  LOOKING FOR:
AETN All Asia Networks  has  under  its umbrella  the  History, Crime   & Investigation  Network (CI) and  Bio brands.
"Our objective is to localize our channels so original productions that we greenlight  focus  on Asian content," Schofield explains, adding that approximately 75% of the networks' content is original with the remaining percentage coming from third-party acquisitions.
As with History in the U.S. and UK, shows such as Pawn Stars and Swamp People perform well for History in her region, thanks to their "entertainment value, engaging characters  and broad appeal." Across the nets, Schofield says her team is looking to commission at least one original series  each, along with one and two-hour specials. "So far, we have launched the original series Hidden Cities successfully on History and Partners in Crime and Crime Investigation Asia on CI, with others currently in production," she says.
One-offs that  have worked well for History and Bio in the region have included biographies of Asian icons, as well as examinations of disasters  from the past 20 to 30 years and other significant events or wars relevant to the region. "But we're always looking for new ideas or
unique characters  that fit the channel genre for series or specials," she adds.
AETN All Asia Networks  engages in full commissions  and copros, and is open to other channels from outside  its South East Asia territory, which includes Hong Kong and Taiwan, being on board, as well as copros with producers dealing in deficit financing or working with government bodies that financially support development and production with local producers  of that country.
HOW TO PITCH:
Pitches can be sent to EP Chris  Humphrey  (Chris.Humphrey@aetnallasia.com). "An initial pitch should include details of story, execution style, access, budget and production timeframe," says Schofield. "A pitch is more than an idea backed up by the Internet," she adds. "Producers should bring some significant research to their pitch, including access to characters, experts and interviewees, who will drive the  story and make it unique. Don't be scared  to show off your producing. Keep the pitch focused, concise and make your angle clear."
For acquisitions,  if you have content  that will resonate with an Asian audience, send info and a DVD or link to screen to acquisitions  manager Angie Yong (Angie.Yong@aetnallasia.com).
WHERE TO FIND  HER:
MIPDOC, MIPTV, MIPCOM and Asia Television Forum.
Discovery Networks Asia-Pacific (DNAP) – Vikram Channa, VP of production and development for Asia-Pacific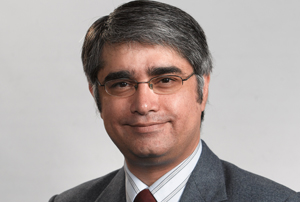 WHAT HE'S  LOOKING  FOR:
Channa says Discovery Networks Asia-Pacifc commissions or coproduces  close to 100 hours a year across all its networks, with local productions  and acquisitions contributing between 10-15% of programming commitments yearly. There are seven nets under the DNAP umbrella:  Discovery  Channel, Animal Planet, Discovery Science, Discovery HD World, Discovery Turbo, Discovery Home & Health and TLC.
"Demographics vary across  lifestyle and factual networks, but our core audience  is adults aged 25-54," says Channa. "People come to us to immerse themselves in visually driven, high octane  real-life entertainment.
Survival-related content continues to reinvent itself and connect  with our audiences  here in Asia-Pacific. In addition, genres  like engineering, paranormal, epic history, cuisine  and travel, as well as quick turnaround topical specials rate well with our audiences."
While the networks are increasingly series-focused, particularly TLC, Channa says specials are still in demand for Discovery  Channel and Animal Planet.
"As for coproduction, the door is always open provided the content is relevant and has appeal to viewers in our region," says Channa. "Recent examples of our successful local productions include Storm Surfers, Man Made Marvels and the World Cafe series [which] are borne out of strategic coproduction partnerships with funding entities in the region, set up to encourage  local productions. We continue to work closely with Discovery in the U.S. to share  content  produced  from our production hubs all over the world including Asia-Pacific."
HOW TO PITCH:
Channa points to the Discovery producers portal at https://producers.discovery.com as a prime resource. Also, producers may also send an email to DNAP's vice president  of programming Charmaine Kwan (charmaine_kwan@discovery.com) and planning and sourcing manager Lynn Ng (lynn_ng@discovery.com). For original productions, treatments, approximate production budgets, episodic breakdowns and taster tapes,  if any, should be part of the pitch, while for acquisitions, Channa wants to see synopses, episodic details and screeners of completed programs.
Make your pitches  quick and to the point, focusing on the key elements  of the programs  and why they'd fit the networks. Also provide details of available territories, delivery and format.
MARKETS:
MIPTV, Asian Television Forum and Australian International Documentary Conference (AIDC).
NHK (Japan Broadcasting Corporation) – Tomoko Okutsu, senior producer, international acquisition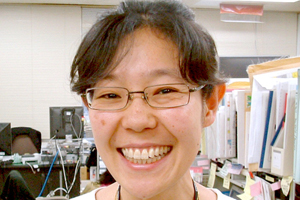 THE BREAKDOWN:
Okutsu points to two main slots across NHK's host of channels as being the most documentary and factual- friendly. 'World Documentary' is a 49-minute slot that airs  Monday through Thursday on NHK's Satellite 1 channel, and is in the market to acquire docs covering a wide range of subject matter. "In addition  to social and political documentaries, we want films which focus on economy, ecology, or modern history," says Okutsu.
"Documentaries  about  human interest, arts, music or technology are also acceptable,  provided that the subject of the film has social and/or global dimensions." For the slot, NHK acquires about 90 docs from abroad and coproduces  about 15 programs with international broadcasters  and prodcos.
Recent docs airing in this slot included Chernobyl 4 Ever, a Belgium-France copro from Simple Productions,  Crescendo  Films, RTBF,  WIP, and NHK; Into Eternity from Magic Hour Films in Denmark; Waste, The Nuclear Nightmare from ARTE France and Bonne Pioche; and U.S. filmmaker Josh Fox's Gasland.
The next slot is a 44-minute weekly strand,  'Dramatic Planet,' which airs on one of NHK's terrestrial channels. Here, NHK is looking for entertaining,  family-friendly documentaries covering subject matter such as ancient history, culture, science, space, adventure
and wildlife. "As a current trend, probably because  of the rise in visual technology, we are seeing more and more programs that allow us to see what the human eye could not see before," says  Okutsu.
NHK buys approximately 40 programs per year for this slot, and recently aired docs  include Amazing Plants from Von Matthey Films and Parthenon Entertainment; Beyond the Summits from France's Tec Tec Production – PRODOM and CANAL Reunion; and Penguin Island from 360 Degree  Films in Australia.
HOW TO PITCH:
For the 'World Documentary' slot, contact the following: Ken-ichi Imamura (imamura.k-ic@nhk.or.jp), Takashi Hazama (hazama.t-ik@nhk.or.jp), and Okutsu via okutsu.t-ii@nhk.or.jp. If you're looking to coproduce a project with NHK, be sure to send a synopsis or
treatment  of the project as well as a production schedule, names of other main partners, and clips or a rough cut. For acquisitions, send a synopsis and screener.
For 'Dramatic Planet,' contact  Fukiko Kisaichi (kisaichi.f-gk@nhk.or.jp). For this slot, says Okutsu, "the full-length screener is a must-have item, since we are especially looking for dynamic pictures  and unique stories which NHK's in-house production team cannot access." Indeed, with NHK having 30 overseas offices and huge in-house production capability, Okutsu emphasizes that it's looking primarily for content  that would otherwise be inaccessible to its resources, but also appealing to a Japanese audience.
WHERE TO FIND  THEM:
You can find NHK at assorted  markets over the course of a year, including the Realscreen Summit, MIPCOM and MIPTV, Sunny Side of the  Doc, Hot Docs, IDFA, the World Congress of Science and Factual Producers,  and History Makers.
INTERNATIONAL
AMC/Sundance Channel Global – Sally Habbershaw, VP of scheduling, acquisitions and promotions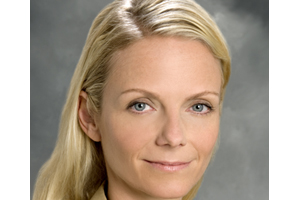 A BIT  OF BACKGROUND:
Sally Habbershaw  joined AMC Networks/Sundance Channel Global in March 2011, tapped to oversee scheduling, acquisitions  and promotions for its international properties, including Sundance Channel and WE tv.
WHAT SHE'S  LOOKING FOR:
Sundance Channel has expanded into Europe via Belgium and France, and into Asia, with WE tv moving into the latter territory. When it comes  to WE tv Asia, Habbershaw says it's looking for 30-minute series with a six-episode minimum order. What's currently
clicking with WE tv Asia is celebrity-oriented factual entertainment. "For instance, our audience has embraced the Tori and Dean franchise and we plan to pursue more programming in the same vein," says Habbershaw. Fashion-centric programming also works for the net.
HOW TO PITCH:
Neither Sundance  Channel Global nor WE tv accepts unsolicited pitches. When you do get  your meeting, make sure you've done your homework.
"I can't emphasize this enough," Habbershaw implores. "Know the  brand!  Know your  audience!  It's frustrating when producers approach me with ideas that would never resonate for the brand.  This is also how producers lose credibility. Equally annoying is when pitches are underdeveloped and lacking in detail. I want to hear  ideas that have  been fully fleshed  out."
Lastly, don't throw it all on the table in one sitting. "I don't like to be inundated with multiple pitches  in one meeting," she  says.  "For me, its quality  over quantity and I'd prefer to be exposed to one spectacular idea rather than a few underdeveloped pitches."
WHERE TO FIND  HER:
Habbershaw attends  MIPTV and MIPCOM as well as NATPE and NCTA's Cable Show among other  markets annually.
CBS Reality (UK)/Zone Reality (EMEA) – Sam Rowden, director of programming for reality and new media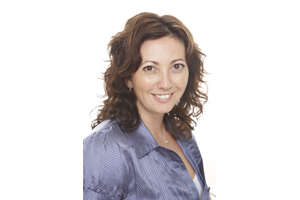 WHAT SHE'S  LOOKING FOR:
Rowden acquires one-off documentaries and series for  CBS Reality inthe UK and Chello Zone's three Zone Reality feeds in Europe, the Middle East and Africa. "As our four Reality feeds  are 24 hours, we acquire a lot of hours per year to keep our schedules  exciting
and fresh," she  says.  "The minimum length  for a series is ideally 12 episodes.  Anything less  is hard for our audience to notice in the schedule, now that there is so much choice of channels everywhere."
Reality's audience is "really broad" and a fairly equal split of men and women, Rowden says. The network offers a range  of programming, from talk show king Jerry Springer and straight-talking Judge Judy, to crime series and documentaries, including Forensic
Investigators and the long-running Cops.
"Most reality  programming tends to have a dip-in,  dip- out viewing appeal, so I like to find series which have standalone stories per episode," she says. "A good pace is crucial – not too drawn out, and narrative that is to the point. First person  accounts  where possible  always add to the genuine appeal of a show."
She adds that the network's rescue service series, such as Danger Coast, "also add some adrenalin into the mix," while crime series "seem to be appealing most to our audiences at the moment." In terms of what she doesn't want, "for  CBS Reality and Zone Reality we tend not to acquire formatted or contrived reality series," she says. "All our programming is 'inspired by life.'"
HOW TO PITCH:
The feeds only acquire finished programming and do not commission.
In terms of the best method of pitching, Rowden suggests  first sending an email outlining the documentary or series with synopses  sent to Sam.rowden@chellozone.com and Susie.robinson@chellozone.com. "Then we will follow up and request a few episodes to view and further episode  synopses.
"Never assume  you know what channels  want," she continues. "Direction and plans for channels can change dramatically so always give short and concise details via email first."
WHERE TO FIND  HER:
MIPTV and MIPCOM are the main markets for Chello, "but we acquire programming all year round," Rowden says.
Discovery Networks International – Julian Bellamy, creative director/head of production and development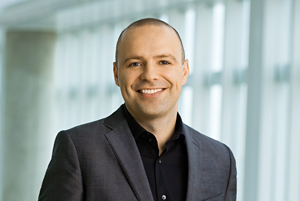 A BIT  OF BACKGROUND:
Julian  Bellamy joined Discovery Networks International (DNI) in  May 2011, taking the newly created  role of creative director and head of production and development and reporting to DNI's EVP and chief content officer, Luis Silberwasser. With the recent creation of a single production and development division for the whole of DNI and the aim to fund more original programming for its international nets, both Silberwasser and Bellamy say the time is right to pitch to DNI.
The production and development division oversees original production and coproductions with commissioners based in New York, Washington, Miami, Singapore, London, Milan and  Munich, and works with producers  from around the world.
WHAT IT'S  LOOKING FOR AND HOW TO PITCH:
All producers should head to Discovery's producers portal at https://producers.discovery.com, which is monitored by the company's programming and development teams across the globe. American and Canadian producers can also send emails to Jon Sechrist (below, left) at jon_sechrist@discovery.com for lifestyle proposals; and Sarah Davies (below, right) at sarah_davies@discovery- europe.com for factual.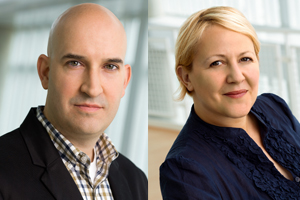 Bellamy says Davies is the "go to" person for DNI's needs for Discovery Channel, Animal Planet and Science. "Top priority is given to truly landmark specials and events as well as returning series  – with huge scope both in terms of shape and content – and the team is looking to commission a lot of new hours in the coming year," he says. For Discovery Channel, the audience is largely younger men but "we want to inspire more co-viewing."
Bellamy says  that "pop science" is a key genre, in which facts can be presented entertainingly. Returning series of both high and low volume are a priority, but there's also great interest in specials, series and one-offs, especially if they have global appeal.
For Science, the engineering or "how it's made" genre is golden, so the team would like to see new proposals in that area that would touch on unique subjects with new approaches. "But we're open  to persuasion," says Bellamy. "So if you have found a stunning new science talent, we want to see them on tape." High-volume series work best but the team  will consider one-offs if they are topical or timely.
As for the lifestyle side, Sechrist  primarily focuses on TLC International, which skews female and targets a 25-54 age demo. The onus is on programming  that  is "entertaining, unfiltered and always reveals something worthwhile," says Bellamy, and shows "need to be formats that can easily adapt to multiple markets with fascinating characters  that appeal to viewers worldwide."
To that end, TLC International is currently on the hunt for "transformation  shows" which can entail cosmetic surgery, body image or fashion; rehabilitation shows that can explore relationships  or poverty; subculture shock docs, such as My Big Fat Gypsy Wedding and
Sister Wives; and big talent food competitions with a travel element.
Top priorities are returnable series for the company's Discovery and lifestyle networks, with an emphasis on ideas  that are universal and able to work across different markets. "We are keen to up the number of hours we commission for DNI significantly  for 2011/12, so I really want  to hear  from you," he says.
DISCOVERY NETWORKS LATIN AMERICA/U.S. HISPANIC – Michela Giorelli, VP of production and development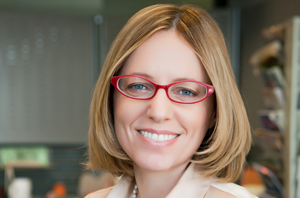 WHAT SHE'S  LOOKING FOR:
Giorelli and team commission about 100 hours of factual content for Discovery Channel and 50 hours of lifestyle content  for Discovery Home & Health. About 15% of the programming is locally produced, with another 15% being acquisitions and the remainder being commissioned shows from the global programming team, which includes the new international production group.
Discovery Channel targets  the adult 25-54 demo. Key genres  include survival, human adventure,  engineering, science and technology, the paranormal, medical mysteries, current affairs, history, weather disasters and religion. Solid storytelling,  strong visuals and compelling characters are integral elements of the programming, with the most successful series to date for the net being Man vs. Wild, River Monsters, Man Woman Wild,  A Haunting, Human Planet, and Destroyed in Seconds.
Discovery Home & Health's target audience is women, 18 to 49. Key genres include makeover, beauty, parenting, relationships, sex, home décor, cooking and medical stories. Successful series airing on the net include Ten Years Younger, What Not to Wear, Supernanny, I Didn't Know I was  Pregnant, Wife Swap, Divine Design, Unfaithful, and Mystery Diagnosis.
Both nets are looking for series over one-offs. For Discovery Channel, volumes can be 4 x 60 minutes, 6 x 60 minutes,  8 x 60 minutes  and 13 x 60 minutes. For Discovery  Home & Health, series  volume is predominantly  13 x 30 minutes.
HOW TO PITCH:
Be sure to visit Discovery's producers portal for the most up-to-date  info at https://producers.discovery.com. Also, producers can send an email to Julio Cabello, development producer, Discovery Networks Latin America/USH, via Julio_Cabello@discovery.com.
"We prefer one-pagers,  with taster and casting tape when appropriate," says  Giorelli. In addition to doing your homework and knowing the brand before pitching, she also advises producers to get specific about what they have to offer. "Specify your access,  your expertise in the subject matter," she says. "Your one-pager should specify why the topic is relevant, why now, and most importantly, why you. Passion is important and good writing goes a long way!"
WHERE TO FIND  HER:
Giorelli hits  Realscreen Summit, MIP, NATPE, Forum Brasil, and Feria de Contenidos en Colombia annually.
ISRAEL
Yes Docu – Guy Lavie, channel manager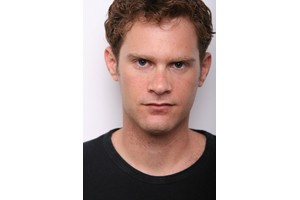 WHAT HE BUYS:
Yes Docu broadcasts 18 hours a day and acquires both features and series, totaling about 300 hours a year, of which around 35 are original Israeli documentary series and stand-alone titles.
Around 15 are international coproduction pre-buys, "which I get  from markets  such  as Hot Docs, IDFA and Sheffield," says Lavie, who adds: "I commission around 20 films locally from Israel – this is the main budget for us, totaling around US$2.5 million."
WHAT HE'S  LOOKING  FOR:
"We want international, high-profile documentaries," Lavie says, placing an emphasis on character-driven stories – "something that can resonate beyond the broadcasting on the channel and get press and attention. Genres like 'docu-reality' are not for us."
Recent international docs on the channel have included Catfish, The Cove, Burma VJ (which was a pre-buy), Donor Unknown and Men Who Swim, the latter two of which were acquisitions. Among the locally commissioned films were A Film Unfinished, Google Baby, To Die in Jerusalem, Hangman, Children of the Sun and Souvenirs.
The typical length for docs taken is 52 minutes. "If it's a good film then I can play a feature – an hour and a half  film," says  Lavie, "but only if it's good enough to fill out primetime."
He adds that most months the channel has themed specials, "like 'doc music,' 'doc fashion,' 'docu-nomics' or 'docu dot com,' where we gather the most successful films to do specials."
MONEY TALK:
With copros, Yes Docu typically invests around US$90,000, Lavie says.  With acquisitions  of finished tape, "it's usually a few thousand dollars," he adds, for which he would ask for Israel premiere rights.
"Investment in Israeli films is regulated;  that's how a small channel like us can invest such a large amount of money  into  films," Lavie explains. "I have to invest in documentaries, so it's wonderful for me because nobody touches  my budgets."
HOW TO PITCH:
For pre-buys  on coproductions, Lavie tends to be at events  with a forum or pitching element. "Hot Docs, Sheffield, IDFA, sometimes Dok Leipzig," he says. For finished product, send a screener but take note that when it comes to acquisitions, "we get thousands of screeners a year, something like 4,000 a year."
---
This international commissioners section features in the full 2011 print edition of Radarscreen (pictured below), which features interviews with more than 45 non-fiction commissioners – and which realscreen subscribers have already have received. Interested in becoming a subscriber? Click here for more details.