Major news for the 2012 Realscreen Summit began to pour out more than a week before the event kicked off, with the Washington DC event itself making the headlines by selling out.
For the first time in the event's history, registrations were capped at 2,000 (roughly a 33% increase on the previous year) in order to provide the best experience possible for those in attendance. In addition, History stirred up something of a minor pre-Summit frenzy among producers with the news that it was launching an initiative that would empower its development execs to greenlight a project of their choosing on the ground at the Summit.
The first full day of the Summit kicked off with an opening keynote from Lauren Zalaznick, in which the chairman of NBCUniversal Entertainment & Digital Networks offered a detailed analysis of the elements that make reality TV shows work.
"I reject easy slams like 'train wreck' and 'guilty pleasure,'" Zalaznick said. "It's just not a good enough description of why people actually watch what we do," before going on to highlight four elements that the biggest reality shows tended to feature.
The keynote kicked off three days of insightful, soundbite-filled and often humorous panels, speeches and masterclasses, with execs from almost every major U.S. cable network taking to the stage at one point or other.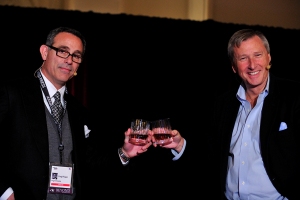 Picking a single highlight would be impossible, but NGC CEO David Lyle's whiskey-fuelled one-on-one with Pilgrim Studios founder Craig Piligian (pictured above) was marked out by a number of delegates as a high point.
"TV should be fun," offered Lyle. "I think fun is underrated especially in this country, which has a very puritan streak which equates fun with sloppiness and with slackness and laziness and all sorts of moral turpitude."
Elsewhere at the Summit, public broadcasting heads from the UK, U.S. and Canada converged to talk about the key challenges they are facing, including digital switchover and the issue of slowness.
Network programmers and prodco heads weighed in on trends in non-fiction TV, meanwhile, with a "Trending TV" session seeing senior execs from ID, Bravo and Food Network explaining what they were looking to buy and sell.
Some of the best take-away for producers came from a session examining the role of the all-important sizzle-reel.
Execs including Bunim/Murray's Jonathan Murray, Screaming Flea's Jodi Flynn, Discovery's Dolores Gavin and Lifetime Networks' Rob Sharenow all weighed in on how to make a great teaser tape, during a panel that included the revelation that the original sizzle for the show that eventually became Hoarders so offended the network's programming team that Sharenow, the exec who eventually greenlit the series, dubbed it "the worst-received in the history of my time at A&E."
Elsewhere, History and Lifetime Networks president and general manager Nancy Dubuc used her one-on-one with colleague Bob DeBitetto, the president and general manager of A&E Network and Bio Channel, to reveal further details about the intriguingly titled forthcoming Lifetime project My Life is a Lifetime Movie.
The 2012 Summit also saw Realscreen's fourth annual "So You Think You Can Pitch" competition taking place, chaired by Deal or No Deal host and America's Got Talent judge Howie Mandel (pictured below).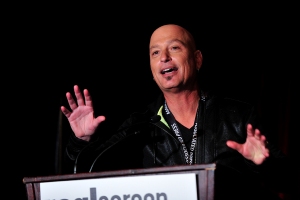 The grand prize went to Frogwomen, a series about women that undergo rigorous Navy SEALs training, which producer Brian Krow of WarFront Real Productions spent 15 months developing under the guidance of a U.S. defense contractor and military experts.
And in a good-humored and anecdote-filled closing panel, an all-star panel of producers and commissioners came together to discuss the issue of originality and copycat programming in non-fiction, with execs from truTV, Lifetime Networks, Nutopia, Leftfield and LMNO Productions talking frankly about the imitation game.
"As producers, we take a lot of s*** from buyers that we're not bringing them something original," said Leftfield Pictures owner Brent Montgomery during the session. "But I get the same money for doing Pawn Stars as someone doing the eighth version of the show, so we're not incentivized, in a way, to be the first and the best."
Away from the panels and the stages, a raft of news emerged as companies began to ink deals and unveil exec moves.
Zig Zag Productions partnered with the publisher of The National Enquirer to make an ob doc series that will follow reporters on the U.S. gossip magazine, with execs from the UK-based indie pitching the show to networks at the Summit. The deal was one of two for Zig Zag, which also inked a deal to option Israeli candid camera format Extreme Scheme from Armoza Formats.
Elsewhere, The Naked News Network teamed up with newly formed Canadian prodco AllScreen Entertainment for a reality series going behind the scenes of the cult web network, which features women disrobing while delivering the news.
Also pairing up were Zodiak Rights, the distribution arm of Zodiak Media, and Asylum Entertainment, the LA-based indie behind Rise Up and The Kennedys. The two agreed upon a two-year development deal.
In a similar vein, Los Angeles-based prodco Collins Avenue penned an accord to add two more years to its partnership with distribution company Content Media, with a new hire joining the Dance Moms production company and details also revealed about a Nat Geo commission in the pipeline.
A&E Network also confirmed that the A&E Unscripted Development Pipeline, an initiative between itself and the New York Television Festival, would be returning for a second year.
Meanwhile, on the exec front, there were developments at Thom Beers' Original Productions, with Jeff Conroy named EVP of programming and Sarah Whalen taking the VP of programming position (both pictured below, right and left respectively).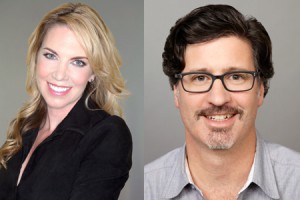 Of course, the news and panels were only one side of the Summit experience, with networking and speed meetings – as in previous years – a key component of the event.
And then there were the parties.
A&E and Discovery were among the networks hosting packed flagship cocktail events in the evenings, while off-site a range of companies held events, with CAA hosting at OYA, Spike and Oxygen throwing a joint bash atop The W Hotel, and Zodiak Rights hosting at Proof; while Getty Images, Jarrett Creative Group and Women in Film were among the many others also hosting get-togethers.
Meanwhile, the UK embassy and the French embassy in Washington both hosted delegates for evening events – the UK sent a trade delegation, more of which you can read about here, while France's Institut National de l'Audiovisuel (INA) also hosted a cocktail evening and screened docs.
Such was the size and scope of this year's Summit that The Washington Post dedicated a half page feature to covering the event. So let's leave the paper with the last word, a quote it attributed to one unnamed attendee: "'Every single cable network is here,' marveled one producer, 'every single one.'"
Realscreen's next event, the fourth annual Factual Entertainment Forum, takes place in Santa Monica at the end of May. See you there!