Ahead of the U.S. premiere of Frozen Planet (pictured) in March, realscreen talks to the team behind the epic BBC/Discovery coproduction, including series producer Vanessa Berlowitz and Discovery Channel VP of production Christine Weber. Part one of a two-part feature.
To earn one's stripes as an explorer, one has to possess both a hunger for discovery and a flair for technology. We see this in the legendary work of Captain Robert Falcon Scott's official photographer, Herbert Ponting, who carted his then-state of the art cinematograph on Scott's ultimately ill-fated Antarctic expedition aboard the Terra Nova.
We also see it in the exploits of the producers and scientists behind Frozen Planet, the epic seven-part series that recently, in its Sir David Attenborough-narrated form, garnered huge ratings for the BBC in the UK – with its second episode racking up just under 10 million viewers – and is set to debut in the U.S. on Discovery Channel, with Alec Baldwin narrating, on March 18.
A sequel of sorts to the landmark natural history event series Planet Earth, Frozen Planet heads to the polar regions to capture animal behaviors in some of the most inhospitable locations on our planet. And while Scott and Ponting may have seen some of these behaviors during what came to be known as "the worst journey in the world," it took close to a century to comprehensively film a select few.
Vanessa Berlowitz, Planet Earth veteran, Frozen Planet series producer and producer/director for its first episode, points to one such behavior that almost proved to be Ponting's end when he'd encountered it but, thankfully, proved less of a danger for Frozen Planet's team.
The phenomenon known as wave washing – in which orcas launch a coordinated attack against seals by creating waves in the ocean that will propel the prey off ice floes – had been observed by Ponting, and then by scientists years later, but the Frozen Planet crew wanted to document the behavior from multiple vantage points.
Thus, a "megashoot" approach was mapped out, in which cameras were mounted on boats for stabilizing long-lens shots as well as military helicopters for aerial footage, and underwater divers armed with camera-mounted poles took to the frigid waters.
"We were extremely lucky," she says. "I think it was the unique combination of having two orca scientists on board that satellite-tagged a pod of orcas so we could follow them, and having a double shift of skippers so they could sail day and night."
The series – coproduced by the BBC's Natural History Unit, Discovery Channel, and the Open University with Germany's ZDF, Discovery Channel Canada, Spain's Antena 3 and Greece's Skai TV – lays claim to numerous filming firsts and notable accomplishments which are, as Berlowitz tells it, the results of experience, technological advancement, drive and yes, pure luck.
One example of a filming first that effectively marries these four components is the capturing of the "brinicle," a nine-foot-long stalactite that forms underwater and then plunges to the seabed, fatally stabbing anything in its path. The diving team had seen some forming under the ice in McMurdo Sound but had to resurface as their dive time was up – thus, if they were to attempt to capture another as it reformed, they would be, as Berlowitz says, "right up against the clock."
"I think that was a testament to the patience and resourcefulness of the teams that we work with," she says. "This cameraman [Hugh Miller] was designing the time-lapse kit literally all through the night the night before."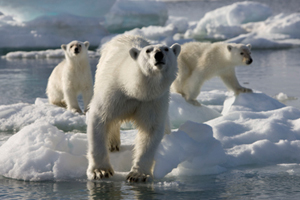 Berlowitz says other major pieces of kit – including the Cineflex camera systems she'd helped pioneer the use of in Planet Earth and motion control systems used for time-lapse photography – needed to be upgraded to withstand the rigors of -60C temperatures.
The Cineflex was made smaller and "winterized," while UK motion control company Kontrol Freax devised a rugged system, dubbed the Aurora, that could be transported on sleds but would give camera operators the ability to shoot motion paths repeatedly over stretches of time.
"That's what's great about the partnership with the BBC," says Discovery Channel VP of production Christine Weber. "Not only are they great 'idea people;' the partnership allows us the time and budgets you need to create these programs, and they also have a team of people who are constantly working on the technology and new ways to shoot this stuff."
Berlowitz admits that even though she and executive producer Alastair Fothergill had experience dealing with polar conditions – she with Planet Earth and he via Life in the Freezer – it was still, at seven months in the field in total, her most challenging shoot thus far.
Berlowitz cites the four months spent by cameramen Jeff Wilson and Mark Smith, filming Adelie penguins from a hut stationed in Antarctica, as perhaps the most challenging shoot of the series. Hurricane force winds of 130 miles an hour routinely batter the landscape, and during one particularly fierce storm, "large pieces of the hut just flew away."
"We have some footage they shot that we've not broadcast because we don't feel it's appropriate, but the storm was so severe that they filmed pieces for their wives," recalls Berlowitz. "That's about as hardcore as it gets."
While the overwhelming majority of the series is constructed from such rigorous shoots, a sequence involving the birth of a polar bear cub elicited controversy in the UK press. In the sequence, a polar bear gives birth to its young in a controlled environment – in this case, a zoo in the Netherlands.
Sir David Attenborough's narration does not mention the specific circumstances, which was enough to raise the ire of some members of the British press, even though the narration was carefully worded to refer to polar bears generally, and the BBC had posted a web clip of the production team building the shoot's special den prior to the broadcast of the episode.
"Everything that was done under controlled conditions was rigorously examined," maintains Berlowitz. "Could it be shot in the wild? Was it ethical to do so? Was it feasible and editorially valid to shoot it?
"We felt it was editorially very important to show it, but clearly you can't film that in the wild without killing the cub – the mother would probably abandon it – or without the mother coming out and killing you," she continues, adding that the BBC has received "a tidal wave" of support via social media since the story first emerged, and that such scrutiny is "an inevitable byproduct of success."
Indeed, one thing that is indisputable is the success of the series. For Discovery's part, Weber says there will be a comprehensive social media strategy leading up to the March premiere, as the social media conversations surrounding the show during its UK airing were "off the charts, and we think that contributed to the ratings success."
While Berlowitz enjoyed some time off prior to the holidays, she knows it won"t be long before development ramps up for what will be "the next big thing." But with each event series such as Frozen Planet being bigger and bolder than its predecessor, the question always emerges – what can you do for an encore?
"We've made it harder and harder on ourselves, so we only have ourselves to blame," she says with a laugh. "But at the same time I never cease to be amazed by the new stories that the natural world offers up."
Discovery Channel will premiere Frozen Planet in the U.S. on March 18 at 8 p.m. EST. Check out the trailer for the series below: