With the trend towards healthier lifestyles continuing to accelerate, there is an increasing need for content focused on the growing health and wellness space. Here, realscreen talks to three North American networks about the changes they have seen in the genre and the varying degrees of difficulty in finding lifestyle programming that fits their brands.
VERIA LIVING
As the health and wellness space becomes more mainstream in North America, with self-help books often on the bestsellers list and sightings of yoga mat-wielding city dwellers becoming ubiquitous, it's surprising that there aren't more channels in North America catering to that niche.
Some of the networks that do have been around in some incarnation for 10 years, and have weathered the drastic changes in the health and wellness genre that have occurred over the past decade.
Veria Living has been targeting this market in the U.S. since 2007, and underwent a relaunch about six months ago to freshen up the network. SVP of program sales Raymond Donahue says the net aims to increase its number of viewers significantly this year, from its current base of 15 million homes.
When it comes to a growing demand for health and wellness programming, Donahue says younger generations are driving the trend, citing a statistic that 19% of what's termed 'Generation Y' – those between the ages of 21 and 30 – have health club memberships.
"They're into staying healthy," he says. "The younger generation is into less of the junk food and more about feeling better about themselves and I think this is part of a growing trend worldwide."
The network's offerings of natural wellness titles such as Under the Sun and exercise content such as BollyFIT attracts the 18-49 female demographic. "It's for women who have a hectic lifestyle but who want to make themselves and their families more healthy and appreciate life more," says Donahue.
He adds that the network skews female because in a family situation, women are often making important decisions regarding the health and well-being of their families. As such, Donahue says the net aims to "take you from pregnancy to birth" and beyond.
But he emphasizes that the point of the programming is not to be preachy. "Traditionally people think of wellness as stodgy informational programming, how to get from point A to B," he says. "Although the network has something to say – how to make your life healthier and how to do it through natural health and a healthy lifestyle – all of our programs are entertainment-based."
Currently the network is building up a morning daypart of what it's calling Veria Fitness, which includes programming on yoga, Pilates and anything to do with fitness and health. In the afternoons, there are blocks of healthy cooking programming.
The network applies its health and wellness mandate to various lifestyle genres such as travel, cooking and gardening. For example, Under the Sun takes viewers around the globe to feature farms, restaurants and resorts that use organic-based products.
Transformational programming also figures largely in Veria's content offering. The series Incurables follows people who have been diagnosed by traditional doctors with chronic illnesses, who then turn to alternative medicine to cure their ailments. My Life Guru (pictured, above), airing in the spring, sees yogi Cameron Alborzian living with people who have a mental or physical challenge, to assess their lifestyles, and suggest changes and herbal remedies.
As for supply, Veria boasts that every show on the network is 100% Veria-produced, with everything developed in-house and produced in different parts of the country. Donahue reports that Veria has more than 500 hours of original content this year and, with interest in the genre on the rise, is currently producing more than 700 for the next. Furthermore, Donahue says Veria wants its programming to be young, hip, trendy, and to tap into the pop culture aspects of the alternative living space.
DISCOVERY FIT & HEALTH
While Veria's programming sticks very closely to an alternative healing focus and applies it to different lifestyle genres, Discovery Fit & Health opts to take a broad look at what defines health.
"It's not about medicine, it's about stages of life and I think it's about mental health and sexual health," says Rita Mullin, SVP of content strategy for the recently rebranded net. "I don't think of us as a medical channel."
Mullin remembers what health programming was like when the original Discovery Health was launched in 1999. "Because we had such success with plastic surgery 'before and after' [shows], everybody was doing plastic surgery shows," she says. "Remember The Swan and Extreme Makeover before it was Home Edition? There was a period [in which] that was the flavor of the month." she says.
Discovery Fit & Health was rebranded from Discovery FitTV in February 2011, and began with content from FitTV and Discovery Health, which was replaced by Oprah Winfrey Network in January of that year.
By the fourth quarter of 2011, when original content debuted on the network, Mullin says the titles resonated well with its audience, particularly in the pregnancy space with new series such as Secretly Pregnant attracting fans, as well as the former Discovery Health series I'm Pregnant And…. The pregnancy programming, interestingly, also contributes to bringing the network's average age of 25-54 down to 18-49.
Another success was Brit import Bizarre E.R. (pictured, below), which also brought male viewers to the fold.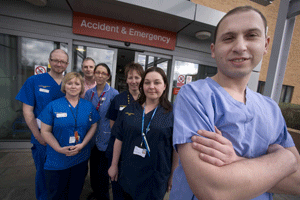 While Veria applies its programming mandate across multiple types of lifestyle series, Mullin says it has proven difficult for Discovery Fit & Health to do the same.
"Travel would be tricky," she says. "There have certainly been a couple of attempts in that area, [but] I don't know if any of them have been successful. It's one of those areas that we did try on Health years ago and it didn't really take off."
Strips of cooking shows in daytime also didn't resonate.
"One of the things we learned at Health – and it seems to be the case here as well – is that our audience wants compelling characters and a rip-roaring good story," she says. "When we try to do stuff that is more formatted or more information-based, they turn it off."
She adds that programs using recreations also have a place in the roster. "Dr G: Medical Examiner and Untold Stories of the ER have recreations, and it allows us to pull from a broad range of interesting stories over a period of time, rather than being in the moment."
ONE
Body, mind, spirit and love, meanwhile, are the blocks that Canadian specialty network ONE focuses on. The Zoomer Media-owned channel, which airs a small percentage of content produced by Veria, rebranded last April with a new strand devoted to love and clearly defined programming blocks airing during the day.
VP of programming Beverley Shenken says that the rest of the network's content comes from Canadian producers as well as various suppliers from around the globe. ONE's programming areas include shows featuring self-help gurus, vegetarian and organic cookery, alternative healing and exercise.
The network skews more than 67% female, and its viewers' age range is 35-plus. Shenken says to think of the typical ONE viewer as the sort of person who makes it a point to shop in organic grocery stores, and is interested in Eastern philosophy and sustainable living.
The main challenge that Shenken finds is a lack of programming in the health and wellness space, but she says the situation has improved from when ONE launched a decade ago. Its fitness block, with series such as Shimmy and Chinese program Spirit of Yoga (pictured, below), draws in the most viewers and Shenken adds that programming from China and Singapore, which it reversions for English-speaking audiences, tends to be the most on-brand content for the net.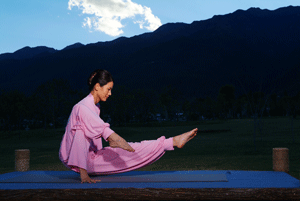 She says that it's a necessity to shop around for just the right content fit because the network is so niche.
"It's not easy, but the few series I find [from that market] are really directly linked to our sensibilities, thank God," she says. "It's not always easy to find the stuff and certainly not easy to find Canadian programming that fits the bill."
She adds that she's looking for non-traditional, non-Western approaches to lifestyle programming, which can be incorporated into travel, gardening, cookery, transformational, and relationship-oriented shows. In the meantime, she's aiming to put together some production deals with other similar broadcasters and looking to Asia for more content.
"We're trying to make it ourselves, within our limits, and we're finding that the things we make have legs with my colleagues at similar channels," she offers.