Filmmaker Matthew Akers (pictured) explores the oft-misunderstood and maligned discipline of performance art in a documentary about the life of one of the world's most famous performance artists, Marina Abramović.
As a veteran cinematographer with taste for gruelling film shoots, Brooklyn-based director Matthew Akers found a dream subject in controversial and charismatic performance artist Marina Abramović when he signed on to make a documentary about her life.
Screening at Silverdocs this week, Marina Abramović: The Artist Is Present follows the Serbian performance artist as she prepares for and executes a retrospective of her work at New York's Museum of Modern Art (MoMA) in 2010. The exhibit's centrepiece was a gruelling new work entitled "The Artist Is Present," in which the 66-year-old sat in a wooden chair for three months and stared at the visitors sitting across from her.
The show became an art world and pop culture phenomenon, as hundreds of people lined up for hours for a chance to sit with Abramović – the "grandmother of performance art." Roughly 750,000 people visited the show, which also featured performers reenacting a selection of her classic works.
Akers landed the job after his producer Jeff Dupree wound up sitting next to Abramović at a dinner party and overheard her discussing the retrospective with the MoMA's curator. A seasoned cinematographer, the 36-year-old Brooklyn resident's documentary credits include the six-part PBS series Circus, the 10-part PBS series Carrier, and the features Lemon, Back in the Hood: Gang War II and Elaine Stritch: At Liberty.
He spent a year filming Abramović, before mounting three cameras in the MoMA to capture the faces of the (sometimes teary-eyed) patrons that participated in the performance.
Abramović (pictured below) was about as open as a documentary subject can get, giving her director a key to her apartment and granting round-the-clock access to film her life, including an emotional reunion with her estranged former lover and collaborator Frank Uwe Laysiepen (aka Ulay), whom she had not seen in nearly 20 years.
"I certainly wasn't making a hagiography, but the most important thing was I wanted to allow the film to go wherever it needed to," Akers told realscreen. "We recognized that the performance she did was transformative, was an amazing work of art, and that we all really believed that and that the film needed to express that."
A joint production between Akers' company Mudpuppy Films and Show of Force, The Artist is Present debuted at the Sundance Film Festival earlier this year and went on to win the audience award in the documentary category at the Berlinale. It picked up the main Jury Prize at Sheffield Doc/Fest on Sunday (June 17).
As the film continues its festival run this week at Silverdocs in Washington DC and rolls out in North American cinemas this month, and ahead of its television premiere on HBO on July 2, realscreen phoned Akers in Brooklyn to talk about the challenges of making a documentary about performance art.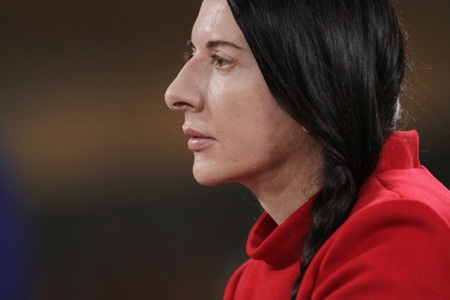 You seemingly have a lot in common with Marina Abramović. She has undertaken physical tests of endurance for her art and as a cameraman you have shot lengthy, time-consuming series on the military and the circus.
I think that's why she wanted us. She felt comfortable with me and the production company because there was a kindred spirit or like-minded philosophy. As a cameraman I've done these giant, long-form documentary series where you shoot sometimes 2,500 hours of footage a year. You're really putting your body through physical torture to get that.
Being the director and the cinematographer on this film, I was able to push myself way beyond any point than I probably would allow myself to be pushed by any director. I was pretty relentless with her, and she admired that. And I think it also charged her – it was something she related to. She talked about how she gets tired but in reality my experience with her is if you give her energy, she just gets more powerful and more energetic.
What are some of the most gruelling things you've had to shoot throughout your career?
I've shot everything from street gangs to the Midwest of America, to a rural 17th century town in the middle of Hunan, China, where a 150-person orchestra  travelled day and night through dirt roads, and literally built a pier on a river to hold a concert. Living with a travelling circus for a year and living on an aircraft carrier for six months are difficult in their own way – feats of physical strength and feats of psychological and emotional strength too.
How did those experiences prepare you for this project?
The reason I [started making documentaries] was because it was a way to enter all these other worlds in a way that would challenge my preconceptions – have an open mind and an open heart, and try to figure out whether or not my preconceptions were justifiable. This film is similar to all the other projects in the same way. I started out as a skeptic of performance art and… I really did change my mind, like how living with the military changed my mind [compared with] what I thought about it originally.
Performance art is a niche subject. How did you go about ensuring the doc would have a broad appeal?
We're not delving deeply or in an academic way into any of the work that we present from her past, but we're not skimming it either. We're giving you the meat on the bones of what we feel like those performances meant, and what they have to say about this new performance, which encapsulates everything she's been striving for her whole life. The other element is, we get to draw the curtain back on someone who's endlessly fascinating and reveal her private life and her process. You get to know her on a human level.
What was she like to film?
She's a dream subject. A week after I met her she gave me keys to her apartment and said, 'You can do whatever you want. I'll never restrict you.' She signed a contract stating that she would have no control over my footage – she could never see it and she could never be in the editing room. She had no monetary investment. She's not getting compensated for her participation. What more could you ask?
She never denied me a thing. That would seem to pose a peculiar challenge at the same time because I really wanted to find out, is she acting? Is some of this a put on? Who is the real Marina? I need to find her.
What I realized is it doesn't matter because ultimately the work that she did in the museum was transformative. It had an effect on a lot of people whatever you might think about her. I know there's some controversy related to her past. I'm sure you can dig up things that seem to knock her down, but that to me is rather irrelevant to the story we're telling, which is about this new performance and what that has to say about our lives.
Is having that amount of freedom scary?
We knew the performance would give us a beginning, middle and an end, so we had an inherent structure for the film. That said, I didn't want to be bound by any rules, so I had total access to her and access to the other performers so much so that it was daunting. I didn't want to limit myself in any way.
There was a moment where I flew myself to Na Pali to talk to the gallerist who hosted the performance Rhythm Zero in 1975, to see if the myth of the artist was accurate. It went into all sorts of terrain that isn't really apparent in the film, but I felt like I needed to do that. I personally shot 700 hours over 12 months, in addition to mounting three cameras in the museum and having those recording non-stop during the performance. We had an overwhelming amount of footage in post and we had to focus, find and narrow down the story.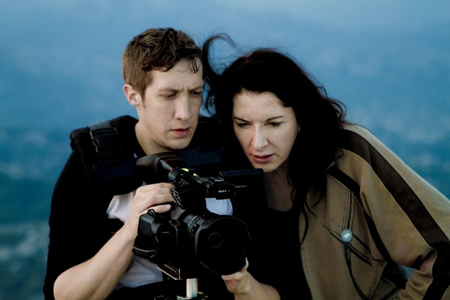 Why did you want to shoot it yourself?
Well, because initially we had no money. I self-financed it with the production company Show of Force. We went in about half and half, and I came up with a year's amount of work. My monetary investment was enormous. As a cinematographer, I have a pretty good day rate, so I knew at the level that I'm at as a cinematographer I couldn't hire someone cheaply to do a job I could do myself. I knew that I have to do it for monetary reasons and I also knew that you get something different by being the cinematographer and the director at the same time. You're developing a personal relationship with your subject in a way.
There are a lot of different reasons but the primary reason was monetary. I didn't get paid a dime for 12 months and I still haven't gotten paid really. We're still in debt, but fortunately HBO came along and [HBO Documentary Films president] Sheila Nevins sat with Marina and had an experience, and watched an assembly of some of our edited scenes. She really got it and allowed us to take it to the finish line.
Will you shoot your next project yourself?
I can't imagine doing it any other way. I'm a slave to my process. It's a process that I've practised and honed. I can't imagine doing anything partway. I don't even understand what that means. For me, no matter what you do you, have to pour everything you have into it, and if that means you're sacrificing some of your comfort and your time, well, it's worth it.
The process is, for me, the most enjoyable part anyhow. All of [the attention] is wonderful and it's great to share the film with everyone, but at the same time I just want to get back out and shoot.
Marina Abramović: The Artist Is Present is playing at the Film Forum in New York City, at the TIFF Bell Lightbox in Toronto, and at Landmark's Nuart Theatre in Los Angeles. It screens in Washington DC at Silverdocs on June 22 and 23 and airs on HBO on July 2.