Jay Bulger's documentary on Ginger Baker picked up the Grand Jury Prize at SXSW earlier this year. But securing access to never-before-seen footage of the legendary Cream drummer was only half the battle, the director (pictured above) tells realscreen.
A chance 1973 video clip of Ginger Baker driving through the desert in a Range Rover while trying to wean himself off heroin was all it took to inspire director Jay Bulger that he had to tell story of the iconic musician's life.
So taken with the spirit of the clip was Bulger than he tracked down the former Cream and Blind Faith drummer, who has spent the last 13 years living in South Africa, and persuaded him to talk for a lengthy Rolling Stone profile.
When that was complete, Bulger used the article fee to acquire Baker's life-rights, and set about making the documentary that would eventually become the SXSW Grand Jury Prize-winning Beware of Mr. Baker.
"I just loved the idea that people couldn't tell him what he could do," Bulger tells realscreen. "It was like watching a Joseph Conrad novel unfold in real life."
Bulger's primary financier for the doc was his friend Erik Gordon, and he cites the budget for the film as being "under a million dollars," although he is hesitant to cite an exact figure. "There was a working budget, but it changed over time because nobody knew what the music and the archival was going to cost," Bulger explains.
Structurally, the film consists of three main components: a central interview with Baker; talking heads with musicians including Eric Clapton, Charlie Watts, Carlos Santana and Femi Kuti; and an array of creatively used archive footage and animation.
With the archival elements, Bulger explains: "At the start, I found a lot of stuff on YouTube and we edited with YouTube clips – even for my promo.
"Then I contacted the various obsessive Ginger Baker collector-types – there were two people who are obsessed with him to the extent where they think they've collected every piece of information ever made about him. One guy has every album, every poster, every video he's ever been on."
In addition to videos, still photos form an important part of telling Baker's back-story. "We did a big deal with Getty [Images], they were incredibly supportive," Bulger explains. "Besides Getty it was a lot of photographers."
He adds that his chief archivist and associate producer Sophia Santana (Buck, The Tillman Story) was invaluable in tracking down images than were often 30- to 40-years-old.  "She was just so good at finding things and putting people in touch, she was so resourceful," says Bulger.
"I couldn't have done the movie without her – she made the deals, found the photographers, negotiated… she tracked s**t down. It all started with YouTube and internet versions, and she got us [to] the source."
Among the best finds for the film (pictured below) was Irving Allen's long-lost footage of jazz-rock fusion outfit Ginger Baker's Air Force, which was unearthed in storage at the British Film Institute. "They did the first transfer ever with us, which was cool because you never know what you're going to get," Bulger recalls. "It was like having your birthday, you get this DVD in the mail – it was magical."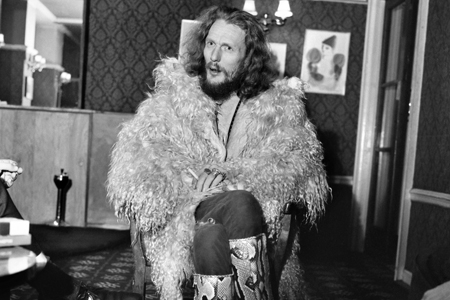 A key challenge in having so much footage in the film was working out which elements could be cleared under a fair use license, and which needed to be acquired. The area is oft contentious, and Bulger brought in respected fair use attorney Michael Donaldson for advice.
"There are a lot of complications that go into that," Bulger recalls. "Some stuff was historically pertinent and in context – there are news clips we used where Ginger will say 'I was on this news thing' and then we cut to the news thing and it wasn't very long, so we applied for fair use with Michael Donaldson and he decided what was or what wasn't."
Other challenges included how to create footage where none existed. Here, Bulger and his team's creativity shines through, with a host of inventive techniques – including animation and multi-video compositing – coming to the fore.
Also notable are several sequences that feature classic editing effects, such as the 2.5D photo perspective animation technique made famous by Nanette Burstein and Brett Morgen's The Kid Stays in the Picture.
"I think anyone who wants to mess with photos uses the Kid Stays in the Picture thing – it's like the paradigm," says Bulger. "I'm sure it'll change one day, but they really set the precedent – they revolutionized.
"You have to choose the right photos to do that with, which was a really complicated thing for me. Do we do After Effects on every photo? Can some just be static? I decided that some photos were just good enough on their own."
The director is justifiably proud of his feature length debut, which has been winning rave reviews during its spring and summer festival run. However, he slightly ruefully admits "if I had more money the movie would look even better.
"I would've done what they did with that Doors documentary [When You're Strange] – they spent $2 million making that movie, I think, and they re-transferred everything. Scorsese does that too.
"There is stuff that I was disappointed in the way it turned out, but it was just too expensive to get the 35mm transfer done," he adds. "So we were just kind of stuck with the go-to format that they send you when you license it.
"Obviously it would've been nice to go to the source on some of the stuff, but the things we did get to the source of and did do 35mm transfers of – like that Irving Allen footage – it was the most gratifying part of the process. It was unbelievable."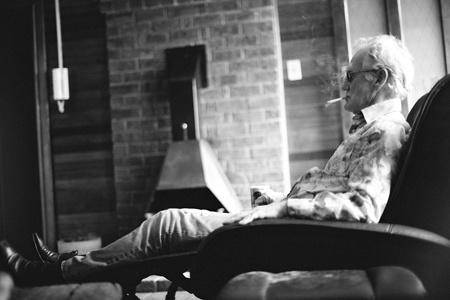 Beware of Mr. Baker plays at Silverdocs in Washington DC tomorrow (June 23) at 1:15 p.m. EST.