Sarah Barnett (pictured), exec VP and general manager of U.S. cable net Sundance Channel, talks to realscreen about tackling tricky subject matter via familiar formats in Get to Work and Push Girls.
As many producers of unscripted programming know, reality can be relative.
"We used to do a lot of programming we called 'The Green,'" explains Sarah Barnett, Sundance Channel's executive VP and general manager. "It was environmentally focused programming, and these days people don't particularly want to watch that on television. Sundance is interested in looking at very real, hard-fought, but positive solutions for some of the challenges that exist in our world."
To do that, the AMC-owned U.S. cable net rolled out two programs that tackle tricky social issues via two very different formats: Get To Work (pictured below), a timely, Sharp Entertainment-produced docu-series about a San Diego training program for the chronically unemployed; and Push Girls, a lighthearted docu-soap about four female friends who are paralyzed from the waist down, from producer Gay Rosenthal, which was recently renewed for a second season. (Sundance is not Nielsen rated, but the series received positive response from critics.)
Non-fiction programming continues to form a large part of the network's slate. Last year, execs doubled the amount of unscripted programming they ordered to 70 hours, and will maintain that level going in to 2013.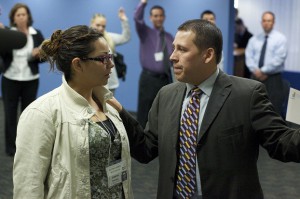 Coming up this fall is the third season of fashion series All on the Line with Joe Zee, which premieres on September 10, as well as season two of the documentary talk show The Mortified Sessions and season six of Iconoclasts. (For more on Sundance's current development slate, check out this report from the 2012 upfronts.)
Realscreen recently caught up with Barnett to talk about how Get to Work and Push Girls fit into Sundance Channel's unscripted programming strategy.
What types of unscripted series are you looking to program on Sundance Channel?
[Push Girls] is a template in terms of what we're looking for with our unscripted shows. We want shows that engage. We don't want our shows to feel like they're hard work but we do want our shows to be about something and have some kind of depth.
As one of the Push Girls herself says in season one, "nobody seems sexy in a wheelchair." There is something interesting and radical about the representation of disability in a way that's candid, not coy, but very straightforward. On the other hand, whether you think you're interested in representation of disability or not, it's just a really good show with a compelling cast. It does inevitably change the way you look at things.
Are those types of shows hard to come by?
Our exploration would suggest not actually. That leads me to Get to Work, which is another show that is somewhat similar. If you say to an audience you're making a show about joblessness, I don't think it sounds as though it would be a particularly entertaining unscripted show, but it's an important issue, and it's one that's relevant and prescient in an election year here in America.
[We found] this non-profit organization Strive, which has been doing for a long time this work with a group of chronically unemployed people with some success, and built into their process is this organic, authentic and kind of made-for-TV process, which is this four-week boot camp. You see extraordinary stakes and characters struggling with change, and all those ingredients that make great unscripted television.
Are there any specific genres or types of unscripted shows you're looking for?
In a way we feel we have the ability to move in and out of any kind of subject matter so long as we bring to bear some of these qualities that I've mentioned. A lot of people say 'authentic,' but I think for us and our brand, it's baked into our DNA. We try to create unscripted shows that feel very real, and that's about not creating scenarios.
You can look at anything from unemployment to Joe Zee and the fashion world, where every week he meets a different fashion designer who is really struggling with often a tension between creativity and commerciality. There is this element of deep struggle that often goes on with our show, and change.
Can you recount the pitch for Get to Work? What attracted you to the show?
60 Minutes had done a piece on the Strive organization in the late '90s, and it was a piece that stayed in the mind of one of my programming execs, who was brainstorming with Sharp Entertainment. They both mentioned how they remembered this story. Strive had been approached by many TV networks and had resisted. They didn't think being a subject of reality television was something they wanted… Our approach to making this show was to send in a small camera crew and be pretty fly-on-the-wall.
How did the show evolve during the development process?
Some of the things that emerged as we started to look at cuts of this show were, 'how many people can you actually follow each week?' We tried to get the balance right between enough [characters] so you get a really accurate sense of the program, and we very much wanted to show not just the triumphs, but also the reality. Fifty per cent of the people who start this course don't finish, so we wanted to show the reality of that struggle and that truth.
We made the decision to go home with some of the people in the class. It seemed to shed illuminating light on what was at stake for them, and added a little bit of depth in terms of understanding why they were in the place they were in and why it was so difficult for them at times to make constructive choices in their lives.
Was it difficult to get the people in the Strive program to appear on the show?
We were very straightforward in our approach. We said at the beginning of each class with the cooperation of the Strive teachers, 'Anyone who wants to talk to the camera, please do. Anyone who doesn't, don't feel any pressure.' Some people chose to speak to our camera crew and some didn't. Interestingly, I heard from our showrunner that some of the people that did speak, they found it very helpful as part of the process. They're going through a lot. It's intense. Having the ability to talk it out was actually, oddly helpful.
Who is your target audience with this program?
Our very broad audience is 25 to 54. I think this show will appeal to a wide range of people quite frankly. I think it appeals to a group of people who follow current affairs, who think about issues.
The show will appeal to viewers of unscripted reality TV who are fascinated to see character development and people who are in situations where they're really challenged and where they're pushed to their limits, and what people do in those situations. It can seem baffling, but it is a universal feeling, that sometimes we don't do those things that are in our self interest. Even when the stakes are very high, people don't always make smart choices, and I think there's something psychologically interesting about watching that.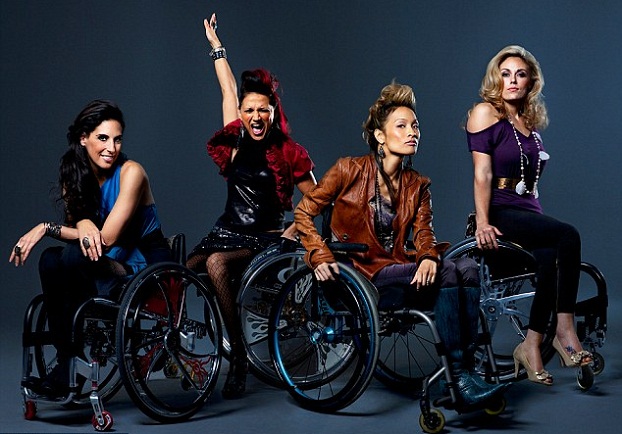 What was the pitch for Push Girls (pictured above) like and what attracted you to that series?
The producer of the show is Gay Rosenthal, and she came with a 20-minute pitch reel. My head of programming said, 'Take a look at this reel and don't judge it from the first two minutes.' I put the DVD in my computer, and the first two minutes were a group of very attractive women having brunch, clinking glasses in L.A.
I thought, 'Why is this a Sundance show? This seems like another Sex In the City-inspired reality TV show.' Then the camera pulled back, and the four women rode back from the table and it emerged that they were in wheelchairs.
We were struck by the fact that this story had never been told. We were in pretty quickly, actually. Then we met the four women that were in the show. If we weren't already in, we were after meeting them because they're extraordinary characters and amazing television talent. They manage to make their paralysis not the issue of their lives.
What was the development process like? How did it evolve from that initial reel?
The interesting [thing] that emerged in the development process was how much the show should be about the chair or not. Gay Rosenthal is behind the show Little People, Big World, which is now in multiple seasons. She's got a lot of experience in that show and she realized that, in the end, people are going to relate to the characters regardless of what their difference may be.
But there is a real fascination with learning how different people live their lives. In Push Girls, that translates to 'how do they drive?' From the practical to the bigger things that people are generally afraid to ask. In episode one, the first thing someone wants to know is 'can you have sex?' Her answer is 'yes, lots and lots of sex.'
What are the challenges in marketing a show about people with disabilities?
As we talked about our marketing campaign, we talked about wanting to make a campaign that was striking and would speak in some way to people within the disability community and the able-bodied.
We realized that there was this incredibly striking image we could create, and it's incredibly attractive people in wheelchairs. In itself, it's a startling image. We used that image all over and it got picked up in the press a lot. We wrapped some entire buses in New York with those images. We were able to overcome the obvious marketing challenge, which was connecting with people beyond the disability community. I think it's a show that really does speak to everyone in terms of how you live your life in a way which is honest and courageous.
What's the social media strategy behind Push Girls?
We're really excited with the campaign called 'Push Girl Hall of Fame,' where people nominated friends, themselves, and other people to the 'Push Girl Hall of Fame.' It's had a fabulous response. We're excited with how many people have participated.
We really liked the title Push Girls because it could define many people who are in wheelchairs, but also certain spirit and attitude. We liked the idea of the term 'push girls' being something people really wanted to own. Anecdotally, there have been many examples we've come across of disabled young women in particular, starting to feel a pride in being a push girl and for the first time having role models and an idea who they could be.
It was aspirational, which is amazing. We see in our 'Hall of Fame' that there are also people who are nominating able-bodied people who have lived a life in the spirit of the push girl.