Filmmaker Jorge Hinojosa tells realscreen how years of managing rapper/producer Ice T's career encouraged him to pursue his own directorial debut, Iceberg Slim: Portrait of a Pimp (pictured), which had its world premiere at this year's Toronto International Film Festival.
Robert Beck took the pen name of Iceberg Slim to write a series of novels that popularized street fiction, based on his previous time spent as a pimp. Pimp: The Story of My Life was published in 1969, and influenced writers, rappers like Snoop Dogg, musicians like Quincy Jones, and comedians like Chris Rock, all who appear in the Iceberg Slim doc.
Hinojosa himself was introduced to the writings of Slim when he began to manage rapper Ice T's career 28 years ago.
"He gave me a copy of Pimp to read and it totally captivated me, blew my mind and showed me a world that I was totally unaware of, in detail that was really gritty, but at the same time was done in a language that was really hypnotic," he says.
Hinojosa was inspired to make a film on the life of Iceberg Slim in part by Ice T's decision to direct a documentary, The Art of Rap, and chose to funnel his own money from his manager job into his film.
"I basically put the money I made from Ice and invested directly into this documentary," he recalls, adding that his co-producer Ice T's input was invaluable.
According to Hinojosa, telling Chris Rock, Henry Rollins and Quincy Jones that Ice T was the co-producer resulted in getting a quicker 'yes' to be interviewed.
Three years later and with a lot of money invested, the film was complete and the director was nervous that his submission to TIFF wasn't going to get selected.
"There were rumors that people had got in [to TIFF] and I started to have an anxiety attack. I'd invested all this money, what was I thinking?" he recalls. "The documentary was something that was of very personal pride to me, so my pride was a bit bruised. I thought I just need to stick with management, and that's that."
The next day Hinojosa received a phone call from TIFF's documentary programmer Thom Powers, letting him know his film had been selected.
Ahead of the festival, he told realscreen that he hopes his documentary subject inspires Toronto's audiences.
"When Iceberg Slim was pimping and living in the streets, he thought that was his destiny. He had this moment where he realized he could change his life. He made a dramatic change that resulted in him becoming one of the first authors in black street lit," says Hinojosa.
"When Iceberg wrote his book he was in his early 40s. He started a genre that had no real prospect of being relevant and he wound up being relevant. Nobody had really written about the black experience like he had done.
"And to a certain degree, that's what happened to me. I've been Ice T's manager for 28 years and I took a tremendous chance and it paid off. At least I know, I went for it."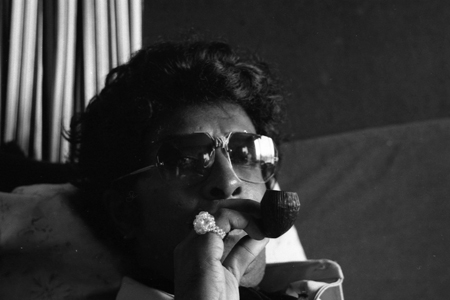 Iceberg Slim: Portrait of a Pimp has its last screening on Sunday, September 16 at 4 p.m. at TIFF