Continuing our bi-annual coverage of the two preeminent European and North American documentary pitching Forum events, realscreen kicks off the first of three installments giving complete coverage of all 21 projects presented this week at the IDFA Forum's Central Pitch in Amsterdam's Compagnietheater.
Taking place during the 2012 International Documentary Film Festival Amsterdam (IDFA), the year's Forum featured notable pitches from award-winning directors such as Seung-Jun Yi (Planet of Snail) and Ross Kauffman (Born Into Brothels, In a Dream), as well as a host of promising new filmmakers.
In addition to offering an overview of the projects, we present details on the funding being sought by producers and, of course, the all-important commissioner reactions to the pitches.
If that's not enough reading for you, be sure to check out last week's interview with IDFA Forum head Adriek van Nieuwenhuyzen, along with realscreen's comprehensive report on May's Hot Docs Forum (parts one, two and three) for a recap on how the North American equivalent of the IDFA Forum went down earlier this year.
The Shadow World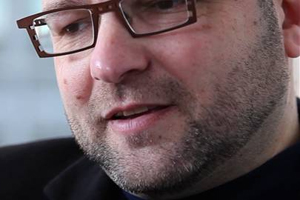 Director: Johan Grimonprez
Production budget: €1.26 million (Some funding already in place from Bertha Foundation, Sundance Institute, Fork Films). Still needed: €920,000.
IDFA logline: "Feature documentary that explores the international arms industry: a business where both profits and losses are counted in human lives."
The first Central Pitch of 20th IDFA Forum was a Belgian-American coproduction helmed by director Johan Grimonprez, looking at the murky world of the international weapons trade.
Based on an adaptation of Andrew Feinstein's book The Shadow World: Inside the Global Arms Trade, the documentary promises exclusive access to key whistle-blowers who will detail allegations of corruption and complicity of governments and intelligence agencies who deal in illicit firearms.
The project already has the Sundance Institute's Cinereach Project and the Bertha Foundation behind it.
The first commissioner to weigh in on the pitch was ARTE France commissioning editor for specialist factual Nathalie Verdier. "As a topic, this would be interesting for our investigative documentary slot," she said. "It's an ambitious film, high budget." However, she expressed concern that the doc would be caught between being a current affairs-style investigation and a reflection on the broader arms business.
"I'm worried about the fact that you both want to lead an investigation and also a reflection."
Also offering her take on the pitch was Claire Aguilar, VP of programming for ITVS, who compared the pitch to Eugene Jarecki's ambitious war-on-drugs doc The House I Live In. "There's a parallel here with tackling such a big subject," Aguilar offered.
Meanwhile, TVO commissioning editor Jane Jankovic was keen to know more about the multimedia aspects of the project, which the filmmakers replied would take the form of a potential arts installation running alongside the book and film.
Perhaps the most positive to weigh in was Catherine Olsen, exec producer of documentaries for Canada's CBC Newsworld. "I love stories that deal with whistle-blowers," she said. "I want to hear more about the characters you're going to be developing with your film."
Prior to Farewell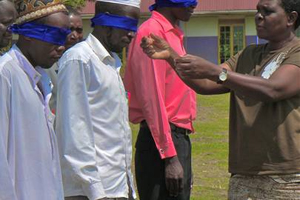 Director: Iiris Härmä
Production budget: €298,000 (YLE, MEDIA). Still needed: €180,000.
IDFA logline: "Life lessons on sex, marriage and women's empowerment – a psychological thriller in homophobic Uganda. Religious leaders attend to a sexual health workshop, while main characters face challenges like never before."
Prior to Farewell focuses on two central female protagonists – a Finnish woman and a Ugandan woman, both in their sixties – who struggle to run a sexual health workshop in Uganda. The doc could benefit from the success of breakout hit Call Me Kuchu, which treads some similar ground and has wowed on the festival circuit this year.
Ingemar Persson, SVT's head of documentaries, was the first to react to the team's pitch. "For me, it's going to be much a matter of how you tell the story," he said, while IKON commissioning editor Margje de Koning added that she was interested to see how the relationship between the two women would progress.
The latter point was also echoed by Patricia Finneran, producer for creative partnerships at the Sundance Institute's Documentary Film Program.
Meanwhile, Knowledge's director of independent production and presentation Murray Battle drew laughs when he told the team, "I'm interested in sex, and so are the people of British Columbia," before adding that he'd like to see more footage.
Simon Kilmurry, executive director of 'POV,' said elsewhere that he was curious to see what this film would add to other films coming out of Uganda at the moment, "such as Call Me Kuchu and God Loves Uganda."
In the Wake of Stalin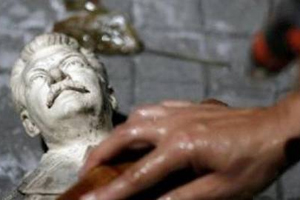 Director: Thomas Johnson
Production budget: €431,000 (ARTE G.E.I.E., YLE, RTS Switzerland). Still needed: €200,000.
IDFA logline: "Stalin still overshadows Russia. Between manipulation of collective memory by the power and search for truth conducted by NGO Memorial, this investigation enlightens on the battle for memory and democracy."
The third pitch of the day offered what filmmakers described as a reflection on the "schizophrenia" of modern day Russia, through the lens of the country's love-hate relationship with Stalin, one of its most enduring and controversial political figures.
CBC's Olsen was among the first to offer her take on the pitch, telling the team that a quote in the trailer from current leader Vladimir Putin caught her eye, along with contemporary footage of Russian group Pussy Riot.
"If it's about the Russia of today then I'm really interested," she said of the doc. "If it's about the history of Russia then I'm less interested."
Tomoko Okutsu, NHK's producer for international coproduction and acquisition, was also encouraging, saying: "We are interested in contemporary Russian society. How Russia is trying to treat the past is also interesting."
However, she added that it would be a difficult doc to do as a coproduction, suggesting she would likely consider the finished film.
More lukewarm on the project was YLE's Jenny Westergård, who told the team: "I can't see right now [what] your extraordinary access [is]." SVT's Persson added that he felt confused by the trailer. "I'm not interested in an essay about the Soviet Union," he said.
Zero Waste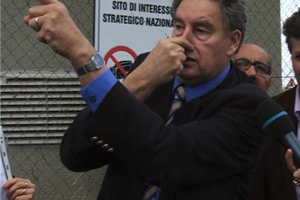 Director: Raffaele Brunetti
Production budget: €274,000 (ZDF/Arte, MEDIA). Still needed: €184,000.
IDFA logline: "The war on garbage and the Mafia as conducted by a Utopian 'madman,' the new mayor of Naples."
The fourth project of the Forum's first day focused on Luigi De Maistris, the recently elected mayor of Naples. De Maistris triumphed at the last election as an independent candidate with no political powerbase, after running a campaign focused largely on dealing with the town's spiraling garbage problem and its mafia issues.
"We think [the story] is very symbolic and important, because if Naples can do it, anyone can do it," said director Brunetti.
TVO's Jankovic said she saw parallels in the film that would work for an Ontario audience. "We have a huge garbage problem in Toronto," she said, "and mafia as well." She wondered, however, who the characters would be to lead the viewer through the story, beyond the Italian mayor.
The director explained that in addition to the mayor, there was also a professor and several townsfolk who would act as supporting characters.
Another Canadian impressed by the pitch was CBC's Olsen. "I didn't think I'd be interested in this story, but I really like the tone of this," she said, before asking the team whether they planned on "maintaining this humorous tone, because these stories are often very earnest."
NHK's Okutsu was also encouraging, telling the filmmakers that "Italy is a place that many Japanese people love, and garbage is a big issue for us as well." She added that she was keen to know more about the mayor and his story. Knowledge's Battle, meanwhile, had praise for the director. "I would suggest that you're the right man to do this," he said.
Less convinced by the pitch, however, was Gaspard Lamunière, commissioning editor for documentaries at Swiss broadcaster RTS. "I have so many questions about this project which I find very challenging, to be honest," he said.
One obvious question around the project was whether the sole Italian broadcaster represented at the table (RAI) would be interested in the film. However, RAI commissioning editor Lorenzo Hendel said that he tended not to go in for projects that took a cross-media approach (the project has a significant website component that will aim to educate the public about waste reduction).
In addition, Hendel felt the film was not a tonal fit for his network. "To be frank, it's far from our stylistic approach," he said. "We try to define our projects not by the topics but by the narration."
Kismet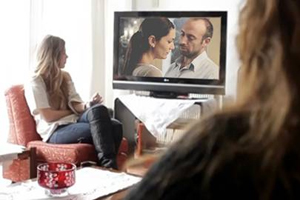 Director: Nina Maria Paschalidou
Production budget: €227,500 (Al Jazeera English, ARTE G.E.I.E.). Still needed: €76,000.
IDFA logline: "Turkish soap operas have conquered the hearts of millions across the world. With unprecedented access to the industry's most glamorous talent, Kismet unravels the secrets of this phenomenal success."
One of the most interesting pitches of the Forum's first day delved into the world of Turkish soap operas, which are proving phenomenally successful with broadcasters worldwide. Kismet promises to look not just at the success of the films, but at how they are encouraging Muslim women to challenge the constraints of traditional gender roles.
The pitch featured a glossy and impressive trailer, and the filmmakers explained that 'Kismet' means fate.
SVT commissioning editor Emelie Persson was first to weigh in on the pitch, informing attendees that the Swedish broadcaster recently acquired its first Turkish soap opera, which is slated to air in January. "I have no idea how a Swedish audience will react," she said, without hinting at whether she was interested in the project.
More encouraging was YLE's Westergård and CBC's Olsen, who had seen the project at DOK Leipzig in Germany a few weeks prior.
Based on the new trailer, "the questions we were asking in Leipzig have been answered," said Westergård, while Olsen added: "I think it addressed a lot of the things we were discussing a few weeks ago, but I'm still keen to know about the opposition [to the soaps] in different countries."
RTS's Lamunière opined that while it was a challenging project, "there are some charming aspects of it."
Journey Story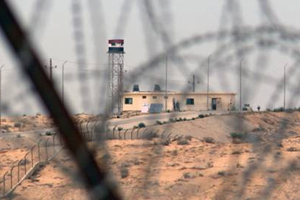 Director: Keren Shayo
Production budget: €252,000 (Yes Docu, Radio Canada). Still needed: €138,000.
IDFA logline: "Timnit, 20, escaped Eritrea in 2011 and disappeared on her way to Israel. We follow the search for her and reveal the secret torture camps ran by Bedouins in Sinai."
One of the darkest, heaviest and most moving trailers of the 2012 Forum came from Journey Story, which looks at the plight of refugees from the state of Eritrea attempting to make their way to Israel. In addition to funding, the filmmakers said they were also looking for additional collaborators, since they, as Israelis, could not shoot in Sinai.
Among the vocal supporters of the project was the Sundance Institute's Finneran. "This kind of project – risk-taking, challenging – is what we do at Sundance," she said. "The woman who has the radio show [featured in the trailer] is incredibly compelling and strong." Britdoc foundation director Sandra Whipham added simply that "the trailer was devastating."
ZDF/ARTE commissioning editor Sabine Bubeck-Paaz also weighed in on the pitch, telling the team it could be "really interesting for our geopolitical slot," while SVT's Persson said he needed more clarity on the narrative arc.
'POV"s Kilmurry was also interested in the film. "For me the key is this story of the camps," he said.