In part two of realscreen's trio of science profiles, and ahead of the start of the World Congress of Science and Factual Producers (WCSFP) tomorrow (November 27), we talk shop with commissioners from Science Channel and PBS.
(Click
here
for part one of this report, which features execs from the BBC and the CBC)
Debbie Myers (pictured above)
Exec VP and general manager, Science Channel
How many hours of science programming per year do you program?
We program science on our network 24/7, 365 [days a year]. Science is a "big tent" genre, so along with our core deep science programming, we explore the science in surprising topic areas including humor, sports and competitions.
What's the ratio between original productions, coproductions and acquisitions?
We commission 50% of our content, with the remainder being an even 25/25 split between coproductions and acquisitions.
What has been your highest-rated series or one-off this year?
An Idiot Abroad: The Bucket List has been the highest-rated Science series this year followed closely by Through the Wormhole with Morgan Freeman. Those are also our two highest-rated franchises in network history.
Mars Live and NASA's Unexplained Files, segments of our "Are We Alone?" Month, are our highest-rated science specials this year.
Are there any trends that you've noticed in terms of science programming?
Space continues to be an exciting topic that audiences remain interested in – especially when it is covered live. We saw a great deal of success with the airing of our Mars Curiosity Rover Live. It's as true now as it was in 1969 with the moon landing – people want to see history being made live.
Is multi-platform science programming part of your strategy for the year ahead?
Multi-platform science is a very active part of our programming strategy. Our viewers go beyond television and consume our content on multiple platforms. A great example of this is our premiere of Through the Wormhole, which had a great co-viewing app that really rounded out the viewing experience. Punkin' Chunkin' will premiere in November and has a fun, interactive gaming component that brings in huge traffic.
Our multi-platform plan will be bigger and bolder in 2013 – it's an integral part of our strategy moving forward.
What are your thoughts on the "science vs. entertainment" debate?
We are television programmers serving an entertainment-based media – meaning, unless our programming engages and entertains, we will never attract a wide audience. Luckily, we have found a formula that allows us to entertain, while also informing and enlightening our viewers.
"Entertaining" is not a dirty word as long as you also live up to your mission to provide the best science programming anywhere. At Science Channel, we don't see entertainment and information as being mutually exclusive.
Do you accept unsolicited pitches, and if so, what's the best contact to use?
We are very active users of the Producers Portal [producers.discovery.com] – an online tool which allows external producers to submit pitches and ideas to Science Channel. Our development team constantly goes through submissions that we receive through that resource.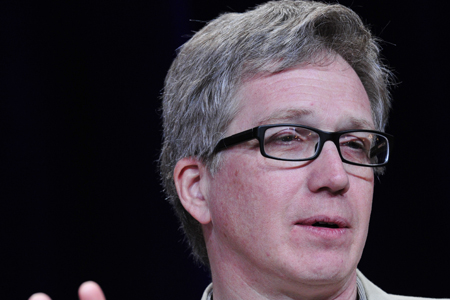 Chris Schmidt (pictured above)
Senior producer, PBS 'NOVA'
Are there any trends that you've noticed in terms of science programming?
We continue to see strengthening interest in stories that help viewers understand big ideas, [such as] the universe, the periodic table of the elements, [and] human evolution. We also are pleased to be commissioning films that feature hands-on exploration of applied technologies – from the past, present and future.
Viewers are responding very positively to our use of hosts – both scientists and non-scientists – and we continue to strive to develop new and diverse talents to help us carry the 'NOVA' brand into our new season and beyond. Also, we continue to commission films that allow dynamic, vérité styles of production, as well as the use of new camera technology such as wearable cameras and other devices.
Is 3D science programming part of your strategy for the year ahead?
As of now, no. PBS is not broadcasting 3D production. We are, however, monitoring the adoption of 3D technology and stand ready to employ it if appropriate.
Is the entertainment quotient key for science?
Entertainment is a key component in every film we commission in that we believe that there is no topic that can't be explored in an entertaining way.
We do, however, define entertainment broadly. For our viewers, intellectual stimulation and the chance to scratch the curiosity itch are as highly entertaining as good storytelling.
Stay tuned for the final installment of this report, featuring execs from NHK and Smithsonian Networks, publishing tomorrow. realscreen's Kelly Anderson will be attending the 2012 WCSFP in Washington DC.