In the past year, several documentaries have explored the ramifications of that emotionally charged time in the 1980s and early 1990s when contracting HIV/AIDS amounted to a death sentence.
PBS series Frontline's Endgame: AIDS in Black America, director David Weissman's We Were Here, Jim Hubbard's United In Anger: A History of ACT UP and David France's How to Survive a Plague, which won the best documentary honors at the Gotham Independent Film Awards earlier this week, examine the health crisis from the point of view of gay people and African Americans – two of the populations in the U.S. hardest hit by the virus.
Meanwhile in the narrative realm, director Jean Marc Vallee is helming The Dallas Buyers Club, a film starring Matthew McConaughey and Jared Leto based on the true story of a man that contracts HIV and forms a ground-breaking alternative treatment club in the late 1980s.
So, why all the sudden interest in the "plague" era?
"We needed to spend some time to wrap our minds around those years to try and make sense of them," France tells realscreen. "It's been about 16 years [since use of combination antiretroviral therapy began, which proved to be turning point in HIV/AIDS treatment]. That was the interval we needed emotionally to go back and see not just what HIV did, but what we did, how we responded and who among us did amazing and heroic work. That's certainly the goal I sent for myself with How To Survive A Plague."
Using primarily archival footage shot by HIV/AIDS activists, Plague chronicles a group of rage-fueled New York City activist coalitions as they set out to pressure indifferent – and sometimes hostile – government officials and pharmaceutical executives to respond more effectively to the health crisis. The film premiered at the Sundance Film Festival last January and received a North American theatrical run this fall through distributor Sundance Selects.
France has covered AIDS since the early 1980s, first as an alternative press reporter in New York and later as an editor and writer for national publications such as Newsweek. About three years ago he noticed that the integral role played by community activism in combatting the virus had largely been overlooked in most books and films on the subject.
Though France had an idea for an archival, verité-style doc about the key players from ACT UP (AIDS Coalition to Unleash Power) and TAG (Treatment Action Group) such as Peter Staley, Bob Rafsky and Mark Harrington, he didn't know if enough footage existed. He began his search at the New York Public Library, which houses an extensive collection on HIV/AIDS-related footage, to remind himself of "the energy and the emotion" of the era.
As he reviewed the Library's archives, he noticed activists at ACT UP meetings and protests carrying video cameras. Just as protestors in the Middle East used mobile phones and social media to document the Arab Spring uprisings in 2011, AIDS activists in 1987 wielded camcorders – as a form of surveillance on police during protests, to document the stories mainstream media was ignoring, and as artistic commentary.
"Traditional media was acknowledging that there was an epidemic and that it was tragic," explains France. "But people with HIV were presented as meek and dying 'victims' of a plague. What was happening more richly on the ground was not victimhood, but this intense, political organizing by people with HIV who didn't consider themselves victims at all – they considered themselves warriors in this battle to survive."
Confident there would be enough material to make a character-driven doc, he proceeded with the film. Producer Howard Gertler and executive producers Joy Tomchin and Dan Cogan signed on to the project and raised money through private donations and funding sources, with support coming from The Ford Foundation, JustFilms, Impact Partners and Little Punk.
Meanwhile, France and his research team scoured storage units, apartments and basements for old video tapes, and then advertised on websites such as Craigslist for the tape deck parts needed to transfer decaying videos to digital formats. It wasn't long before his New York office started to resemble a museum of video technology.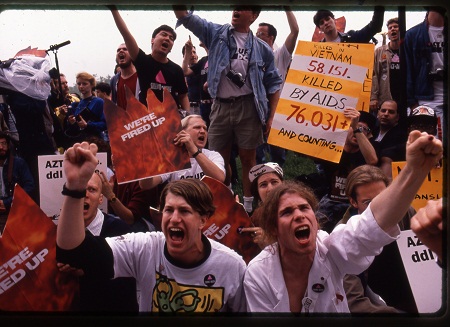 Ultimately, around 20% of the footage that ended up in Plague came from the New York Public Library collection.  Many of the most startling and intense moments in the film were unearthed from private collections.
France acquired several home movies from the family of Bob Rafsky, an activist who famously wound up in a heated exchanged with then-Arkansas governor Bill Clinton during a 1992 presidential campaign speech (leading to the future president's "I feel your pain" reply).  The family footage shows Rafsky's gentler side as he celebrates birthdays with his ex-wife and young daughter, but as the film progresses it becomes a bittersweet chronicle of the rapid decline in his physical health.
Another one of France's favorite finds was a shot of ACT UP co-founder and playwright Larry Kramer as he furiously lectures a group of activists that have succumbed to petty infighting.  The intense moment is captured in a locked, close-up shot that was filmed as though the person holding the camera had cinematic ambitions.
"It's this fearless camera on his face," says France, who lists 30 "archival cinematographers" in Plague's end credits. "The camera knows that this is going to be the moment where Larry Kramer is Larry Kramer. If the camera were in my hand, I just would've been shaking but it's locked in this extreme close-up that's just stunning."
Procuring the archival material was a sensitive process. As a first-time director, he had no track record in film to show activists and their families.
One person that had consistently refused to entrust footage to filmmakers over the years is Patricia Navarro, the mother of Ray Navarro, an activist and performance artist who died of AIDS at age 27. His video art often satirized the attitude prevalent in factions of the religious right that posited AIDS as a form of "divine punishment" against the gay community.
"I was asking a lot. I was asking people to really trust me with the legacy of their own work and the work of their loved ones," says France, who ultimately convinced Navarro to let him use the material. "There's something about her reticence that I think was really powerful. Those tapes, in a way, represented what her son left behind and she felt a responsibility to them."
France also conducted 90 minutes of interviews with activists and scientists that provide narration throughout the film. Unlike director Asif Kapadia, who recounted the life of Brazilian Formula One racing driver Ayrton Senna in his acclaimed 2010 doc Senna using exclusively archival footage and audio narration, France shows talking heads in his film.
However, he chose not to show the HIV-positive activists that survived the plague years until the final 20 minutes so the audience could better understand the steely resolve that motivated the activists in the film. It's that sense of enormous gravity that elevates How To Survive A Plague beyond a history lesson.
"I wanted the viewer to have the genuine experience of the plague years," he says, "which was the total mystery of who would live and who would die, and the urgency on a day-to-day basis of keeping those people alive."
How to Survive a Plague is now in theaters.