As the World Congress of Science and Factual Producers wraps, and in the second installment of a two-part report, realscreen spotlights the VFX and CGI wizardry in recent factual programs America Revealed and Secret Universe: The Hidden Life of a Cell.
To read part one, click here.
AMERICA REVEALED (pictured, above)
Produced by: Lion Television
VFX studio: 422 South (Bristol)
For the past four years, VFX company 422 South has honed a specialty in data visualization, an increasingly popular form of presenting data in business, art and publishing that made a big splash in the factual realm in 2008 through the six-part BBC series Britain From Above.
Produced by Lion Television, the series revealed the way Britons went about their lives through a combination of aerial and time-lapse photography superimposed with animated 'hidden' patterns of activity such as London's air traffic, freight truck routes, and playing children tagged with GPS transmitters.
"It's almost like a new camera or a new form of lens that enables you to see things that you can't see any other way," explains Andy Davies-Coward, creative director at 422 South.
That project led to more data viz projects such as The Netherlands From Above for Dutch pubcaster VPRO, Germany From Above for ZDF and America Revealed, which aired on PBS earlier this year. Davies-Coward estimates that there are two or three data viz broadcast projects for 422 South coming up in the next six to 12 months.
By the time the shop began work on America Revealed, it had worked out many of the kinks in the process in order to determine storylines.
Procuring data can be tricky. Whereas amateur enthusiasts and academics are typically delighted to see their research rendered as beautiful animations, government agencies can move slowly and private corporations can be reluctant. Once it's acquired, producers then reduce the raw data to a size that can be visualized and begin extracting stories that are then rendered as rough animations.
"Data works best when it reveals a story that you didn't necessarily know intuitively," he says. "It's only when we visualize that we know whether there's a story or not."
As such, a story may not reveal itself until months into production. The VFX team will work rough versions to revise and edit, which can be difficult for execs used to signing off on finished-looking animations. Budgets for data viz projects are in the US$150,000-$200,000 range per series, which amounts to 20-25 sequences comprising three-to-five shots, but that doesn't include licensing fees for satellite or aerial photography.
"The key for a mainstream audience is to make it feel like another way of looking as opposed to something that takes you away from the stream of reality." Kevin Ritchie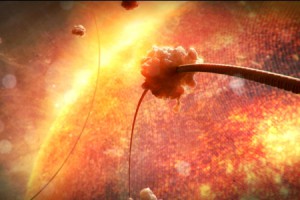 SECRET UNIVERSE: THE HIDDEN LIFE OF THE CELL/BATTLEFIELD CELL
Produced by: Wide-Eyed Entertainment
VFX studio: Intelligent Creatures (Toronto)
London-based Wide-Eyed Entertainment partnered with Toronto-based CGI shop Intelligent Creatures to depict the battle between a human cell and an army of viruses, told entirely from the perspective of the cell.
"Once we decided to tell the story of the virus attacking the cell, and the virus going on a journey from the surface to the nucleus, we then had to think about how to visualize it," said David McNab, Wide-Eyed Entertainment's creative director. "[Intelligent Creatures] had a real nice organic look to the work they did. When we spoke to them, they seemed to be completely committed to the science and the challenge of bringing this universe to life."
Having recently aired on BBC2 as Secret Universe: The Hidden Life of the Cell, and on Discovery's 'Curiosity' strand on November 4 as Battlefield Cell, the one-hour special was "ambitious yet extremely fascinating," according to Lon Molnar, CEO and VFX supervisor at Intelligent Creatures.
Molnar says it was the first time his company worked on a project that was so complex and extensive, with the U.S. version entirely CG, and the UK version featuring 45-50 minutes of CGI, intercut with footage of experts.
VFX supervisor Geoff Scott says the team used Maya for the 3D work, rendered in V-Ray: "We adopted V-Ray early due to its ability to handle large amounts of geometry and it looks beautiful."
All the compositing was done in Nuke. "During the final two and a half months of rendering we utilized over 700 processors, running 24 hours, seven days a week," says Scott.
"The added challenge was the complex environment builds, realistic shaders, camera movement and the massive amounts of rendering required to give the audience a real world experience," Molnar says.
For Scott, it was the "unknowns" that proved challenging. "Every day there were new scientific breakthroughs which meant we had to tweak, modify or sometimes completely rework sequences," he says. "One of the tasks we all undertook was to immerse ourselves in the world of cellular biology and mechanics."
"What's gratifying is the response we've received from the health and science community," says Molnar. "We've given them a stunning filmic experience with a world seen normally as primitive." Kelly Anderson