Ahead of tomorrow's (January 9) third season premiere of Property Brothers, HGTV GM and senior VP Kathleen Finch (pictured) tells realscreen why she's betting on the show's twin brothers, Jonathan and Drew Scott, with both a new season and an upcoming competition series.
Premiering tomorrow, the newest season of Property Brothers, produced by Cineflix, will feature seven episodes set in Austin, Texas, while the remaining 19 episodes are set in Toronto.
The 26 x one-hour series will continue the format of Jonathan, a licensed contractor, and Drew, a real estate agent, helping families turn fixer-uppers into their dream homes, on a reasonable budget.
As for why HGTV's GM and senior VP Kathleen Finch wanted another series with the Scott twins (pictured below), she says the reason is "obvious, and comes in a pair.
"The two of them have caught on with our viewers, probably like nobody else has ever caught on before," she explains. "They're just terrific talent, they completely know their stuff. Women love them, men love them, and one of the things about them is the rapport they have is so terrific, and it really shows on camera."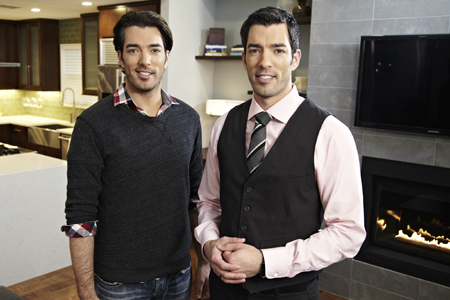 HGTV is betting on them yet again to be at the center of a tent pole series in the summer, called Brother vs. Brother. This time produced by CBS News Productions, the competition show will roll out immediately after Design Star.
Despite the fact that Cineflix produces two Scott brothers vehicles – Property Brothers and Buying and Selling - Finch says that since CBS News Productions also produces Design Star, they decided to fold both competition productions together.
In the six-part series Brother vs. Brother, each brother will pick a team of home improvement experts to renovate a property, with the goal of raising the value more than the other team. A competitor who didn't succeed at the challenge will be eliminated at the end of each episode.
"[The brothers are] doing so well on the air and we wanted another competition show, so we thought what better way to do it than to try to pit them against each other, as twins would normally do growing up?" says Finch. "Everybody loves renovation, design and competition, but the fact that we've got this very popular duo as hosts will bring that many more people to the show."