As The New York Times today holds a special screening of its 'Op-Docs' series at Sundance, Jason Spingarn-Koff (pictured), the curator of the newspaper's short documentaries initiative, talks to realscreen about the program.
The New York Times' year-old Op-Docs project is an example of how digital media can open up new possibilities for old art forms: the short documentary.
Once difficult to see outside curated film programs, short docs have found a natural home on YouTube, but the newspaper has gone a step further to commission 46 shorts that respond – much like an op-ed writer – thoughtfully, provocatively and playfully to the issues of the day.
Produced by filmmaker-turned-commissioner Jason Spingarn-Koff, the series extends the mission of the paper's Op-Ed section into the realm of video by inviting emerging and established filmmakers from outside the Times to contribute docs that run the gamut from subtle to blunt, from probing vérité to musical mash-ups, animation and satire.
Highlights from Op-Docs' inaugural year include The Umbrella Man from Errol Morris, about a man photographed standing under an umbrella during the Kennedy assassination in 1963; Laura Poitras's The Program, a profile of National Security Agency whistleblower William Binney; and Bronx Obama (pictured below), Ryan Murdock's look at a New York man who becomes a presidential impersonator.
Drew Christie's animated biography of an invasive rodent species, Hi! I'm a Nutria, became a sleeper hit, and led to a second animated short, Allergy to Originality, a wry explanation of the lack of originality in Hollywood movies.
"It's hard to know what will become a huge runaway hit," Spingarn-Koff tells realscreen. "I don't feel ratings pressure here. There's this terrific tradition where the editors commission and publish work we think is strong, that interests us without feeling like we are beholden to any business concerns."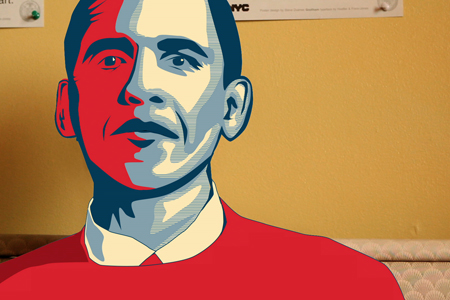 To program Op-Docs, Spingarn-Koff – whose directing credits include the feature doc Life 2.0 – will call up directors to find out what they're working on, and also attend festivals, pitching forums and markets.  He commissions original work, takes cold submissions and works with directors to create spin-offs related to longer works in progress.
For example, The Program is based on another project Poitras is working on, but it is still an original short.
"We don't do lifts from films. We don't do trailers," explains Spingarn-Koff. "It's the same mix we do on the print side in Op-Ed in terms of cold submissions, commissions and soliciting work from people we know or hear about."
The Program was one of two films funded through a collaboration with UK-based doc funding organization The Britdoc Foundation, which joined the Ford Foundation and the Sundance Institute as Op-Docs funding partners this past summer.
For the second year, Op-Docs has partnered with the Sundance Film Festival on a series of shorts related to feature documentaries screening in competition. Directors submitting films this year include Dawn Porter (Gideon's Army) and Oscar-winner Roger Ross Williams (God Loves Uganda).
In addition to screening films via web portals such as YouTube and Hulu, the Op-Docs have migrated offline. IFC screened Op-Docs before features playing in its New York City theaters over 12 weeks last summer and Spingarn-Koff curated a program for DOC NYC last November. Festival programmers and event producers have also been calling.
Op-Docs is organizing events for SXSW and Sheffield Doc/Fest, and Spingarn-Koff will screen a selection of shorts and host a conversation with filmmakers during an invite-only event at the Sundance Film Festival today (January 22).
As a result of the added attention, the Times has expanded Op-Docs' staff and production resources with the goal of publishing one doc per week. Spingarn-Koff hired an associate video journalist that assists in managing submissions and the production pipeline.
"We're still exploring the limits of what Op-Docs can be in terms of subject matter and style," he says.  "It's good when people think, 'Wow, I didn't expect to see that at The New York Times.' We're still coming up with new ways of surprising and entertaining people in addition to covering hard-hitting subjects."
The New York Times and Ford Foundation JustFilms will host an invite-only screening of selected 'Op-Docs' in Park City today (January 22), with filmmakers Heidi Ewing, Laura Poitras, Dawn Porter and Roger Ross Williams in attendance.
This interview originally appeared in the January/February 2013 edition of realscreen magazine. Not a subscriber? Click here for more information.