In the first installment of a two-part feature, realscreen kicks off the New Year by profiling inspirational risk-takers from the year gone by.
Whether they're working in the production realm, as network execs, digital content gurus or in the non-fiction content community at large, these trailblazers and their innovations piqued our interest in 2012.
Dimitri Doganis, founder, Raw TV
Bart Layton, creative director, Raw TV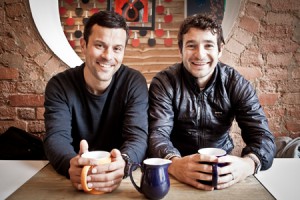 One of the more mind-boggling cinematic experiences of the year was The Imposter, the inaugural theatrical doc from Gold Rush makers Raw TV.
Directed by Raw creative director Bart Layton (pictured above, right), the film recounts the baffling case of Frédéric Bourdain, a 23-year-old Frenchman who assumes the identity of a missing Texas teen, acquires a U.S. passport and is welcomed with open arms by the boy's family despite looking and sounding nothing like the kid.
The story unfolds through interviews, home movie footage and slickly shot recreations that have the breathless feel of a Hollywood whodunit. To raise financing, Raw tapped the film arms of TV networks A&E and Channel 4 and brought on well-regarded producers Simon Chinn and John Battesk (Searching for Sugar Man, Man on Wire).
"We saw The Imposter as a break-out proposition," says Dimitri Doganis (above, left), who founded the London-headquartered prodco 11 years ago. "It was born of our belief in the story and through Bart's direction we could find an amazing way of telling it, but we also felt it would take us on to bigger and better things."
The film premiered at Sundance to raves, became a festival circuit hit, and turned up on the Oscars' feature documentary 15-strong shortlist. Raw also experienced continued success on the small screen in 2012. Gold Rush, Discovery Channel's highest-rated series, enjoyed a strong third season and the premiere episode of Jungle Gold attracted 2.76 million P2+ viewers.
Elsewhere on the dial, Paranormal Witness returned for a second season on Syfy and season six of Locked Up Abroad aired on National Geographic Channel.
Raw is also developing the docuseries The Cowboy Way for USA Network and the three-parter Endurance in the Wake of Shackleton for Discovery Networks Western Europe. The prodco also has two scripted features in development, as well as a "crazy hybrid film which is half-doc, half-narrative," Doganis says.
"Dimitri and I got into this business in the first place because we're filmmakers first and foremost, rather than business people," Layton says. "We're always trying to find ways of smuggling cinematic ambitions into the work that we do in TV. We've always felt like you should strive to have the kind of production values similar to what you would expect at the movies."
Why did you decide to move into feature doc production?
DD: It's been a long-held ambition to make films and then [The Imposter] came along, which seemed like the perfect first film. So it was a combination of a long-held ambition and we tend to think in terms of film instead of television. A lot of our TV projects come out of references from film or are inspired by cinematic ways of telling stories.
BL: We drift towards things we're really excited by. All of the things that we pitch are things that not only would we want to make but we'd want to watch. There is a lot of effort going into high-quality single documentaries as well as thinking about how to push the boundaries in scripted and the work we're doing with Gold Rush and Jungle Gold.
The Imposter presents a non-fiction story in the style of a Hollywood thriller. Is that approach something that informs all of Raw TV's work?
BL: We're interested in the idea that there is a place where you preserve the truth. I also feel there's no reason why fiction should have the exclusive rights to suspense or tension. There's a way of preserving the truth of a true story and making it more than simply a documentary. I know that's very oblique but we're interested in stories which defy categorization in some way – you know it's true but maybe it's got a foot in both worlds.
The bravest thing you've done in your career so far is…
BL: We've both filmed in very difficult situations. Giving a motivational speech in Spanish to 200 maximum security prisoners in Mexico for one of the episodes of Locked Up Abroad was quite a scary experience.
DD: Traveling through Iraq during the initial invasion in Gulf War Two in an open-top truck with vehicles exploding by the side of the road and no protection whatsoever – actually, that felt dumb rather than brave. I'm not sure that's quite what you're asking.
Kevin Ritchie
Jane Root, founder and chief executive, Nutopia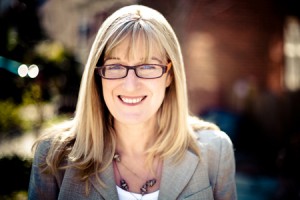 One could look at Jane Root's C.V., or examine the work she's done since founding the Washington DC- and London-based prodco Nutopia in 2009, and come to the same conclusion. She really likes a challenge.
First, consider the C.V. In 1987, she co-founded what grew into one of the UK's top production companies, Wall to Wall, where she served as joint managing director for 10 years before crossing over to the broadcasting side.
Her first role with the BBC was as part of its Independent Commissioning Group, tasked with ensuring that 25% of the Beeb's output came from UK indie producers. In 1999, she advanced to the post of controller for BBC2, commissioning such hits as The Office, Top Gear and Who Do You Think You Are?
It was also during her run at BBC2 that her penchant for big, bold programming ideas first took hold, with such interactive event series as Great Britons and The Big Read, which integrated audience voting and live finales into the mix. And while the series didn't always generate unanimous praise from the critics, with some sniffing that the programming was "populist" (an interesting charge to level at a public broadcaster), they did get people talking – and watching.
Under her watch, BBC2 increased its audience share. In 2009, shortly after her arrival to its controller post, Janice Hadlow summed up Root's tenure to The Guardian as "extraordinary, channel defining."
Of that time, Root says now that such programming decisions taught her how "you could do something that can have real meaning in the culture." It was an approach that would inform the next stages of her television career, beginning with a move across the pond to head up another non-fiction network giant, Discovery Channel.
There, she oversaw the American launch of Planet Earth, a copro with the BBC that would also prove to be a game-changer.
And now, with Nutopia, she's continuing to take on the challenge of creating must-see, "once in a lifetime" television for networks including History (2010′s America: The Story of Us was the prodco's first "mega-doc," followed up by the 12-hour Mankind: The Story of All of Us in 2012), Discovery Networks International (2012′s How We Invented the World) and National Geographic Channel (the upcoming The 80s: The Decade that Made Us).
She also stresses that Nutopia shouldn't only be thought of as the house that the mega-doc built – the shop also produces smaller, "fairly classic" docuseries and is, in the year ahead, moving further into formats and scripted programming with a project for an as-yet-unannounced network. She's also keen to see Nutopia programming migrate online via the ever-increasing web of video portals.
Throughout her career, she's had to keep her eyes focused on the road ahead while juggling myriad responsibilities in the here-and-now. Citing both the shortening life cycles of massive hits such as MTV's Jersey Shore and the increasing call for content with global reach from media companies as interesting recent developments, she admits that satisfying the current appetite for the next big thing in factual content is somewhat of a challenge.
But true to form, on the flip side of that tricky task, or perhaps bound within it, she sees "an enormous amount of potential."
How did you arrive at the idea of creating mega-docs?
It came from two things that I did as a broadcaster. When I was in the UK and led BBC2, we had this idea of trying to make really big things that would stand out, and really be part of the national conversation. And then when I went to Discovery, I inherited Planet Earth from my time at the BBC and we put a lot of marketing behind it to try and make it a huge, network-defining show. From there I realized the power of what a huge show could do for a network trying to find its corner in a very crowded world.
Are you looking at digital content as a growth area for Nutopia?
Yes, and some of the big shows we'll be making this year will be – and we're coining the phrase – 'YouTube masterpieces.' You don't necessarily design these shows in the way that I grew up making television – you design them knowing that a lot of your content is going to be consumed in three- or four-minute chunks. That's something that's become very important for us both commercially and creatively.
The bravest thing you've done in your career so far is…
Moving to America, and discovering I was pregnant while at the American Embassy getting my visa.
Barry Walsh
David Lyle, CEO, National Geographic Channels
Howard T. Owens, president, National Geographic Channels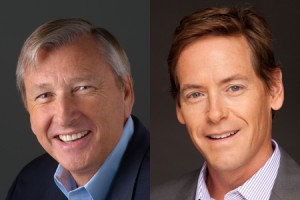 National Geographic Channels U.S. CEO David Lyle (picture above, left) and president Howard T. Owens (right) have managed to accomplish much in their short time overseeing the National Geographic Channels group, which includes the flagship National Geographic Channel (NGC), as well as Nat Geo Wild and Nat Geo Mundo.
Former Fox Look head Lyle became CEO in August 2011 and was given oversight for NGC's global programming. Owens, a founding partner of Reveille, was named president in November of that same year. Both have made good on a mandate to bring fresh ideas to the network, in terms of approaches to programming and in staffing.
Programming wins included SEAL Team Six: The Raid on Osama bin Laden from The Weinstein Company, a factually based drama which focused on the raid and takedown of Osama bin Laden, and gave the network its best numbers of the year, with 4.7 million viewers tuning in to at least part of the special. November's second season premiere of Doomsday Preppers, meanwhile, was the highest season premiere in the channel's 11-year history, with 1.3 million total viewers.
People moves included the hiring of Noel Siegel, formerly with Next Entertainment, as SVP of production and development; upping Lynn Sadofsky to VP of that department; and bringing on Robert Palumbo as an EP.
Meanwhile, the LA office beefed up with the hires of Alan Eyres as senior VP of programming and development, and J-T Ladt as VP of programming and development. And a revamped structure for global development saw former Channel 4 docs head Hamish Mykura appointed as both EVP and head of international content for National Geographic Channels International, and the London head of global development for NGC.
"For one thing, they bring a fresh approach to programming and creativity," says Owens of the appointments. "Our new creative hires on the West Coast and in Los Angeles, in London and in New York City are providing us with an opportunity to be in close proximity to our creative partnerships and to reach out and create new relationships.
"We've also found that great creatives want to work here," he adds. "I think they see an open and risk-taking environment and a canvas that is not yet mature and has a ton of opportunity for different kinds of shows to be made."
What are your reactions to the changes you've both made thus far?
DL: I think we're thrilled because it's worked; it's as simple as that. Television is a mixture of science and magic.
HO: As David said, we love the moves, because they're working. That said, we're just getting started. One of the most exciting things is our belief in the National Geographic Channel brand. We have a 125-year-old brand of scientific curiosity, grand expeditions, discoveries, [and] authenticity, backed by some of the most amazing and influential explorers in the world.
DL: We're also looking at different forms of entertainment. While a year and a half ago, the standard [programming] form was predominately one-hour documentary, now we have series and factual drama.
We have Killing Lincoln coming up and we've done things that have high interactivity, like the Brain Games series, and we've done roundtable conversations, [such as] Titanic: The Final Word with James Cameron. We're really enjoying taking the values that are core to the channel but looking at different television language to present shows that keep amazing, exciting, and astounding our audience.
What have been some of your triumphs in 2012?
HO: SEAL Team Six, Doomsday Preppers launching as our number one series, and Wicked Tuna and our partnership with Pilgrim Studios. [Also,] our relationships with new producers – Left/Right, Leftfield, 495 Productions. We're now working with the best and the brightest in the business.
The bravest thing you've done in your career so far is…
HO: Leaving a mid-six figure job and joining the William Morris mailroom, a couple months shy of my 30th birthday, because I thought I could have a career in entertainment.
Kelly Anderson
Connor Schell, VP and EP, ESPN Films/ESPN Classics
Bill Simmons, EP, '30 for 30′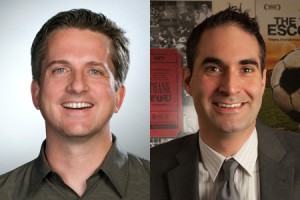 Bill Simmons (pictured above, left), sports columnist and co-creator of ESPN's landmark documentary strand '30 for 30,' is a firm believer that in sports, repetition is crucial for success. To quote a Simmons ESPN web column, "Reps are easy to understand: The more you do something, the better you will be."
It's a maxim that he and ESPN Films VP Connor Schell (above, right) have applied to the strand itself. The first season, dubbed Volume 1, ran from 2009 to 2010, and grabbed headlines and awards (a Peabody and an IDA award for distinguished continuing series) for its forward-thinking approach to sports documentary.
The strand allowed a string of top docmakers, including Albert Maysles, Steve James and Brett Morgen, as well as athletes and actors such as Ice Cube, to have full control over their films, which all focused on a sports topic that occurred over the 30 years of the U.S. sports net's existence.
"Connor and I created the show basically from scratch. It was really hard convincing people to work with us because we didn't have a track record of doing documentary," recalls Simmons.
After a second season of docs, which went under the banner of 'ESPN Films Presents,' ESPN employed the rep approach in 2012 and returned to the '30 for 30′ brand.
"We created a brand that established a certain level of consistency," says Simmons. "The biggest problem before we launched the series was [ESPN] was doing a lot of documentaries at different levels of consistency. At some point the audience doesn't know whether they can trust you or not."
Volume 2 of '30 for 30′ has brought in the strand's biggest numbers yet. Billy Corben's Broke debuted to 2.5 million viewers, while You Don't Know Bo, centering on multi-talented athlete Bo Jackson, premiered on December 8 to the highest ratings to date for ESPN, a 2.3 metered market rating.
In 2012, Schell and Simmons expanded the reach of the signature series by bringing it to new audiences, with podcasts, feature stories and oral histories integrated onto Simmons' website Grantland, in addition to short films released each month on the site.
What is the strategy behind having the content for '30 for 30′ and Grantland intersect?
CS: What [Simmons] built on Grantland is such an incredible home for sports storytelling in the written form – essays, opinions, commentary, and interesting voices. These are all things that are consistent with what we try to do for '30 for 30.'
'30 for 30 Shorts' are meant to be a different creative outlet for stories better told in short form. Our general premise is the world is ready to consume high-quality stories digitally. Grantland is the perfect home for that.
BS: The way live streaming has gone, people can watch seven-to-eight minute videos now on their iPad or laptop. Five years ago you wouldn't have done that. We felt like there was a void and people weren't spending the kind of production resources to make quality short films.
What plans do you have for '30 for 30′ going forward?
CS: We'll continue to air and produce the '30 for 30′ series over the next 18 months, so we'll get to 30 films in 2014.
We're incredibly excited about launching an offshoot series called 'Nine for IX;' nine documentary films produced and directed by an incredible collection of female storytellers – directors like Amy Berg, Annie Sundberg and Ricki Stern, Heidi Ewing and Rachel Grady, Shola Lynch and Alison Ellwood – who are telling stories about women in sports.
The series is executive produced by Jane Rosenthal and Robin Roberts, and we're deep in production on that right now. It will start airing in the spring.
BS: I hope that it never ends. I just think it's so good for the company. From a scheduling standpoint, it's really good because we learned the first time around that the ESPN schedule has these neat holes in it where you have two-hour blocks that don't have anything.
For example, right after the Heisman [Trophy presentation] there are no [college football] games, so you kind of tailor to whatever that timeslot is. The more we keep matching films to the schedule in a way that makes sense, that makes me think we can just keep going.
KA
Check out the second installment of our Trailblazers 2012 report here