Ahead of Oxygen's debut of The Face, which kicks off tonight (February 5) with a casting special entitled The Face: The Fight to Make the Final 12, Shine America's president Eden Gaha (pictured) describes how one supermodel came to make the series what it is.
The modeling competition series, which launches on February 12, is hosted by America's Next Top Model's Nigel Barker, and features supermodels Naomi Campbell, Karolina Kurkova and Coco Rocha (pictured below) as mentors. Campbell in particular was a key ingredient for making the show happen, according to Gaha.
"Naomi opened a lot of doors for us," he tells realscreen. "She'd pick up the phone and ring modeling industry contacts and designers, and really upped the ante and made this show as credible as it is. We had some of the best designers in the world, Christian Louboutin, Zac Posen… [and] fantastic brands involved, and much of it is largely due to Naomi's involvement."
He adds that it wasn't easy to get Campbell, one of the original supermodels, on board, since she'd been receiving offers to appear on shows like The Face for years. However, she believed in the mentorship aspect of the show. She also wanted the series to really mirror what goes on in the modeling industry.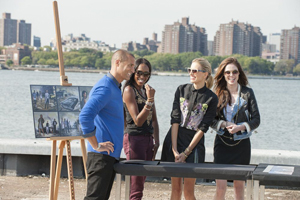 Gaha also thinks the series is set apart from other fashion competition shows by its prize: the chance to become the face of ULTA Beauty.
"One of the things I've noticed about reality shows is the good ones always have a tangible authenticity to them, there's something at the end that really means something," he says. "If you're an actress, you want to win an Oscar. If you're a singer you want to win a Grammy. And for models, the Holy Grail is to actually be the face of something and have a real contract."
Shine America has many things on its plate, besides The Face, including the 14th season of The Biggest Loser, currently airing on NBC, as well as a new partnership with Nigel Lythgoe Productions.
Gaha says there's a lot of creatives and big formats being worked on right now as part of the production deal. For a company that formed last March, when Shine Americas, Shine USA, and Reveille Productions merged, Gaha says they've had a lot of accomplishments so far.
"We're particularly proud of what we've done in the past year and a half. We're working to make the shows we already have the best they can be. Obviously the ratings turn around of a 14th season show of The Biggest Loser has been fantastic for us, and the success of MasterChef, in its third season last year, that turnaround was wonderful as well. We look to keep growing the franchise that we have, while adding new ones."