Coming off of its most-watched year across all key demos, National Geographic Channel is using its performance from the past 12 months as inspiration for further experiments and explorations in programming, says CEO David Lyle.
Speaking to realscreen from New York City, Lyle and chief marketing officer Courteney Monroe say the 2013/2014 upfront line-up continues in the vein of marrying traditional National Geographic values with contemporary approaches to entertainment.
"This time last year we made a lot of promises to people and over the course of the year, we've been able to fulfill them," says Lyle. "So it's headed in the right direction.
"I think the momentum that we have allows us to be a little bolder and continue on the path of traditional National Geographic values of authenticity, providing 'inside' looks at things that are visually stunning and smart; and adding to that entertainment, enthusiasm and a sense that we can use the subject matter and sub-genres that have traditionally been part of what we do, but attack them with different executions."
Lyle points to NGC's hit factual drama, Killing Lincoln, as a case in point. With the upfront slate, not only will Scott Free, the team behind the Lincoln project, also bring Bill O'Reilly's Killing Kennedy to the network, there will also be more "factual drama" coming from another one of NGC's hit-making production partners. Raw TV, producers of Nat Geo's Locked Up Abroad in addition to several other factual hits and the acclaimed theatrical doc The Imposter, will produce two scripted dramas for the net – American Blackout and Miracle on the Hudson.
With the former, NGC will be asking what would America experience if a cyberattack knocked out the Northeastern power grid. Lyle says Raw will bring its talents for gritty drama with a factual flair to the fore for this project "with semi-news footage, faux interviews, stuff that looks like it's shot on cell phone cameras.
"It'll speak to our Doomsday Prepper audience, but I think it'll speak much wider, as with it being a drama, you'll really get involved in a visceral way," he adds.
Meanwhile, Miracle on the Hudson takes a look at Captain Chesley "Sully" Sullenberger's incredible crash landing of US Airways Flight 1549 on the Hudson River – a story that's been told before by assorted documentaries. Lyle maintains this project will tell it from a different vantage point.
"Most of the previous telling of that story had been about what happened in the cockpit," he says. "And while we're not going to move away from that story, we very much want to tell what happened in the cabin."
Beyond further excursions into factual drama, the network is also moving into as yet unchartered territory for Nat Geo with its first 'DIY' series, Building Wild, from 90 Miles Productions. The show will feature Paul DeMio, of Extreme Makeover: Home Edition fame, helping families create "incredible retreats in America's last frontiers," according to the network.
Lyle says that the move into the DIY space was one that the net had been entertaining, and that this project seemed like the best vehicle with which to take the plunge. Monroe adds that, through research that the net recently conducted to better understand both the demographics and psychographics of its audience, the DIY sub-genre definitely resonates with the NGC viewer.
"They're doers and fixers in their homes," she says of the Nat Geo audience. "So we realized there would be a receptivity to this type of program."
NGC will also be dabbling with another sort of hybrid – this time, a format from Japan called Showdown of the Unbeatables, to be produced for Nat Geo by GRB Entertainment. The series will pit cutting-edge inventions against each other and use science to explain why one will emerge victorious over the other.
"It's a little bit adventure, it's a little bit science, and a little bit engineering but it's a whole lot of fun," says Lyle.
Also on the adventure tip will be Die Trying, again from 90 Miles Productions, which will depict various feats of endurance conducted in the name of science, and The Legend of Mick Dodge (pictured), from Screaming Flea Productions, which will get up close and personal with the man known as the "Barefoot Sensei" and whose particular brand of Zen comes from living off the grid, and off the land.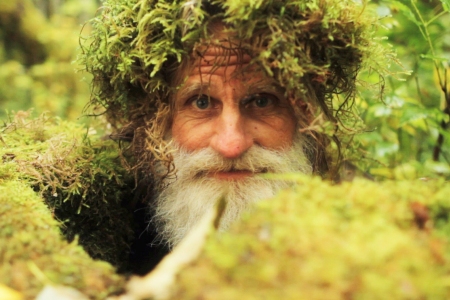 "You don't have to be one of those TV wannabes who's licking the lens, desperate to have their 15 minutes," says Lyle of "stand-out character" Dodge. "Better still to be someone who's confident, living your life and doing your thing.
"For once, it's not five guys who fish off the side a pier or four guys who have a crocodile handling place in Louisiana," he quips. "This is one person, who you're either going to love, or not."
"We are looking to cement our viewers' connection to the channel, and that's done through characters, and people that viewers can't get enough of," adds Monroe. "And we all felt that Mick Dodge had the potential to be one of those faces for us."
Returning series for NGC include Doomsday Preppers from Sharp Entertainment, Wicked Tuna from Pilgrim Studios, Diggers from Half Yard Productions, and Brain Games, from National Geographic Television.
Highlights for Nat Geo Wild will include Jobs that Bite! from Half Yard Productions, featuring Jeremy Brandt, who takes on assorted tasks involving "all things that slither, grunt, growl or bite," according to the show's billing; or as Lyle puts it, "any number of jobs that would require the wearing of rubber gloves."
Cesar Millan will return to the net in an as-yet-untitled series, and Big Cat Week will also be back, featuring such specials as Man vs. Cheetah from Firecracker Films and Cougar vs. Wolf from Warm Springs Productions. On the blue-chip front, IM Global is behind a major event special, One Life, to be narrated by Daniel Craig, and Wild Nepal will explore the issue of white rhino poaching, produced by Market Road Films in collaboration with the World Wildlife Fund.
Production on the latter is beginning soon, with National Geographic Channels president Howard T. Owens and Nat Geo Wild SVP of development and production Janet Han Vissering set to head to the location.
"Once they do 'Wild Riviera' or 'Wild Arrondissements of Paris' I'll be there with a pith helmet on," quips Lyle.
 (Updated 7/26/13)