With the lion's share of 2013 still before us, it's time for the unveiling of realscreen's 2012 Global 100, saluting the top 100 independent production companies behind the best non-fiction content of the past year, as chosen by realscreen readers.
As in years past, we solicited reader input via our online home, realscreen.com, and our daily newsletter, and distilled the results from your responses. International programming execs, producers, distributors, agents – even the occasional unscripted television fan – weighed in with their thoughts. Also, as we've done over the past few years, we asked those making nominations to submit their picks for prodcos operating in various sub-genres of non-fiction, in order to cover as wide a spectrum of the factual world as possible.
And as always, there are new names making their first appearance in this, the seventh annual Global 100, and there are some companies who have been in the mix since the first edition in 2006. There are also some prodcos from past lists that didn't make it this year. So it goes. But judging from the reader response, and the quality and range of content represented here – from specialist factual to incisive documentary work to watercooler-worthy reality – the Global 100 primarily functions as solid proof that the factual content industry is alive, well, and constantly evolving.
Barry Walsh, Editor
CANADA
INSIGHT PRODUCTIONS
Toronto/ www.insighttv.com
At a time when many Canadian broadcasters are nixing expensive local versions of international reality formats in favor of airing the U.S. ones, this Toronto-based indie bucked the trend by producing a third season of Top Chef Canada for Food Network and winning two big budget, high-profile commissions: the first season of The Amazing Race Canada for CTV (due to air this summer) as well as a 30-hour season of the first Canuck version of long-running global reality hit Big Brother for Shaw Media's female-skewing Slice network.
The company is also the first to import Norwegian broadcaster NRK's Never Ever Do This At Home format for a North American audience. The 13 x 30-minutes series, which sees two hosts carrying out household experiments and stunts, will begin airing on Discovery Canada in early 2013. Kevin Ritchie
Employees: 27 full-time, 300+ freelance
Hours in 2012: 47.5
Recent/current titles: Big Brother Canada, Top Chef Canada
Upcoming: The Amazing Race Canada
STORYLINE ENTERTAINMENT
Toronto/ www.storylineentertainment.com
While the team at Toronto-based Storyline is undoubtedly a small one, the power of their work made a notable mark on the Canadian documentary landscape in 2012.
The trio of full-time employees, comprising co-founder and CEO Ed Barreveld, producer Lisa Valencia-Svensson, and production coordinator Shasha Nakhai, landed a major hit with the Nisha Pahuja-directed doc The World Before Her, which contrasts the lives of women competing for the Miss India pageant with those of young girls training as part of a militant fundamentalist movement. The doc won a slew of prizes on the festival circuit, including the best documentary feature award at Tribeca. The prodco also won acclaim with another of its feature docs, Herman's House. "Storyline Entertainment will continue to produce marquee POV documentaries," says Barreveld, "but is also exploring TV series and branching out into producing for the Internet." Adam Benzine
Employees: 3
Hours: 4
Recent/current titles: The World Before Her, The Market
Upcoming: World Without Women, Not Buying It!, Shadow Girl
OTHER CANADIAN GLOBAL 100 COMPANIES (NAME/TITLES/WEB):
Big Coat Productions/ Love it or List It/www.bigcoatproductions.com
Buck Productions/Deals from the Dark Side, Saw Dogs/www.buckproductions.com
Castlewood Productions/ Cash Cab (Canada), Design DNA/ www.castlewoodproductions.com
Cineflix Productions/ American Pickers, Property Brothers/ www.cineflixproductions.com
Force Four Entertainment/ Million Dollar Neighbourhood, The Bachelor Canada/ www.forcefour.com
Frantic Films/ Pitchin' In, The 13th Man/ www.franticfilms.com
Great Pacific TV/ Highway Thru Hell, The Mistress/ www.greatpacifictv.com
Handel Productions/ Strip the City (with Windfall Films)/ www.handelproductions.ca
Media Headquarters Film & Television/ Canada's Smartest Person/ www.mediahqs.net
National Film Board of Canada/ Stories We Tell, Bear 71/ www.nfb.ca
Paperny Entertainment/ Eat St., Love Shines/ www.papernyfilms.com
Pixcom/ Bomb Hunters, Licence to Drill/ www.pixcom.com
Proper Television/ Come Dine with Me Canada/ www.propertelevision.com
Temple Street Productions/ Recipe to Riches, Over the Rainbow/ www.templestreetproductions.com
Yap Films/ Titanoboa (with Wide-Eyed Entertainment)/ www.yapfilms.com
UNITED KINGDOM
BLINK FILMS
London/ www.blinkfilmsuk.com
Established in 2007 by Dan Chambers, former director of programs for Channel Five, and another 'Fiver,' former controller of science Justine Kershaw, Blink has gained a reputation for programming that, in their words, "tells the untellable." That could mean having scores of extras in white suits sprint through a mountain range to illustrate the path of sperm in the cervical canal, as in 2008′s The Great Sperm Race, or mummifying the body of a taxi driver in order to understand the preservation techniques of the ancient Egyptians, as in Mummifying Alan: Egypt's Last Secret. In 2012, the prodco displayed a deft touch with a range of programming, from the eye-opening The Queen's Mother in Law, to the Panda Award-winning Meet the Sloths (produced with Pink Tree Frog). Barry Walsh
Employees: 12 full-time, 30+ freelance
Hours: 30
Recent/current titles: Meet the Sloths, The Queen's Mother-in-Law
Upcoming: Treasures Decoded, Meet the Sloths (series)
DRAGONFLY FILM & TELEVISION (A Shine Group company)
London/ www.dragonfly.tv
For many in the UK, this year's horse meat scandal – resulting from the revelation that foods advertised as containing beef were found to contain horse meat – has been a cause for alarm. But for Dragonfly, which has been part of the Shine Group since 2007, the scandal presented a smart opportunity, and one they were quick to capitalize on, landing a BBC3 commission for The Horsemeat Banquet. That quick reaction was just one example of its innovation last year. In addition to further fast turnarounds on Hurricane Sandy and the sinking of the Costa Concordia cruise ship, 2012 will also be remembered as the year the indie had the audacity to crash an airplane in the Mexican desert. Channel 4′s four-years-in-the-making doc The Plane Crash (airing in the U.S. on Discovery) managed to combine worthy science with visceral thrill, and was one of the network's most talked about specials. AB
Employees: 40
Hours: 68
Upcoming: The Burrowers (BBC2)
THE GARDEN
London/ www.thegardenproductions.tv
The London-based prodco had a banner year thanks to fixed-rig emergency room series 24 Hours in A&E, which Channel 4 recently picked up for a third, 28-episode season. Another major hit for the company was The Audience – also for Channel 4 – in which a person facing a life-changing decision consults an audience of 50 people in a bid to solve the dilemma. The format is proving to have serious legs internationally, with networks in the United States, Canada, Australia, Hungary, Norway and France greenlighting local versions. The Garden also produced The Midwives for BBC2, Kicked Out Kids for BBC3 and the docs Crucifixion and Perfume, which were shortlisted for the Grierson Trust Awards' best arts documentary and most entertaining documentary categories, respectively.
On the industry side, The Garden and Channel 4 launched a bursary-supported apprenticeship scheme to train junior editors in the art of cutting in the fixed rig reality genre with the long-term goal of reviving the role of the assistant editor on British docuseries. KR
Employees: 17 permanent
Hours: 31 broadcast
Recent/current titles: 24 Hours in A&E, The Audience, Perfume
Upcoming: 24 Hours in A&E series 4 & 5, Keeping Britain Alive
RAW TV
London/ www.raw.co.uk
The British producer, best known Stateside for reality series such as Discovery Channel's Gold Rush, broke into the feature doc world in a big way with The Imposter. Helmed by company co-founder Bart Layton, the whodunit-style film about a Spanish man who assumes the life of a missing Texas teen won near-unanimous accolades from critics, grossed nearly US$2 million globally at the box office and was named outstanding debut at the BAFTAs and best documentary at the London Critics' Circle Film Awards.
On the small screen, Gold Rush became Discovery's highest-rated series with its third season and spin-off Jungle Gold premiering to strong ratings; Syfy greenlit a second season of Paranormal Witness; National Geographic Channel aired the sixth season of Locked Up Abroad; and the company landed development deals for docuseries The Cowboy Way for USA Network and the miniseries Endurance in the Wake of Shackleton for Discovery Networks Western Europe. KR
Employees: 30 permanent, 150+ freelance
Hours: Approximately 150
Recent titles: The Imposter, Gold Rush, Jungle Gold
Upcoming: Blackout, Unexplained
OTHER UK GLOBAL 100 PRODCOS (NAME/TITLES/WEB)
Atlantic Productions/ Kingdom of Plants, Galapagos 3D/ www.atlanticproductions.tv
Blast! Films/ The Year the Town Hall Shrank, The Tube/ www.blastfilms.co.uk
Brook Lapping (A Ten Alps company)/ The Hunt for Bin Laden/ www.brooklapping.com
Cactus TV/ The Roux Scholarship, Madhur Jaffrey's Curry Nation/ www.cactustv.co.uk
Century Films/ Lifers, The Secret History of Our Streets/ www.centuryfilmsltd.com
Darlow Smithson (an Endemol company)/ 9-11: Voices from the Air, Stephen Hawking's Grand Design/ www.darlowsmithson.com
Impossible Pictures/ The Last War Heroes/ www.impossiblepictures.co.uk
IWC Media (A Zodiak Media Group company)/ Big Body Squad/ www.iwcmedia.co.uk
Lion Television/ Wartime Farm/ www.liontv.com
Love Productions/ Great British Bake Off, Make Bradford British/ www.loveproductions.co.uk
Minnow Films/7/7: One Day in London/ www.minnowfilms.co.uk
North One Television (an All3Media company)/ The Gadget Show, Bring Me Morecambe & Wise/ www.northonetv.com
Nutopia/ Mankind: The Story of All of Us/ www.nutopia.com
Objective Productions/ The Cube/ www.objectiveproductions.com
Pioneer Productions/ Growing Children, Superstorm 2012/ www.pioneertv.com
Renegade Pictures (a Shed Media company)/ Celebrity Wedding Planner/ www.renegadepictures.co.uk
Seneca Productions/ All In the Best Possible Taste with Grayson Perry/ www.senecaproductions.com
Shine TV (A News Corp company)/ MasterChef/ www.shine.tv
Silver River Productions (A Sony Pictures Television company)/ Elizabeth Taylor: Auction of a Lifetime/ www.silverriver.tv
Testimony Films/ David Suchet: People I Have Shot/ www.testimonyfilms.com
Thames (a FremantleMedia UK company)/ X Factor, Britain's Got Talent/ www.talkbackthames.tv
Tigress Productions (An Endemol company)/ Live Like an Animal, Beautiful Freaks 3D/ www.tigressproductions.co.uk
Twofour Broadcast/ Choccywoccydoodah, Alex Polizzi: The Fixer/ www.twofour.co.uk
Wall to Wall (A Shed Media company)/ The Voice UK, Long Lost Family/ www.walltowall.co.uk
Wide-Eyed Entertainment/ Dark Matters: Twisted But True, Secret Universe: Hidden Life of the Cell/ www.wide-eyedentertainment.co.uk
Wild Pictures/ Aylesbury/ www.wildpictures.co.uk
Windfall Films/ Foxes Live, Strip the City (with Handel Productions)/ www.windfallfilms.com
Zig Zag Productions/ Scam City, Summer in Blackpool/ www.zigzag.uk.com
UNITED STATES
AUTHENTIC ENTERTAINMENT (An Endemol Company)
Burbank/ www.authentictv.com
Authentic Entertainment has had five previous appearances in the Global 100, thanks to such hits as lifestyle series The Best Thing I Ever Ate and Flipping Out, as well as docusoaps Ace of Cakes and Toddlers & Tiaras. But nothing launched the Endemol company – founded by Lauren Lexton and Tom Rogan in 2000 – into the stratosphere quite like seven-year-old beauty pageant contestant Alana Thompson.
Here Comes Honey Boo Boo, the TLC series spawned from Thompson's appearances on Toddlers & Tiaras, averaged 2.4 million viewers for its first season, with holiday specials also rating high, such as Here Comes Honey Boo Boo: A Very Boo Halloween, which racked up 3.1 million P2+viewers. Kelly Anderson
Employees: 235
Hours: 112
Recent/current titles: Here Comes Honey Boo Boo, The Best Thing I Ever Ate, Cheer Perfection
Upcoming: Interior Therapy with Jeff Lewis season 2, pending pilot with TLC, projects with Sundance and HGTV
GURNEY PRODUCTIONS (An ITV plc company)
Los Angeles/ www.gurneyproductions.com
LA-based Gurney Productions was at the forefront of a shift from auction-focused series to sitcom-style reality comedy with the smash hit Duck Dynasty, now in its third season for A&E. A year after its debut, 8.6 million people tuned in to watch the premiere episodes of season three – a 132% increase in total viewers over last season's premiere.
Behind the scenes, ITV bought a 61.5% controlling stake in Gurney for US$40 million. The deal gives the British terrestrial broadcaster a "put and call option" to buy the remaining 38.5% with a date range from three years after the initial deal to the end of year five.
Gurney also produced non-fiction titles Haunted Collector and American Digger as well as programming for Discovery's 'Shark Week.' And while Discovery axed American Guns, 2012 will likely go down as the company's "year of the duck." KR
Employees: 300
Hours: 100+
Recent/current titles: Duck Dynasty, Auction Hunters
Upcoming: Multiple shows for Discovery, A&E, Lifetime and CMT
FLORENTINE FILMS
Walpole, NH/ www.florentinefilms.com
Florentine Films, the 37-year-old New Hampshire-based indie that's home to filmmakers including Ken Burns, Roger Sherman, Buddy Squires and Larry Hott, celebrated one of its most high-profile hits to date in 2012, with The Central Park Five.
The factual feature – which was co-directed by Burns, his daughter Sarah, and collaborator David McMahon – was named best non-fiction film by the New York Film Critics Circle Awards, after playing at the Cannes Film Festival and TIFF in Toronto. The film also caused something of a legal stir, with the filmmakers winning a court battle to prevent outtakes and notes from the film being subpoenaed as part of a lawsuit between New York City and the five men originally convicted in the 1989 Central Park jogger rape case.
Burns also enjoyed acclaim for his two-part PBS production The Dust Bowl, which the Los Angeles Times described as "a timely, exceptional endeavor" made by a filmmaker "at his storytelling best." AB
Employees: 35
Hours: 6
Upcoming: The Roosevelts, Jackie Robinson, Vietnam
KINETIC CONTENT (A Red Arrow Entertainment Group company)
Santa Monica/ www.kineticcontent.com
Founded by former RDF USA head Chris Coelen in October of 2011, Kinetic Content kicked things up a notch in 2012. First making its presence felt in the U.S. via formats such as Dick de Rijk's You Deserve It, the prodco proved to have a deft touch with talent, bringing Betty White, undoubtedly the hardest-working 91-year-old in show business, back to network TV on the U.S. version of hidden camera prank show Benidorm Bastards, NBC's Betty White's Off Their Rockers.
Last year also saw the prodco aggressively move into the food competition space, snagging Anthony Bourdain and Nigella Lawson as judges for The Taste, airing on ABC in the U.S. with parent company Red Arrow Entertainment landing the format in numerous territories around the world. BW
Employees: 25
Hours: 50+
Recent/current titles: The Taste, Betty White's Off Their Rockers
SHARP ENTERTAINMENT (A Core Media Group Company)
New York City/ sharpentertainment.com
The saying goes that you never know where your next hit is going to come from, and not many would've predicted that a series featuring Americans preparing for the end of the world was going to be a ratings draw. With its stocked pantries and emergency drills, Doomsday Preppers has ranked as National Geographic Channel's number one series since it debuted in 2011, and interest continues to spike. November's second season premiere of the Sharp Entertainment series was the highest season premiere in the channel's 11-year history, with 1.3 million total viewers.
Howard T. Owens, NGC's president, called the series' performance one of the highlights of the year in a realscreen interview, and Preppers has also made a mark in pop culture, with spoofs on The Simpsons and celebrities ranging from Jennifer Lawrence to Stephen Colbert name-checking the show. The Preppers craze continues into 2013 with more episodes rolling out, barring other doomsday scenarios that might succeed where the Mayans failed. KA
Employees: 160
Hours: 200
Recent/current titles: Doomsday Preppers (Nat Geo), Call of the Wildman (Animal Planet), Extreme Couponing (TLC), Man V Food (Travel Channel)
Upcoming: Fandemonium, Dig Wars
THINKFACTORY MEDIA
Los Angeles/ www.thinkfactorymedia.com
Thinkfactory Media has had a year of major success, with a shelf full of Emmys and Golden Globes thanks to its scripted "factual drama" Hatfields & McCoys for History. But it wasn't all about Kevin Costner and crew for the company, as its unscripted slate still made a mark with a farewell to the long-running series Gene Simmons Family Jewels. The A&E docuseries ran for seven seasons and picked up 1.8 million total viewers per premiere episode in its sixth season.
The wrap on Simmons and co. made way for Thinkfactory's latest docuseries, Preachers' Daughters, which debuted in March on A&E and History's sister network, Lifetime. The company, headed up by Leslie Greif, also grabbed record ratings for U.S. cable net TV One, with its reality series R&B Divas. The series averaged 395,000 viewers in its first season, and quickly garnered a second series order. KA
Employees: 50-150
Hours: 25 unscripted, 5 scripted, 90-minute feature
Recent titles: R&B Divas, Preachers' Daughters
Upcoming: R&B Divas: Atlanta (TVOne), Killer Beauty (BIO)
ZODIAK USA (A Zodiak Media Group Company)
Santa Monica/ www.zodiakusa.com
Hosted by former Jackass star Steve-O, the truTV competition series Killer Karaoke asks contestants to sing a song to its end while enduring humiliating distractions, such as being danced on by 500-pound strippers, attacked by guard dogs, and having to place their heads and assorted limbs into boxes containing anything from skunks to fish guts. The series premiered in November and notched double-digit demo growth and dropped the median age for the time slot for truTV.
Zodiak USA was also busy with truTV's hit Hardcore Pawn, which recently received a seventh series order and pulled in an average 2.6 million viewers for its sixth season, while ABC's Wife Swap spun off a celebrity version, which recently debuted this year.
And while the prodco entered 2013 with momentum, there is change afoot, with CEO Natalka Znak recently announcing she would be leaving, with no word as of press time on where she's headed or who will be replacing her. KA (files from BW)
Employees: 50 full-time, can be up to 500 including freelance
Hours: 125
Recent/current titles: Hardcore Pawn, Killer Karaoke, Wife Swap, Lizard Lick Towing
OTHER U.S. GLOBAL 100 PRODCOS (NAME/TITLES/WEB)
495 Productions/ Jersey Shore, Repo Games/www.495productions.com
51 Minds/ T.I. & Tiny: The Family Hustle/www.51minds.com
All3Media America (formerly Studio Lambert USA, an All3Media company)/Undercover Boss, The Pitch/www.studiolambert.com
Atlas Media Corp./ Hotel Impossible, Brainwashed/www.atlasmediacorp.com
Bunim/Murray Productions (a Banijay company)/ Project Runway, Keeping Up with the Kardashians/www.bunim-murray.com
Collins Avenue (A Content Media Corp company)/ Dance Moms/www.collinsave.com
Embassy Row (A Sony Pictures Television company)/ The Glee Project/ www.embassyrow.com
Evolution Media/ The Real Housewives of Beverly Hills/ www.evolutionusa.com
Eyeworks USA (Formerly 3Ball Productions, an Eyeworks company)/ Extreme Makeover: Weight Loss Edition, Flying Wild Alaska/www.eyeworks.tv/countries/usa
Firelight Films/ American Experience: Jesse Owens/www.firelightmedia.tv
FremantleMedia North America (an RTL Group company)/American Idol/www.fremantlemedia.com
GRB Entertainment/ Intervention/www.grbtv.com
Half Yard Productions/ Say Yes to the Dress, Hillbilly Handfishin'/www.halfyardproductions.com
High Noon Entertainment/ Cake Boss, Trip of a Lifetime/www.highnoonentertainment.com
Hot Snakes Media/ Breaking Amish, Amish Mafia/www.hotsnakesmedia.com
Indigo Films/ Wives with Knives, I (Almost) Got Away With It/www.indigofilms.com
ITV Studios America/ The First 48, Hell's Kitchen/www.itvstudios.com/us/home
Leftfield Pictures/ Pawn Stars, American Restoration/www.leftfieldpictures.com
Magical Elves/ Top Chef, Braxton Family Values/www.magicalelves.com
Magilla Entertainment/ Long Island Medium, Bayou Billionaires/www.magilla.tv
Megalomedia/ Shipping Wars, My 600 lb. Life/www.megalomedia.com
North South Productions/ Say Yes to the Dress: Bridesmaids, Impractical Jokers/www.northsouth.tv
One Three Media/ Survivor, The Voice, Shark Tank/ No website
Optomen/ Worst Cooks in America, Kitchen Nightmares (with A. Smith & Co. & ITV Studios America)/www.optomen.com
Original Media (an Endemol company)/ Swamp People, Rachel Zoe Project/www.originalmedia.com
Original Productions/ Storage Wars, Deadliest Catch/www.originalprods.com
Pie Town Productions/ Joan & Melissa: Joan Knows Best?/www.pietown.tv
Pilgrim Studios/ Welcome to Sweetie Pie's, Wicked Tuna/www.pilgrimstudios.com
Profiles Television/ The Amazing Race/ No website
Relativity REAL/ Catfish: The TV Show, The Great Food Truck Race/www.relativitymediallc.com
Show of Force/ Half the Sky, Marina Abramovic: The Artist is Present/www.showofforce.com
Sirens Media (A Leftfield Entertainment company/ Panic 9-1-1, Real Housewives of New Jersey/www.sirensmedia.com
A. Smith & Co. (a Tinopolis company)/ Kitchen Nightmares (with Optomen, ITV Studios America)/www.asmithco.com
T Group Productions/ Storage Hunters, Mystery Diners/www.tgroupproductions.com
World of Wonder/ Million Dollar Listing; RuPaul's Drag Race/www.worldofwonder.net
INTERNATIONAL
BONNE PIOCHE (FRANCE)
Paris/ www.bonnepioche.fr
Founded in 1993 by Yves Darondeau, Christophe Lioud and Emmanuel Priou, and previously part of our Global 100 in 2007, the production entity perhaps best known to North American audiences as the team behind March of the Penguins has evolved considerably since that 2005 mega-hit. In 2009, Bonne Pioche Productions was established to act as a holding company for its various divisions. The TV division scored successes in 2012 with such projects as the sports doc Play and the cheeky series Nus & Cullotés, featuring two intrepid adventurers who give new meaning to the term "traveling light" by journeying through France stark naked, and picking up clothes, lodging, and curious looks along the way. BW
Employees: 17 (Bonne Pioche TV & Bonne Pioche Productions), 20 in total
Hours: 14
Recent/current titles: Nus & Cullotés, Play, Student Mother
Upcoming: Nus & Cullotés series 2; Extraordinary Investigations series 2; Come Eat, Kids!
OTHER INTERNATIONAL GLOBAL 100 PRODCOS (NAME/TITLES/LOCATION/WEB)
Alegria Productions/ Five Broken Cameras/ Paris/ www.alegria-productions.com
Beyond Productions/ MythBusters/ Sydney/ www.beyond.com.au
Cordell Jigsaw Zapruder/ Go Back to Where You Came From/ Chippendale, Australia/ www.cjz.com.au
Endemol/ The Money Drop, Big Brother/ Amsterdam/ www.endemol.com
Gruppe 5 Filmproduktion (a ZDFE Company)/ Ecuador – The Big Deal, Super Structures/ Cologne/ www.gruppe5film.de
Loopfilm/ Secrets of World War II/ Munich/ www.loopfilm.de
Off the Fence/ Stan Lee's Superhumans/ Amsterdam/ www.offthefence.com
Yami 2/ Manipulations, Zambie: A qui profite le cuivre?/ Paris/ www.yami2.com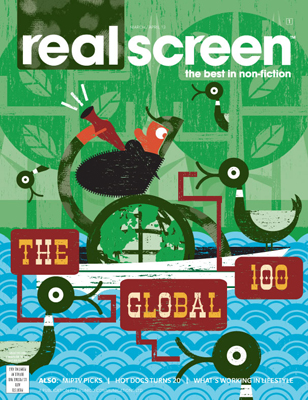 This feature appears in the current March/April 2013 issue of realscreen magazine. Not a subscriber? Click here for more information.