Oscar-winning actor Whoopi Goldberg (pictured) told an audience in New York she is aiming to produce a 10-part doc series about the history of black entertainment from the 1800s to present day for her next non-fiction project.
The Emmy, Grammy, Oscar and Tony-winning multi-hyphenate spoke last night (April 22) at a special Tribeca screening of her debut documentary, I Got Somethin' To Tell You, which was last week picked up by HBO just as the New York festival kicked off.
The documentary, which was part funded by Goldberg using Kickstarter, looks at the life and times of pioneering African-American standup comedian Moms Mabley, who Goldberg cites as a major influence.
Asked what her next project would be in the post-screening Q&A, Goldberg said she would like to expand on some of the themes covered briefly in I Got Somethin'…, having realized during the making of the film that the history of black entertainers, comedy and vaudeville has not been covered comprehensively onscreen.
"I'm going to go to American Express and several other places to see if they'll give me the money to make a 10-part documentary about black entertainment from the 1800s 'til now," she told the crowd, adding that the potential series would cover performers including Pigmeat Markham and Peg Leg Bates.
The news came after she talked about how unexpectedly expensive the film had been to make earlier in the Q&A.
Goldberg said she had tracked down 50 stills for her doc, but had been shocked to hear that they were US$1,200 a piece.
"I said to them, 'Who was the last person looking for that picture?' They said, 'Sorry but they're $1,500 each.' I said, '$1,500? A minute ago you told me they were $1,200!' They said, 'Sorry, we made a mistake,'" she recounted, to laughter from the audience.
"I salute documentary filmmakers," she said, adding: "I was lucky I had Kickstarter."
She told the crowd that a common misconception was that she was rich and should easily be able to afford to make the film.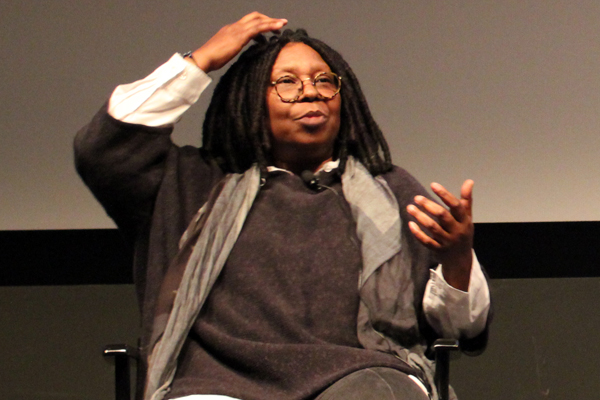 "I know it seems weird [that I struggled to raise money]," she said. "A lot of people, they said, 'Pssh, you're Whoopi Goldberg.' I said, 'Really? Why do you think I work so much? I've got family, and there's only one pay check."
Goldberg explained that another challenge in making the doc was the scarcity of footage of Mabley, who lived from 1894 to 1975, which the director got around by using new animation set to audio recordings.
"People say, 'What's with the animated words?' But there was only audio material" for a lot of Mabley's sketches, Goldberg said. "Maybe someone will come along and do something bigger, but I couldn't find any more material."
One reason for this, she explained, was that in the 1920s, '30s and '40s, "nobody chronicled this because they weren't chronicling [black entertainers] back then. They were chronicling George Burns and Gracie Allen."
Despite the difficulties, Goldberg said that on the whole she enjoyed the process of making non-fiction film.
"It was a great adventure," she said, adding: "I'm going to do the adventure again, I think."