As North America's biggest documentary festival celebrates its 20th anniversary, the team behind Hot Docs – which kicks off tomorrow in Toronto – talks to realscreen about the Canadian event's growth and the secrets of its success.
When the Documentary Organization of Canada (DOC) set up the Hot Docs Canadian International Documentary Festival in 1993, the subsequent year's inaugural trade event screened just 21 films to a handful of industry delegates from across the globe.
Fast forward two decades to April 2013, and Hot Docs has grown to become the largest documentary film festival in all of North America. Last year's event screened 189 titles from 51 countries, as audience numbers hit a record high of 165,000.
For executive director Chris McDonald (pictured below), who became Hot Docs' first full-time employee 15 years ago, the Toronto-based festival's rise has to some degree mirrored the global growth of non-fiction films.
"I think we were in the right place at the right time," McDonald says. "We didn't know that documentaries were going to engender so much interest and capture the public's attention in the way that they did.
"We can't take credit for the international growth that documentaries have experienced – well, we can take a little bit of credit, and I'm happy that we played a small part in that evolution, at least locally. But it was a leap of faith."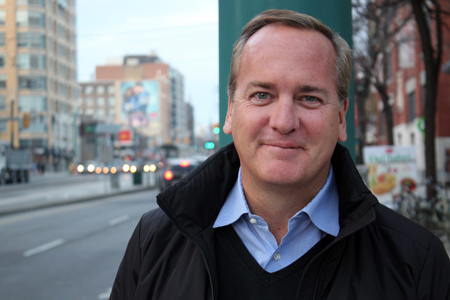 That's not to say that it has all been smooth sailing, however. McDonald recalls the scrimping and saving of the early years, when the festival had little in the way of furniture and occasional problems meeting payroll. The necessity for financial discipline helped lay a foundation for cautious growth that has helped the festival keep its feet on the ground, he says.
"My background was in fundraising and marketing, and we were very careful to always live within our means," McDonald recalls, adding that a key priority from day one has been to ensure that filmmakers have a positive festival experience.
"We didn't always have the money and the resources to look after filmmakers in the ways that some larger or more established festivals could, especially in the early years, but we did whatever we could to make the experiences friendly, and as personal and satisfying as possible.
"That included things like private parties in my or other people's homes, people sleeping on couches… we did whatever we could. It didn't have to be about swag or money, or first class tickets. It was about delivering an audience."
With audience numbers having grown steadily by about 10% each year, McDonald says it is difficult to single out one key highlight or turning point in the festival's history. Nevertheless, he remembers the launch of the Toronto Documentary Forum (now known as the Hot Docs Forum) in 2000 as being something of a game-changer.
"Certainly when we partnered with IDFA to clone their co-financing forum and bring it to Toronto, that was a big milestone," he says.
The Forum is overseen by Hot Docs' director of industry programs Elizabeth Radshaw (pictured below), who has been with the festival for five years since joining from TVF International in the UK.
Radshaw credits her predecessor, Michaelle McLean, for really "building the foundation" of the festival's industry side. In addition to the Forum, Hot Docs' industry elements include a conference, which this year focuses on the theme of rule-breakers and innovators; Distribution Rendezvous, a program to help filmmakers with finished and rough-cut films meet with distributors, sales agents and festival programmers; and Doc Ignite, a crowdfunding initiative for Canadian projects.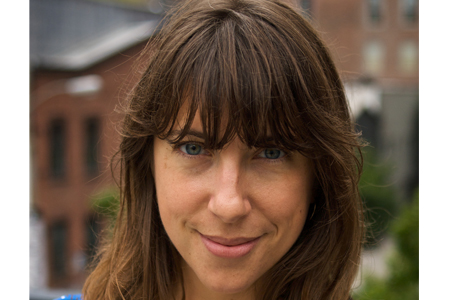 In addition, the festival is this year launching Deal Maker, a curated pitch-meeting program overseen by industry programmer and coordinator Chloe Sosa-Sims, for work-in-progress projects, which will pair filmmakers with decision-makers for one-on-one meetings.
Radshaw says this year's public pitching Forum will be a tighter, more focused affair, to accommodate the new initiative. "With the Forum, we're going to be very selective about projects and only be pitching in the morning," she explains. "In the afternoon we'll be doing Deal Maker, for which we'll be selecting 50 projects ahead of time and doing pre-arranged one-on-one meetings with commissioners and buyers.
"So it will be the best of both worlds, really – [there will be] the big public pitches that are able to inspire, educate and promote films and profile projects, and of course seek financing; but we'll also be getting down to very coordinated meetings for a whole other subset of projects, where we'll be able to feature things like smart science and smart history."
Radshaw says that the relationship between filmmaker and audience is more connected now than ever before, but with that comes a responsibility "to understand that connection," as well as the marketplace it exists in.
"You've got to be aware of the environment that you're making films in, and which your audience is experiencing – and, ideally, consuming – them in," she explains. "I'm a big proponent of the artist-entrepreneur, but sometimes it's hard to be both. The more exposure to information that filmmakers and producers can get, and the more tools and resources that you have to best improve the work that you do, then the better placed you are."
While Hot Docs' industry arm has grown considerably over the last 10 years, it is – of course – the tremendous increase in interest in the film program that has spearheaded the festival's growth.
As the demand for docs has increased, McDonald has worked cautiously to temper the temptation to expand too aggressively. "We were always worried about cannibalizing our audience," he says. "We didn't want to add another 20% of capacity and just spread the same amount of audience across 20% more screenings. So we were very careful in our evolution to just wait until we felt that expanding capacity made sense."
In 2011, Hot Docs screened its highest number of films to date, with 201 titles playing at the festival. In 2012 the program was trimmed to a more modest 189 titles, and while this year's number clocks in at 205, the team keeps a careful eye on the program's growth.
"We don't want to grow the festival so big that it's unmanageable, but we want to make sure people are seeing everything they want to see," says director of programming Charlotte Cook (pictured below).
"We try to have the broadest possible range of stories, and different perspectives from filmmakers all around the world, so that people can see everything that documentary is. I think that's what audiences really respond to."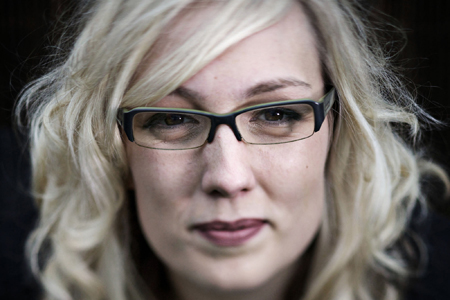 This year's festival will feature Canadian premieres for buzzy docs such as Steve Hoover's Blood Brother, Lucy Walker's The Crash Reel, Jason Osder's Let The Fire Burn, and Freida Mock's Anita, and will kick off tomorrow (April 25) with the world premiere of The Manor, the feature doc debut from Shawney Cohen.
Beyond picking the best films possible, Cook says she and her team also need to evaluate the changing role of the film festival in the 21st century.
"We have to respond to the fact that a lot of people are watching things online now, so the question of what the festival experience is, is something that we as a team have been thinking about a lot," she explains. "To that extent, I think the in-person, event-type dialogue is important."
McDonald agrees, adding: "Documentaries are transformative, but you have to make sure that the entire experience lives up to the quality of the film that you're projecting.
"How easy is it to buy tickets? Were the volunteers nice? Did it start on time? Did it look and sound nice? All those elements are part of a successful recipe and we never forgot that. We always tried to under-promise and over-deliver to all of our constituents – funders, filmmakers, the public, the media, volunteers… everyone."
Looking to the future, McDonald and MD Brett Hendrie are not planning on resting on their laurels, with several goals in mind for growth. In addition to expanding the Bloor Hot Docs Cinema, which the festival took control of and re-launched last year, McDonald says he would also like to expand Hot Docs' role in the funding space.
The festival currently has two major funding initiatives – the Shaw Media-Hot Docs Funds and the Blue Ice Fund – but McDonald thinks more can be done.
"We think there is a broader role for us to play," he says. "We're sort of breaking the mold a little bit, and I'd like to see us take some more chances and some risk, and create new opportunities for filmmakers."
Hot Docs at 20 – Key Milestones
1993: Founded by the Documentary Organization of Canada as an industry event for Canadian documentarians. Paul Jay is the founding chair of the fest's board of directors and Debbie Nightingale is festival producer.
1994: The first festival runs from February 24-27, screening 21 films, including Jean-Claude Labrecque's opening night doc André Mathieu, musicien.
1996: Becomes a separately incorporated organization with a mission to promote the work of Canadian and international doc-makers. Joanne Smale elected board of directors co-chair.
1998: Chris McDonald appointed exec director, becoming the organization's first full-time employee. The fest introduces its Lifetime Achievement Award (now the Outstanding Achievement Award) and selects filmmaker Allan King (pictured below) as the first recipient.
1999: Moves to spring and opens its screenings to public audiences. Sixty-nine films are screened to an audience of 7,000.
2000: Audience numbers more than double to 16,700. The fest launches the Toronto Documentary Forum (now the Hot Docs Forum). Based on Amsterdam's IDFA Forum, the pitching event is designed to stimulate international coproduction.
2001 : Expands its industry conference, introducing market initiatives such as The Doc Shop and its one-on-one meeting service Rendezvous, and introduces monthly screening series Doc Soup.
2003: Presents 122 films from 32 countries. Introduces free daytime screenings for seniors and students, as audience numbers swell to 32,000. Michael McMahon elected co-chair of the board of directors.
2004: Partners with the World Congress of Science and Factual Producers to produce its annual event.
2005: Errol Morris honored with the Outstanding Achievement Award and Retrospective, while future Golden Globe winner Waltz with Bashir pitches at the Forum. Audience numbers rise to 41,000.
2006: Becomes ongoing host of the Don Haig Award, given annually to an emerging Canadian filmmaker. Also introduces Doc U and Doc Lab, professional development programs for early and mid-career filmmakers, as well as Docs for Schools.
2007: Launches the Doc Mogul Award, with Knowledge Network's Rudy Buttignol the inaugural recipient. Audience numbers hit 68,000.
2008: Introduces what is now the Shaw Media-Hot Docs Documentary Funds.
2011: Partners with Blue Ice Group to acquire and take over Toronto's Bloor Cinema and launch a fund supporting African filmmakers. The fest teams with realscreen and Nat Geo for a benefit screening honoring late filmmaker Tim Hetherington.
2012: Presents 189 films from 51 countries, as audience numbers hit 165,000. Introduces Doc Ignite, a crowdfunding service for Canadian doc projects, and opens the doors on the Bloor Hot Docs Cinema.
Source: Hot Docs/realscreen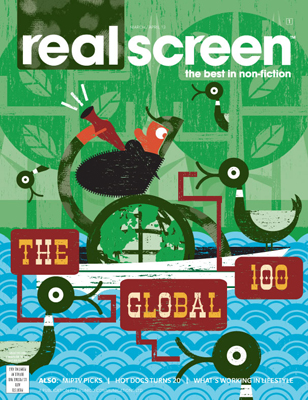 This feature appears in the current March/April 2013 issue of realscreen magazine. Not a subscriber? Click here for more information.