A+E Networks' chiefs Abbe Raven and Nancy Dubuc outlined a vision of aggressive growth for the company's second tier of channels at the firm's 2013/14 Upfront presentation in New York last night (May 8), which saw execs in bullish form.
Dubuc (pictured above), who next month assumes the title of A+E Networks president and CEO, told attending advertisers that "over the coming year, our goal is to grow H2, Bio and LMN into the powerful platforms that History, A&E and Lifetime have become."
The Upfront also featured a number of bullish shots at main cable rival Discovery Communications and other competitors; some of which were veiled, some not so much.
A+E Networks chairman-elect Abbe Raven told attendees at Lincoln Center that her company was "not driven by stock market prices," adding: "We make decisions based on the creative process, not what Wall Street analysts think we should be doing."
President of ad sales Mel Berning also took aim at A+E's broadcast rivals, telling advertisers they should be frustrated about having to pay what was effectively "a failure tax" for the terrestrials' ratings woes.
"Next week you will hear our broadcast ancestors tell you why 'less is more,'" he said. "And no doubt you've already heard from at least one of our big cable competitors who have been busy reworking and re-pricing the plan you bought from them last year so they can charge you more for it this year… their business model problems shouldn't be your problems."
Meanwhile on the programming front, attendees were shown first glimpses of forthcoming unscripted series including Hatfields & McCoys: White Lightning, in which the descendents of the two warring families attempt to make peace; Modern Dads, which focuses on stay-at-home fathers; American Daredevils, which features dangerous stunt performers; and Hillbetties, which focuses on four young women aspiring to become country music stars.
Network chiefs also announced that the forthcoming, four-hour scripted special Bonnie & Clyde, which was originally developed for Lifetime, would be simulcast over all three main channels: History, Lifetime and A&E.
Despite the presence of unscripted stars from shows such as Project Runway and Duck Dynasty (pictured below) at the event, it was – on the whole – scripted content that grabbed the spotlight, with a major focus on ratings-winner The Bible, forthcoming special Houdini, and the recently renewed Vikings; and actors such as Vera Farmiga, Judy Reyes, Nestor Carbonell and Roselyn Sánchez on hand to talk up their drama shows.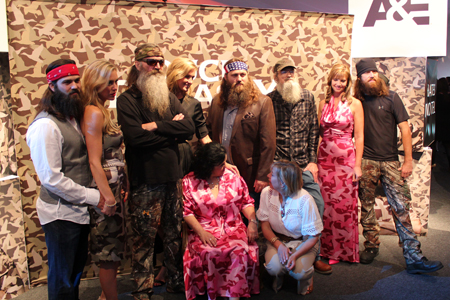 Talking to realscreen after the presentation, Dubuc said that History's non-fiction producers should not be concerned about the Upfront tactic of putting scripted drama front and center. "The proportion of scripted to unscripted is always going to be very heavily weighed to the unscripted," she said.
And when asked whether producers of the network's biggest unscripted titles should start approaching her with scripted ideas, she replied: "They're already doing it: we have a scripted production with Thom Beers on Thomas Edison, Craig Piligian has produced two films for Lifetime, and Leslie Greif has a movie in production for Lifetime.
"We shouldn't be so stuck on ghettoizing things in their genres," she added.
The Upfront presentation also saw Raven and Dubuc going out of their way to praise each other on stage, with the former calling the latter "one of the most talented execs working in media today," and Dubuc praising Raven for her "guidance and friendship" as she has risen through the network's ranks.
After the presentation, Grammy-winning alternative band fun. took to the stage (pictured below), performing hit songs such as We Are Young, Some Nights and Carry On, as buyers and execs mingled into the night.