In advance of its screening tonight at the International Madrid Documentary Festival in Spain, I Will Be Murdered director Justin Webster (pictured) tells realscreen how he unraveled the curious tale of a man who predicted his own death on YouTube.
Spain-based director Justin Webster says that I Will Be Murdered, which recently had its festival world premiere at Hot Docs in Canada, was a complicated and incredible story to tell.
It focuses on a wealthy Guatemalan lawyer, Rodrigo Rosenberg, who recorded a video accusing the president of Guatemala of his death. It was uploaded to YouTube, and Rosenberg was found dead a few days after recording the video.
I Will Be Murdered unravels the story by speaking with Rodrigo's son Eduardo, and the lead investigator on the case, Carlos Castresana.
How did you first hear about this complicated story?
It started with a conversation with Nick Fraser, the commissioning editor of the BBC's 'Storyville.' I'd made several films for him, and Alex Gibney drew his attention to [the story]. As I've made films which have themes of truth and justice and I'm a Spanish speaker, [Fraser] called and sent me some stuff about it. He asked what I thought about it, and whether I thought it was viable.
What was the timeline of when you became interested in Rosenberg's story?
It must've been in 2012. When it first came out, the story was covered a lot, when the video was uploaded to YouTube. The investigation took a long time and so it wasn't until 2010 until the story was really out there. It took quite a long time until things were reasonably clear about what had happened, if they ever are completely clear. There was the New Yorker and a few other journalists who'd written about it, and piecing it together you could see there was a fascinating story.
How did you get access to your film's subjects?
I made a film about another Spanish magistrate called Baltasar Garzón, and so I was able to get in touch with Carlos Castresana [through that]. He was keen to participate but he needed to be convinced.
I went to Guatemala four times by the end. Eduardo was great from the beginning, in the sense that he knew this story was going to be told. He wanted to be a part of it, even though obviously his side of the story was only one side.
You began with 'Storyville' on board. How did you fund the rest of the film?
That's the terrible business. Pitching it, struggling and trying to get people on board. Luckily I live in Spain with Spanish broadcasters so we were able to get some of them on board. [It was produced for BBC 'Storyville,' ITVS, DFI, TV3 and TVE]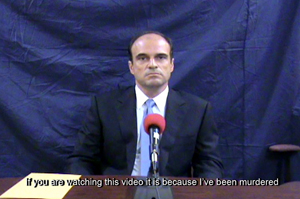 Was it important to keep the big twist of the story a secret from audiences?
From having made the film and people reacting to it, I think it is more amazing if you don't know anything about the story. I think it still works as a story and is still surprising even if you know the end.
Where does it go from here?
It will broadcast on TVE in Spain, TVC in Mexico, Canal+ España, RTS in Switzerland, DR in Denmark, SVT in Sweden, TVI in Portugal and RTL TVI in Belgium.
It'll also screen at a small human rights festival in Guatemala [the International Film Festival of Memory Truth and Justice], which I'm very pleased about, because it'll be seen in a different way in Guatemala. I already know it's getting some very strong and positive reactions there and that makes me very happy.
I Will Be Murdered screens at 10:30 p.m. CEST on May 10 during Documenta Madrid in Spain. Check out the trailer for the doc below: