Ahead of the STREAM conference, which kicks off in Santa Monica on Monday (June 3), we profile a trio of filmmakers who successfully raised funding via Kickstarter, starting today with the directors behind the Oscar-winning doc Inocente.
Project: Inocente
Funding goal: US$50,000
Amount raised: $52,527
Kickstarter backers: 294
Key takeaway: Know how much you need
Husband and wife directorial team Sean Fine (pictured above, right) and Andrea Nix Fine (left) were in post-production on their 39-minute doc Inocente when they decided to turn to Kickstarter for help.
The film (pictured below), which focuses on a young homeless girl who harbors dreams of becoming an artist, picked up the Oscar for best documentary short in February this year, and had early funding from MTV and Epix.
"We thought about doing Kickstarter at the beginning of the process, but decided to hold off until we had more of a complete project," recalls Sean Fine. "We went and tried to find traditional funding, which we were able to, and when we needed additional funding we thought, let's try this, let's see if it works.
"We liked the idea that people who were donating were becoming part of something at the same time. I think people felt very moved by the piece of the film that we were showing, and the reasons that we wanted to make the film."
Sean says working with Shine Global helped, because the non-profit prodco had a mailing list it was able to send the Kickstarter link out to. The duo also had a good network of connections from their previous doc War/Dance, which they were able to target for contributions.
One area of consideration was how much money to ask for. Request too little and you risk blowing your one major chance at crowdfunding; too much and you could fall short and get nothing.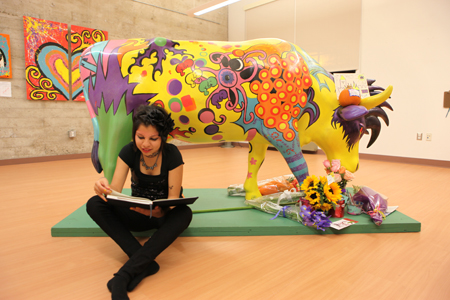 "We knew from the budget of the film and what we needed to accomplish, how much we would need, and I think that helped us," Sean says.
"We budgeted really well. I think some first-time filmmakers don't consider budget sometimes, whereas we had a pretty precise figure because we knew what the final finishing costs were going to be."
"We felt it was a pretty high number," he adds. "But we thought, let's just go for it. And, to be honest, we had run out of all other options as well."
Once the campaign had started, the pair worked with producers to send out numerous updates across the month-long duration. It was hard work, Sean says. "People ask me about Kickstarter and think it's easy – it's still work," he explains. "We made a film to sell our film to people. That took a lot of time and effort, figuring out what we were going to say, how we were going to present ourselves, then sending out emails, updating people, sending out more emails…
"It's something that you have to be really willing to put your all into and I really like that aspect of it – it gives back what you put into it. It's like when you go to pitch a film to a studio – the better your pitch is, the more likely they are to fund it."
Although the campaign's top tier rewards of US$5,000 and $10,000 went unclaimed, Sean says it was still worth including them, because "what if one of them works? That would be pretty unbelievable."
His only regret, he adds, is not turning to crowdfunding sooner. "The one thing we would've done is try it earlier," he reflects. "And [if] we tried it earlier, we probably would've tried to make the goal more money."
Check out the Kickstarter video the duo made below:
The STREAM conference takes place in Santa Monica on June 3-4, with a crowdfunding session taking place on June 3 at 3 p.m. PST. For more information, click here.
This interview originally appeared in the May/June 2013 edition of realscreen magazine. Not a subscriber? Click here for more information.