Dawn Porter (pictured) left a well-paid job as a network exec to pursue her dream of being a documentary filmmaker. With her debut effort playing AFI Docs tomorrow and premiering on HBO next month, she talks to realscreen about taking a leap of faith.
When former U.S. network exec Dawn Porter watched her debut documentary have its world premiere at Park City's Library Center Theatre in January this year, the moment represented a satisfying pay-off for what had been a considerable gamble.
As VP of standards and practices at A&E Television Networks (now A+E Networks) from 2005-2010, she spent five years behind a desk doing fact checking and editorial review on other filmmakers' projects, before eventually deciding that she had to make the move into making films herself.
But to say she was apprehensive about making such a leap is an understatement.
"Are you kidding me? I quit my direct deposit, corporate job with fully paid benefits, as a vice president at A&E Television… to make a documentary," she laughs. "Yeah. I was apprehensive, as was my husband.
"But that's the thing about documentary – you can't think about how difficult it will be. You just do the next task in front of you, and that's kind of how I got through it."
Porter's debut effort, Gideon's Army (pictured below), looks at public defenders working in the American South, saddled with huge caseloads of clients and toiling for little salary. It takes its title from the landmark case of Gideon v. Wainwright, which 50 years ago ruled that U.S. citizens had a right to an attorney, even if they could not afford one.
The filmmaker was drawn to take on the project after meeting Jon Rapping, the founder of training organization Gideon's Promise. "I really wasn't focused on indigent defense at all before I met Jon," Porter explains. "I got introduced to him by a friend, and he invited me to his two-week legal boot camp program in Alabama."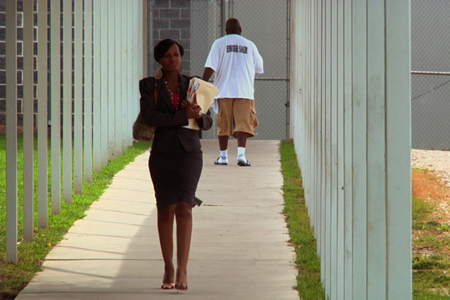 Despite her background in law – Porter worked for five years as a civil litigator in Washington DC before moving into the TV industry – the director realized she knew little about the indigent defense sector.
"I thought, how is it that I'm a lawyer who cares about social justice, I do a lot of volunteer work, and I don't know the story of what public defenders are doing?" she reflects. "If I don't know it, then a lot of people don't either."
Porter says she lucked out in Alabama, hiring a film crew based on a colleague's recommendation, which ended up working with her throughout the whole project.
Their help went beyond the technical aspects of the shoot; for example, when wanting to film certain neighborhoods to "give a feel for the place," she'd be advised by the film crew on how best to proceed, as "there were neighborhoods where they were clear that black people would not be welcome and interracial groups would raise suspicion, particularly for filming."
Among other difficult initial challenges was picking which subjects to follow. Porter identified some 30 young lawyers employed in the South, and after conducting a series of interviews, managed to whittle down her focus to two main defenders – Travis Williams and Brandy Alexander – and a supporting lawyer, June Hardwick.
"Travis was a stand-out from the moment I met him, and Brandy's career took a really big turn, so we kind of got close," the filmmaker says. "But the hard thing about doing a legal vérité film is that criminal cases get 'continued' a lot – it's not like you can say, 'Okay, at 10 o'clock on Tuesday, we're going to have an event.'
"Another key component was finding courtrooms that would let us in. I realized pretty quickly that if we couldn't see them working, it wasn't going to be good."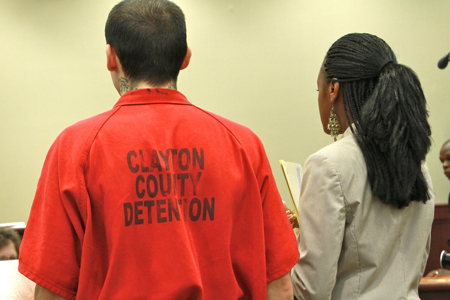 While shooting in Gainesville, Alabama, an impromptu challenge at a courthouse left Porter having to rely on her legal background to secure access. "I got to Gainesville, and had asked for permission [to film], but didn't actually have permission," she recalls.
"But I went anyway and showed up with a crew, and the judge said, 'Okay, we'll hear from the attorney seeking the motion to film.' I was like, oh, I have to argue a motion today? So I stood up and said, 'Thank you, your honor,' and I just made it up. Then he said, 'Okay, now we'll hear from the prosecutor,' and the prosecutor opposed our filming.
"The judge issued a ruling that he thought an open courtroom was actually in the best interests of justice, so he ruled for us, and that was really a key thing, because that was Travis's courtroom."
Porter found that access grew over time. Initially, the judge would only allow the team to set up two fixed cameras in a single spot, without moving. Eventually, however, his stance softened.
"He saw that we were not obtrusive, were respectful, and listened to his instructions, and he let us put a camera right next to his bench, so we could see the defendants," Porter says. "He let us actually set up four cameras in the courtroom for the duration of whenever we were there – so we got a lot of great courtroom footage."
The ruling also meant that Porter and her team did not have to get signed release forms from court attendees appearing on camera. "He issued an open order, with the restriction that we could not film the faces of the jury," she says.
"That was when I could tell my shift from lawyer to filmmaker was complete, because as a lawyer, I would've said, 'Absolutely not, you may not film the faces of the jury,' but as a filmmaker, I was just dying to show these people." However, she says it was "a small price to pay to get that much access to court."
Shooting on Gideon's Army ran from 2009 to 2012, but it was in 2011 that Porter secured key funding for the project. Having started the doc with initial support from the Ford Foundation, it was a trio of events in short succession that propelled the film to life.
Porter won a US$10,000 Tribeca All Access Creative Promise Award in April of that year, pitched the project at the Hot Docs Forum in Toronto the following month, and presented at Britdoc's Good Pitch New York fundraiser several days later.
"It was really that triumvirate of access," she explains. "At Tribeca we met with HBO for the first time and they were kind of mulling it over… we had 20 minutes of edited footage. Then at Hot Docs we had lots of interest around the table [from international commissioners]; we had a really good reaction. Then we had meetings right after with HBO and they said yes, which was pretty incredible.
"When HBO came on, they came on as a coproducer, not as an acquisition. That meant we really could choose the characters together, develop the story… it was so great to have a partner to work through what was the best way to communicate the story."
After premiering at Sundance, where the film's editor Matt Hamachek picked up the U.S. Documentary Editing Award, the doc went on to open North Carolina's Full Frame Festival, with additional screenings at Hot Docs, Miami and San Francisco.
Tomorrow (June 21), the film plays at AFI Docs in Washington DC, where it has been selected as one of the inaugural participants for the festival's Policy Engagement Program, and on July 1 the doc has its American TV premiere on HBO.
With such an impressive run for a first feature, Porter jokes that she feels like a child actor who has made it big. "It's kind of a hard act to follow," she says.
Nevertheless, she has no plans to return to the desk job. "I'm addicted," she enthuses. "This is what I do; I'm in it for the long haul."
Gideon's Army plays at AFI Docs in Washington DC on June 21 and 22, and premieres on HBO in the U.S. on July 1
This feature originally appeared in the May/June 2013 edition of realscreen magazine. Not a subscriber? Click here for more information.