The Dreamcatchers (pictured), a new film exploring prostitution in Illinois from director Kim Longinotto, is among seven doc projects tapped for the inaugural Good Pitch Chicago event, taking place in October.
The Good Pitch brings together documentary filmmakers with foundations, NGOs, campaigners, philanthropists, policy makers, brands and media organizations, in a bid to promote social and environmental issues, and fundraise.
The event is run by Britdoc, and previous Good Pitch events have taken place in New York, San Francisco, and across Europe.
The Dreamcatchers, currently in production, focuses on two women who are dedicating their lives to helping females get out of prostitution and teaching vulnerable young girls how to avoid sexual exploitation on the streets of Chicago.
Both women are self-professed former prostitutes and drug addicts, and now use their knowledge and position to try and help others. In the style of 2011′s hit doc The Interrupters, the film will see Longinotto following the pair "into the sex trafficking underworld of Chicago's toughest neighborhoods," according to billing from Britdoc.
Longinotto (Rough Aunties, Salma, Divorce Iranian Style) is directing, with Teddy Leifer and Lisa Stevens producing, and John Stack the associate producer.
Also presenting at the Chicago event will be Strong Island, from director Yance Ford. The doc, which pitched at last year's IDFA Forum in Amsterdam, chronicles the director's investigation into her brother's violent death more than 20 years ago.
The film promises "insight into the complexities of fear, violence and criminal justice," and promises "a provocative meditation on loss, the impact of grief over time, and the illusive meaning of justice." Esther Robinson is producing, and Simon Kilmurry is exec producing.
The other docs presenting include Rebecca Parrish's Sister, which looks at the convictions of three American nuns censured by the Vatican for "radical feminism;" and Anne de Mare and Kirsten Kelly's The Homestretch, which looks at three homeless teenagers "braving Chicago winters, the pressures of high school, and life alone on the streets."
The latter film is backed by Chicago indie Kartemquin Films, was selected to take part in the Sundance Institute's 2013 Documentary Edit and Story Labs, and was a finalist for funding from the San Francisco Film Society 2013 Documentary Fund.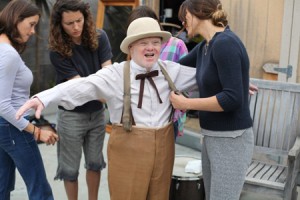 Also selected to present is Michael Barnett's Becoming Bulletproof (pictured above), a film-within-a-film that sees a group of disabled people from across the U.S. take on leading roles in a costume drama Western, filmed on vintage Hollywood locations; and Cynthia Hill's Private Violence, which looks at domestic violence, and the fact that the most dangerous place for women in America can be their own home.
Finally, the event will also host a presentation for Avram Lewis's doc The Message: The (R)evolutionary Power of Climate Change.
Based on author Naomi Klein's forthcoming non-fiction book, the multi-platform project will aim to show why the deep changes required to tackle climate change "should not be viewed as a punishment to fear, but as a kind of gift." Joslyn Barnes is the film's producer, and Katie McKenna is on board as outreach director.
The Good Pitch Chicago takes place on October 22. For more information, click here.