A decade on from The Fog of War, Oscar-winner Errol Morris is once again tackling the life of a former U.S. secretary of defense. As The Unknown Known has its world premiere in Venice, the filmmaker talks exclusively to realscreen about the making of his anticipated Donald Rumsfeld doc.
"There are known knowns: there are things we know that we know," U.S. secretary of defense Donald Rumsfeld famously told journalists during an Iraq war briefing in 2002.
"We also know there are known unknowns; that is to say, we know there are some things we do not know," he went on to add. "But there are also unknown unknowns: the ones we don't know we don't know."
Rumsfeld, language, and the nature of things known and unknown, form the basis of the 10th feature-length documentary from master filmmaker Errol Morris (pictured above).
Of course, the documentarian had tackled an American defense secretary before, with his Oscar-winning 2003 masterpiece The Fog of War, which spotlighted the life of Robert McNamara. Now, 10 years on, Morris is returning with what could be seen as a sequel of sorts, with The Unknown Known: The Life and Times of Donald Rumsfeld.
"In some sense of course, it is [a sequel] because it's an ex-secretary of defense," Morris tells realscreen. "But they're very different films.
"Someone asked me why I was doing this and I said maybe it's the Franklin Mint idea of 'collect them all,'" he adds with a chuckle. "But that doesn't really capture it. The truth is, I'm really fascinated by Donald Rumsfeld, and that in and of itself is a good reason to make a movie – to have a set of unanswered questions; the desire to know more."
Morris was not the only one curious about Rumsfeld. The Unknown Known arrives with an unusually large number of partners already onboard, including Participant Media, RADiUS-TWC (The Weinstein Company's digital arm), History Films, Sky Atlantic, Hanway Films, Moxie Productions and Netflix U.S.
The film has its world premiere at the 70th Venice International Film Festival today (September 4) – marking the first year a documentary has played in competition at the Italian event – before enjoying its North American premiere at the Toronto International Film Festival in four days time.
Beyond Morris's own curiosity, there were plenty of other reasons to make a doc on Rumsfeld, who served as the 13th U.S. secretary of defense from 1975 to 1977 under President Gerald Ford, and as the 21st secretary of defense from 2001 to 2006 under President George W. Bush.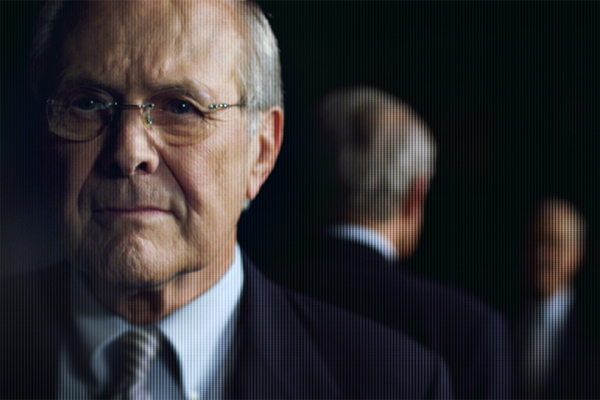 "I said to Donald Rumsfeld, in essentially our first meeting when I flew down to Washington and met him in his offices, that if making this movie could help me and the American people understand why we went to war in Iraq, then we would have rendered a very important public service," Morris explains.
He adds that Rumsfeld was familiar with The Fog of War, but says that – if anything – the McNamara doc worked against him.
"He said he saw The Fog of War – at least, he said that he hated it," Morris reveals. "He hated it, and he felt that McNamara had nothing to apologize for."
Morris's doc comes amid an interesting period of reassessment for former members of George W Bush's cabinet, with filmmaker RJ Cutler having released The World According to Dick Cheney earlier this year.
That doc, which premiered at Sundance before airing on Showtime, saw the former U.S. vice president combative and unapologetic about the decisions he made in office, including those regarding the Iraq war. Critics were divided on the film, with many claiming Cutler was too soft on Cheney.
Morris acknowledges that there will always be an "inevitable" section of the audience that will only be happy to watch docs on former Bush administration members if the tone of those films is guns-blazing and adversarial.
"Particularly in the case of Donald Rumsfeld, where he is a person disliked by so many people, they want a movie of a certain kind that follows a certain form," Morris says. "But I'm interested in something different."
The Unknown Known is very much a story told in Rumsfeld's own words, Morris explains. "I've always been in favor of making movies from the inside out, rather than the other way around.
"The Cheney documentary, which I liked by the way, is an example of that 'other' kind of movie, where you interview 10, 15, 20 different people, and they have at it. You're looking at what he did from the outside in, and in many respects he remains a cipher as a result. I have always preferred to do something different."
There were additional practical considerations behind such an approach. Morris recalls sitting with Rumsfeld in a conference room during promotion for the politician's memoir, and watching him take questions from journalists via speakerphone.
"The reporters – there were three of them – asked the exact same questions," Morris recalls. "These are the questions that keep coming up again and again: 'Were you absolutely convinced that there were WMDs in Iraq? Did you feel the strength of the invading American forces was sufficient to secure the country?  Did you feel that there was adequate planning for the aftermath of the invasion?'
"This is not to say that they're not important questions, but I felt that the answers on his part had been so well rehearsed," he adds. "He had given the same answers so many times. It seemed to me something that I did not want to do – if you're just simply doing the same thing that everybody else is doing, you're making a mistake of some sort. Maybe it's the contrarian in me."
Rumsfeld agreed to sit with Morris and his famous Interrotron camera set-up for 11 days of Q&A, spread out across almost a year and yielding more than 30 hours of footage. The result, Morris says, is "one of my most beautiful films – I think it's very handsome looking."
In addition to discussing Rumsfeld's life and work, the filmmaker also convinced his subject to read out some of the many short memos – or "snowflakes," as they came to be known – that he composed while in office.
"He became legendary for his 'snowflakes,'" Morris explains. "He'd send so many, many memos – he estimates well in excess of 20,000 memos during his second tenure as secretary of defense, from 2001 to the end of 2006. They were put on a dictaphone and transcribed and sent.
"I asked him if we could use some of those 'snowflakes,' and whether he would read them for me. He agreed, so they form the backbone of the movie."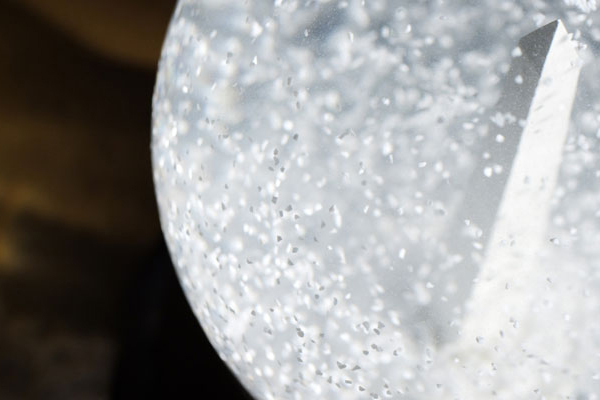 As much as Morris's doc is a film about Rumsfeld, The Unknown Known is also a film about language, the way we use words, and the way we perceive our understanding of knowledge.
Morris says that part of what drew him to the former defense secretary in the first place was "his obsession with – to use the $100 word – epistemology; with how we know things, the nature of knowledge, etc.
"I have a strange relationship to that whole litany of permutations of combinations of words. It is a movie in part about his obsession with language. Whatever you want to say about Rumsfeld, he's a good talker. I'd be lucky to ever find someone as talkative as he is, or as animated."
It is also evident that Morris often looks at filmmaking through the filter of literature. In conversation with realscreen, he throws out references to Albert Camus's The Myth of Sisyphus; Herman Melville's Bartleby, the Scrivener; various works by Vladimir Nabokov; and Charles Dickens' Bleak House.
He invokes the latter in reference to the long-running lawsuit that was launched by Joyce McKinney, the subject of his last feature doc, 2010′s Tabloid. McKinney filed with the Los Angeles Superior court in 2011, claiming Morris tricked her into appearing in the movie and portrayed her in a negative light.
"It never concluded," Morris says of the case, adding, "It's like Jarndyce vs Jarndyce," referring to the long-running court case in Dickens' classic. The filmmaker, for his part, says the film's subject was "a willing participant."
The lawsuit is not the first Morris has faced from a subject of one of his docs – in the late 1980s he became embroiled in a legal battle with Randall Dale Adams, the subject of The Thin Blue Line, after Adams was released from death row. The lawsuit, concerning rights to Adams' story, was settled out of court.
Morris admits that lawsuits do take their toll. "It's disingenuous to say that you're unaffected by something like that – of course you're affected," he reflects.
"The minute you make movies about real people, you run the risk of creating a portrait that they themselves may not like – the real difference between fiction and non-fiction is that fictional characters rarely come back to bite you."
Which raises the question of how Rumsfeld will take to The Unknown Known. Morris says there were no restrictions on questions or topics during the interviews, and adds that he retains final cut on the film. Rumsfeld has seen several edits of the film so far.
"His reactions have been diverse; [that] might be the best way to characterize it," Morris says. "It's somewhat daunting when you get notes from Donald Rumsfeld – detailed notes, not just cursory notes, but 'I like this, I don't like that, this is okay, this is not okay…'
"The first round that was shown to him, he said to me, 'You know Errol, I have to be really honest, I have some serious problems with this…' and I thought to myself, 'Oh no.' And then he said: 'You know, I really just don't like the tie I was wearing.' There was more, but that was the start."
As for Rumsfeld's motivation for making the doc, Morris says he asks the question at the end of the film, and viewers will need to tune in to see the answer. But he offers that "if people are looking for repentance…  I don't think they will find that here."
This interview appears in the forthcoming September/October issue of realscreen magazine. Not a subscriber? Click here for more information.
The Unknown Known plays in Venice on September 4, before playing at TIFF on September 8 and 10. Check out a clip from the film below.