When John Wojtowicz decided to rob a Brooklyn bank in 1972 in order to pay for his male lover's sex change operation, the heist did not exactly unfold as planned. The events were immortalized in Sidney Lumet's now-classic 1975 film Dog Day Afternoon, which starred Al Pacino in the leading role.
Three decades later, New York City-based filmmakers Allison Berg and Frank Keraudren re-watched the movie and wondered what became of Wojtowicz, who served six years in prison for the botched robbery.
They hit Google and eventually tracked down Wojtowicz's mother, Terry, who said she would tell her son to call them back. A few hours later, they received a call. Ten years later, they finished The Dog, a self-financed documentary about Wojtowicz's life, which plays at the New York Film Festival today (October 1), having premiered at the Toronto International Film Festival (TIFF) last month.
Both veteran television and film producers, whose previous doc Witches In Exile screened at SXSW in 2004, Berg and Keraudren spent 10 years working on The Dog in their spare time. The film goes beyond the sensational robbery story to explore Wojtowicz's involvement in the gay rights movement of the late 1960s, his multiple marriages to both men and women, and his tumultuous family life.
Driving the narrative is 'The Dog' himself – a self-professed romantic, unapologetically horny and crass attention-seeker who exploited his tabloid notoriety up until his death in 2006. In an interview during TIFF, Berg and Keraudren sat down with realscreen to talk about the decade they spent piecing together his life story.
What was it about 'The Dog' [pictured below] that made you want to make a movie about him?
Allison Berg: He's one of the greatest characters – Sonny in Dog Day Afternoon – and is this anti-hero that you want to root for.
Frank Keraudren: In regards to Dog Day Afternoon, that movie is very efficient because it just showed what happened at the bank. It's almost like a play. It's a 24-hour setting. It's great because they didn't go into the back story. We immediately knew the bank is central to his life story, but his life story was worth hearing.
This is a very ambiguous, complex character. Not so much a complex person but a complex personality. For a documentary filmmaker, that's immediately something that you want to explore.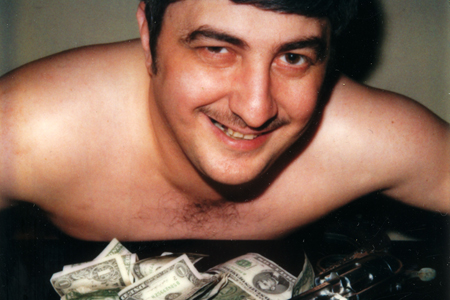 How did you start the process?
FK: Looking back, we thought, let's do a little trailer. We'll do a two-day shoot. We started with $3,000. We got half the movie in two days. He told us the first half of the story which is really what he would give anybody on the surface. It was his shtick. We went from his birth to the bank robbery. To get the second half of his life took nine years.
AB: There are certain things he opened up about, such as family. That was something I don't think he was going to share with [just] anyone. When he started trusting us, he wanted us to meet his brother; he wanted us to be around his mother. Suddenly it became something bigger than the story about the bank robbery. The stories opened up to us as the years went on.
What was the archival research process like?
FK: This is the best archival footage I've seen in my life. A lot of it has never been seen. We got it from the people we interviewed. There was a gay activist and journalist in the film – Randy Wicker – who followed the robbery. He owned one of the first video cameras and he still has it – it's a monster. He had some interesting things on it that even he hadn't seen since 1972.
He gave me this reel and in the entire United States I found two places that could deal with it. It's a Sony CV camera that's like quarter inch tape. He still had a deck that was the size of a bathtub. We played it on there and almost destroyed the tape. It took years to find a place that could transfer that. We had almost given up and then we found a place in New Jersey that could do it.
Do you hope for or expect this film to add to conversations around marriage equality in U.S.?
FK: In the context of gay rights, he was not a prominent activist. He was a guy with a short fuse who was in the right set of circumstances. He was way ahead of his time but not because he was a deep thinker. He was like, I'm gonna take this to the next level in a very misguided, flawed way.
When you put that in the context of 1971 – when gay people couldn't walk down the street holding hands – I think there's a whole other generation of people who can't even believe it. To them it's science fiction. If you don't make these movies, these people will be forgotten, no matter how flawed they were.
What type of distribution are you looking for?
AB:  We think it would play really well in theaters. I don't believe every doc should be in theaters but because of the Dog Day Afternoon hook, and that we have a larger-than-life character, we think it could play well in theaters.
What's the biggest thing you learned making The Dog?
FK: When we made this film we interviewed a lot of other characters, some of whom didn't make it in to the film because every time we got too far away from John, it felt like the movie lost its stamina. What that said to me wasn't that he's necessarily a great guy, but in our culture now we communicate through anecdotes and stories.
So if you can tell a good story, you can get away with a lot of. We realized in piecing the film together that everything is very layered and subjective. How much can you really tell of a story?
AB: This isn't investigative journalism. It's John's truth as he sees it. There was so much that he would bullshit about. He would lie to us about where he was: "I'm in Long Island!"  But we knew he was in Brooklyn. We were like, "Why are you lying about that? But OK. Who cares?"
But whatever was the craziest, most outlandish thing he said, always turned out to be true. In our screenings for our friends, people were like, "You know he's a bullshitter, right?" We want people to know not necessarily everything you hear is true, and we're cool with that.
The Dog screens at the New York Film Festival tonight (October 1) at 8:15 p.m. at the Francesca Beale Theater and again on October 8 at 6:30 p.m. at the Howard Gilman Theater. Check out the trailer for the film below.