The full line-up has been unveiled for the 16th Montreal International Documentary Festival (RIDM), with Hi-Ho Mistahey! (pictured), Arctic Defenders, Le semeur and Ariel among the Canadian docs in competition.
The fest will host 135 films from more than 40 countries from November 13-24. As previously reported, it will open with Jehane Noujaim's The Square and close with Annie St-Pierre's Fermières.
Among the official competition titles, 12 international features will be competing for the Grand Prize for Best International Feature, the Image Award, and the Editing Award.
The international selection includes films such as E agora? Lembra-me by Joaquim Pinto (a special jury prize and FIPRESCI Prize winner at Locarno); and Haricots rouges by Narimane Mari (the winner of three awards at FID Marseille).
Also competing will be Char… The No Man's Island, by Sourav Sarangi; Calle López, by Gerardo Barroso Alcala and Lisa Tillinger; Vers Madrid (The Burning Bright)!, by Sylvain George; Let the Fire Burn, by Jason Osder; American Vagabond, by Susanna Helke; Fifi hurle de joie, by Mitra Farahani; and Belleville Baby, by Mia Engberg.
In addition to its competition line-ups, RIDM will also play host to a number of recent festival hits, including Fred Wiseman's At Berkeley, Kim Longinotto's Salma, John Maloof and Charlie Siskel's Finding Vivian Maier, Sini Anderson's The Punk Singer, Alan Berliner's First Cousin Once Removed, and Lucy Walker's The Crash Reel.
The Montreal event will also host conversations with filmmakers throughout its run. Square director Noujaim will be in conversation with Globe and Mail journalist Matthew Jays on November 14; while Walker will discuss her HBO doc The Crash Reel in conversation with realscreen's associate editor Adam Benzine on November 17.
On November 20, Susanna Helke will discuss American Vagabond with Filmmaker magazine's Farihah Zaman; and on November 22, Sourav Sarangi will discuss Char… The No-Man's Island with T;cha Dunlevy of the Montreal Gazette.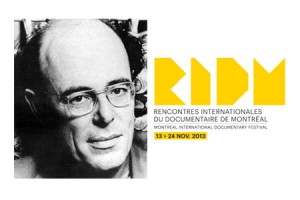 As reported in May, RIDM will this year honor Oscar-winning octogenarian Marcel Ophüls (pictured above), the director behind The Sorrow and the Pity and Hotel Terminus, with a major retrospective and a public discussion.
To see the full RIDM 2013 line-up, head to ridm.qc.ca/en