In the second of realscreen's branded content case studies, preceding Wednesday's BCON Expo event in New York, we look at AT&T's partnership with filmmaker Werner Herzog for the powerful "It Can Wait" public service campaign.
While shooting From One Second to the Next (pictured above), Werner Herzog implemented the following rule: "There's no crying on my set."
The 70-year-old filmmaker shot the 30-minute documentary as the centerpiece for "It Can Wait," a public service campaign backed by a consortium of U.S. mobile carriers designed to raise awareness around the dangers of texting and driving.
Released online in August, the documentary profiles people whose lives were forever changed by drivers who were momentarily distracted by their mobile phones. It is a gut-wrenching film to watch and was equally emotional to shoot – hence Herzog's ban on crying.
"That [rule] was very difficult for a lot of folks on production, to be honest," says Michelle Kuckelman, executive director of integrated brand marketing for AT&T. "The crew, the client, my team – it's a difficult thing to watch and that's why it's so powerful and hopefully moving and meaningful.
"Obviously he's not kicking people off the set if they cry, but he's trying to keep the momentum moving. Yet when he saw it for the first time on the big screen he was brought to tears. I think that is an amazing demonstration of the power of the content and the story he told."
In 2010, AT&T partnered with its creative agency BBDO, media agency MEC and digital agency Omelet to start the "It Can Wait" campaign, inspired by distracted driving statistics showing that texting drivers are 23 times more likely to be involved in an accident.
After two years of running a PSA advertising campaign, execs at AT&T decided it was time to move the conversation from media buys to a movement encompassing grassroots events, schools and local outreach. The company teamed up with its competitors Verizon Wireless, T-Mobile, Sprint and 200 other organizations on a campaign push concentrated between Memorial Day and Labor Day.
The creatives at BBDO suggested Herzog to direct a series of 30-second spots after seeing his documentary mini-series On Death Row, which profiled murder cases from all sides – the victims' families, the bystanders and police caught up in the case, and the perpetrators awaiting their fates on Death Row.
As a critic of commercial influences in cinema, Herzog was a big ask, but to the agency and brand's delight, he agreed.
"What AT&T proposed immediately clicked and connected inside of me. There's a completely new culture out there," said Herzog (pictured below), who alternates between scripted and documentary films, in an interview with The Associated Press. "I'm not a participant of texting and driving – or texting at all – but I see there's something going on in civilization which is coming with great vehemence at us."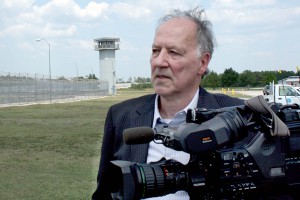 With Herzog on board, the team decided to shoot a 30-minute documentary to delve deeper into the people profiled in the ads: Xzavier Davis-Bilbo, an eight-year-old who was paralyzed from the diaphragm down after being hit by a texting driver; Chandler Gerber, who killed three Amish children when he drove into a horse-drawn carriage; Debbie Drweniak, who ended up in a life-altering coma after being hit by a texting teen; and Reggie Shaw, who became an anti-texting and driving speaker after serving jail time for hitting and killing two scientists in 2006.
Released online in August, the film racked up 1.4 million views during its first week and its YouTube views were upwards of two million at press time. In September, AT&T will send a 12-minute cut to 40,000 post-secondary and driver's education schools.
AT&T owns the IP for the documentary, but has licensed it to the consortium so that T-Mobile, Sprint and Verizon can send it out via their respective media networks, IPTV platforms, social channels, customers and corporate partners.
As for working towards the campaign's goal, Kuckleman says: "It will take a passenger to say, 'Hey, give me the phone or stop doing that.' That's the stigma and awareness we are trying to get to."
 The one-day, realscreen-presented BCON Expo event takes place at Convene in New York on October 30. For more details, visit bcon.realscreen.com/2013/
This feature originally appeared in the current September/October issue of realscreen magazine. Not a subscriber? Click here for more information.