With top camera manufacturers and new companies trotting out affordable 4K packages, there are an increasing number of options for wildlife shooters looking to get the best bang for their buck.
Barely half a decade ago, before the onslaught of Red cameras, shooting wildlife in 4K digitally was practically impossible; hence, it was done mainly on film.
While digital cine cams (or DC cams) such as the Phantom 65 could capture short bursts of action at up to 150 fps, the Red One was the only "affordable" all-purpose production camera for capturing 4K at up to 60 fps until the first Epics in 2010.
With its new sensor, Epic captured 4K and 2K at frame rates of up to 120 fps and with more dynamic range and color, making it feasible to future proof natural history in 4K, digitally.
Today, 4K imaging options have expanded beyond Reds or Phantoms. Early last year, spurred partly by the DSLR HD revolution, Blackmagic Design (BM), renowned for designing more affordable encoders, switchers and converters, unveiled a 2.5K sensor Cinema Camera, for under US$3,000.
This fall, they're upping the ante with their 4K Production Camera, which features a global shutter, typically found only in high end DC cams, but found here in a package somewhere in the $4,000 ballpark. However, its narrow range of frame rates – 24p, 30p and 60i – may limit use for natural history shooters.
BM has also downsized its original Cine Camera into a point and shoot camera costing a mere $1,000. The new Pocket Cinema cam (pictured below) will be great for undercover and cryptic camera work and for special effects, as well as for use on jibs, cranes, dollies and drones, putting 4K cameras where HD cameras have only recently appeared.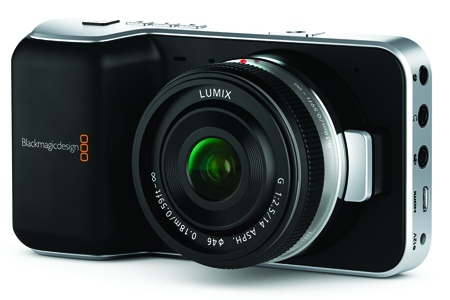 Canon currently has two 4K cameras: the C-500 being its most advanced cine camera, and the EOS 1DC, its elite HDSLR. The C-500′s Super-35 CMOS imager can output RAW 4K to a 4K recorder while proxy files are captured simultaneously to an onboard CF card, for immediate editing. For faster frame rates and larger files an external recorder is required.
Canon has also been at work on developing lenses with full frame Super 35 coverage, with the optical quality needed for optimal 4K imaging. One such lens, with enough range and reach for all-purpose natural history use, is the 30-300mm T2.95-3.7 LS Cinema Zoom Lens with an EF mount.
The other is Canon's EF 200-400mm with a built-in 1.4X extender which transforms it into a sharp 280-560mm lens with little chromatic aberration. Adding an external 1.4X externally boosts its maximum focal length to 784mm which provides the tele-range often needed for natural history.
While Fujinon has at least six 4K caliber zoom lenses, only two have the reach preferred for natural history. The 75-400mm HK5.3×75 is fairly fast for a long zoom at FT2.8-3.8. However, it is one of Fujinon's premier PL lenses and renting it may strain the budget of most natural history projects, other than the landmark series.
More affordable are Fujinon's Cabrio lenses, including the new 85-300mm Cabrio. This T2.9-4.0 lens features bold markings and a detachable drive unit so it can also be used for "film-style" shooting.
Besides eye-popping close-ups, natural history is also closely linked with dazzling slow motion – much of it captured by Phantom HD cameras. While the Phantom 65 does meet 4K specs, it falls short of today's high speed expectations with a top frame rate of 150 fps. However, the new Phantom Flex 4K will do the trick, with top frame rates of 1000 fps at 4K resolution and 2000 fps at 1080p HD.
It also boasts a fairly high ISO, with a dynamic range of at least 12 stops. Moreover, unlike most Phantoms, it is designed as a general purpose camera with many external controls and audio IOs. It can also be triggered remotely from 100 meters.
Another 4K high speed option comes from a company renowned for many high-tech video products, but not cameras – Japan's For-A. Its first camera, the FT-1, can capture more than nine seconds of RAW 4K at 900 fps to RAM, and 84 seconds to hot-swappable SSDs.
It also holds the distinction of being the first Super 35 digital 4K camera to use PL mount lenses. However, it is heavier and bulkier than Phantoms and was designed more for stadium sports than for in-the-field natural history shoots .
On the other end of the size spectrum is JVC's GY-HMQ 10, billed as the world's first 4K handheld camcorder. At just under $5,000, it is comparatively affordable and records nearly two hours of H.264-encoded 4K to SDXC cards. Footage captured at 60p and edited at 24p provides the 2.5:1 slow-motion ratio, as seen in docs and features shot with 16mm film for decades. The GY HMQ10 also includes a 10X lens and onboard HD monitor.
But if serious compactness is key, GoPro's Hero 3 is tough to beat. The Hero 3 is 25% lighter than Hero 2, but offers full 4K resolution, albeit at only 15 fps, and captures 2.7K at up to 30 fps. Now that it can easily be triggered via WiFi or a GoPro remote trigger, it can replace low-resolution "cigar cams" for POV, and for shots where the risk of camera loss or damage is real, thanks to its price tag of $400.
With its new 6K Dragon sensor, the Red Digital Epic still sets the pace in ultra-HD, capturing 4K at 1-200 fps and 3K at 1-300 fps, with a choice of six delivery modes from 2K-6K resolution, at various frame rates. Its highly scalable compression rates (3-18:1) can radically enhance or shrink storage needs in the field and edit suite.
Red's Scarlet, or 'Epic Lite,' offers reduced off-speed options but in an identical chassis, including 1-30 fps at 4K, from 1-48 fps in 3K,1-60 fps in 2K, and 120 fps possible only in 1K (720p/30) mode.
If you prefer a heftier camera, the Red One, with the Mysterium X sensor, has capture specs that are comparable and perhaps even slightly better than the Scarlet X, topping out at 30 fps at 4.5K, 60 fps at 3K and 120 fps at 2K, with 13 stops of latitude.
Sony, meanwhile, might be able to claim the title of being the world's leading 4K acquisition evangelist, ever since introducing its latest 4K cameras, the F5 and F55, in late 2012. Both cameras have generated plenty of interest in
4K production, thanks to their versatility, scalability and ergonomics – they each have a familiar and comfortable Sony look, despite a radical re-design.
Despite a starting price difference of more than $10,000, both cameras can capture 240 fps at ultra-HD resolutions; however, the F55 has a definite edge at 4K resolution and internal capabilities.
The F55 can record 2K and 4K internally – the latter at up to 60 fps – but can also capture 4K at up to 120 fps and 2K at up to 240 fps with Sony's optional AXS-R5 recorder.
With the latest firmware upgrade, the F5 can also record 4K at up to 120/60 fps with the AXS-R5 recorder, and up to 240 fps in HD mode. Both cameras have adopted Red's modular upgrade model, with many new features being offered regularly via software upgrades rather than having to trade in your entire camera for a new model as in the past.
Perhaps the most salient distinction between the two stems from the F55′s more advanced sensor which enables it to use Sony's S-Gamut color system, like its ultra high-end cousin, the F65, which captures colors much as we see them with the human eye.
This results in a more natural looking edited master – highly desirable for natural history. Quantitatively speaking, the F55 can distinguish more colors than the F5 and deliver a superior filmic look.
Last but not least is Sony's FS700, which preceded the F5 and F55 by a year. Using the AXS-R5 recorder, it can capture 4K RAW at up to 60 fps and full 2K RAW at up to 240 fps. The base package price, at just over $9,100, includes an 18-200mm SEL lens, but not some key accessories needed to capture 2K and 4K at higher frame rates.
Indeed, all of Sony's Cine Alta cameras with 4K sensors come in a variety of configurations and prices, but one constant is that they all require the AXS-R5 recorder to realize their full potential, so prepare to cough up another $6,300 or so for that, and be sure to hang onto it if and when you do trade up to a higher performance model.