As the 16th annual RIDM continues in Montreal, the festival's exec director Roxanne Sayegh (pictured) talks to realscreen about the event's growth amid a crowded fall calendar.
In a packed fall schedule that includes doc festivals such TIFF, DOK Leipzig, CPH:DOX, IDFA and DOC NYC, the Montreal International Documentary Festival (RIDM) has been steadily carving out a foothold and establishing itself among the bigger international players.
The annual Quebec festival is now in its 16th year, and for executive director Roxanne Sayegh (pictured above), this year's event marks her fourth since taking charge in 2010.
"I think what's interesting about RIDM is that it was never a festival that 'belonged' to one individual, as is the case with other festivals in Montreal," she tells realscreen. "RIDM was always a more collective project from the beginning, with filmmakers involved and documentary makers wanting to share their films."
Over the years, the festival has been steadily growing, both in size – increasing from a four-day event to the current 12-day itinerary – and also in scope. "One of the big steps the festival took was to have a market," Sayegh says, referring to DOC Circuit Montreal, which kicked off yesterday (November 18).
"That was a big step to make sure that the festival was also a place where new projects could be developed and where professionals could meet and have an opportunity to discuss and fund their next projects."
In addition, the festival has expanded to become a year-round organization, with a monthly screening series called Docville, which runs from January to September; screenings in schools; and even a partnership with a local prison for women.
"Since last year, we have been working to make RIDM not just a 12-day festival, but also an organization that promotes and shows films all through the year," she says.
As one example, she cites Docville, which on the last Thursday of each month shows a doc that is usually a Montreal premiere.
"It's been going very well and it's been very helpful in reaching new audiences," she says. "We've done some surveys at each screening, and usually 40% of the crowd has not been at RIDM or doesn't know what RIDM is."
Nevertheless, the main focus remains the November festival. At this year's event, one of the most buzzy and heavily attended sessions so far has been Sunday's 'At the Heart of the Sensory Lab' panel talk, presented in collaboration with the department of Anthropology at McGill University.
The session saw filmmakers Lucien Castaing-Taylor, Stephanie Spray and J.P. Sniadecki, from Harvard University's Sensory Ethnography Lab (SEL), discuss the department's philosophy and approach to filmmaking.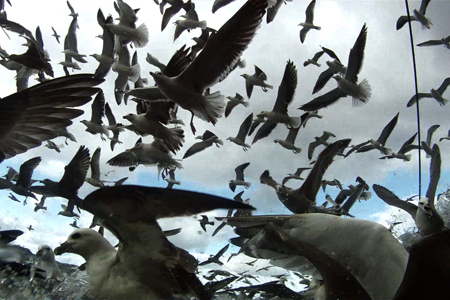 "We had seen a few of their films previously without knowing that it was the Sensory Ethnography Lab – such as Sweetgrass, Foreign Parts – and it was only last year, when we were awestruck by Leviathan [pictured above], that we started to have a deeper look into the Laboratory and get more information on what they were doing," Sayegh explains.
"Both Lucien Castaing-Taylor and Verena Paravel came to the festival last year for a 24-hour visit, and we met with them and got to know and understand a little better what they were doing.
"It seemed fascinating for us, this idea of having anthropologists making films, and the results were so surprising for us. It blew us away. There is nothing that has been shaking up the documentary world as much as Leviathan did last year."
Elsewhere, RIDM has held North American premieres for docs such as Father's Garden, Haricot rouges , The Mother and the Sea, The Art of Disappearing and Une feuille dans le vent (Leaf in the Wind); as well as Canadian premieres for films including First Cousin Once Removed, Char The No Man's Island…, Vers Madrid (The Burning Bright)! and American Vagabond.
One major coup for the event this year has been on the retrospective front, where it is this year honoring 86-year-old Franco-German director Marcel Ophüls (pictured below).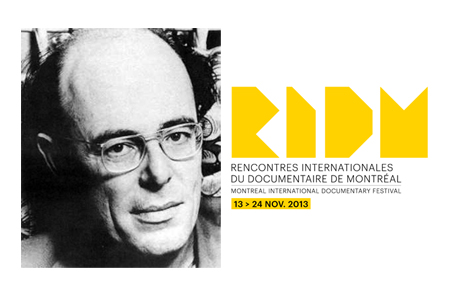 Ophüls, best known for documentaries including The Sorrow and the Pity, The Troubles We've Seen, and his Oscar-winning doc Hotel Terminus, has been attending packed screenings and hosting Q&As after his films.
"For our programming director it has been the most complicated retrospective he's ever worked on," Sayegh reflects, "because it's been so difficult with film rights and finding the prints. Often the rights and the prints were not under the same company, and with some films the archives hadn't been renewed."
In addition, Ophüls "often doesn't respond to emails and doesn't have a cell phone or a real assistant, but we feel very lucky to have him with us. It's been such a great year to do a retrospective, having his new memoir film, Ain't Misbehavin', produced in time for this year as well."
Despite its successes, this year's festival has been tinged with a note of sadness, following the death of Canadian luminary Peter Wintonick yesterday (November 18).
RIDM organized a special screening of PilgrIMAGE, his last film co-directed with his daughter Mira Burt-Wintonick, on Sunday, in order to pay tribute to the filmmaker, and also held a brunch, at which the filmmaker's friends and colleagues shared stories and memories.
Wintonick's EyeSteelFilm colleague Daniel Cross presented the filmmaker as being "the Buddha that holds our international documentary community together with love, empathy, peace and justice," and it was notable just how many members of that community were in Montreal at the time.
RIDM continues in Montreal until Sunday (November 24)